With the auto recovery in full swing, we're starting to see a momentum swing from one of the best-performing sectors of the past few years, the auto parts retailers. Instead of buying a new Ford (NYSE:F) or Toyota (NYSE:TM), which require heavy capital investments, consumers have opted to repair their cars (whether at an auto shop or by themselves). But, with the SAAR exceeding 15.2 million units in November, it's clear that the fleet replacement is in full swing, in our view.
AutoZone (NYSE:AZO) reported first-quarter results. Overall sales increased 3.5% year-over-year to $2 billion, which was roughly as anticipated. However, same-store sales grew an anemic 0.2%. Though Hurricane Sandy impacted the sales in the Northeast, a lot of the weakness was driven by the Midwest. With housing finally recovering, and the Big Three automakers increasing production, we think the Midwest economy is in recovery mode. Further, given the traditionally more challenging weather conditions, which accelerate the real (not accounting) depreciation rate of vehicles, we think the Midwest consumer disproportionately benefits from purchasing a new car. Assuming the economy does not hit a wall in the event of going over the fiscal cliff, we think this trend is destined to continue.
On the cost side, the company boosted its gross margin 70 basis points year-over-year to 51.8%, partially offset by a 20 basis point increase in SG&A, to 33.6% of sales. Nevertheless, earnings per share jumped 16% year-over-year to $5.41, boosted by higher operating margins and the firm's aggressive stock repurchase program.
The company continues to search for growth, purchasing online parts retailer AutoAnything, though we doubt the deal will materially impact AutoZone's results. We continue to believe shares are fairly valued, and we don't like the current delta of the industry fundamentals.
This weakness was exaggerated at Pep Boys (NYSE:PBY), where sales dropped 2.4% year-over-year to $510 million for its third quarter, a touch below consensus estimates. The sales drop for Pep Boys didn't come on the services side, which ticked up 0.2% on a comparable basis. Rather, merchandise sales fell 3.5%, while total retail sales tumbled 5.4%. Slightly more telling, the company cut its capital expenditures outlook by $5 million ($60 million to $55 million) via pushing new store openings into fiscal year 2013. In our view, this reflects a conservative outlook, and it could also result in further delays in openings, which would negatively impact revenue growth.
While the company lost $0.13 per share during the third quarter on a GAAP basis, adjusted earnings were stronger. Operating cash flow has jumped 37% year-over-year to $116 million, which has allowed the company to improve its financial position via retiring debt.
Results were similarly weak at Monro Muffler (NASDAQ:MNRO), where same-store sales fell 4.6% during its second quarter, resulting in weak 1.9% sales growth. Although the company accelerated its third-quarter dividend payment to avoid any tax hikes, we aren't interested in the name at this time. Declining same-store sales and gross margins are not the ideal combination for earnings growth.
We think plenty of wise investors are already aware of this trend, given the fact that Advance Auto Parts (NYSE:AAP) put itself up for sale, but no interested parties came forward. Same-store sales at the chain fell 1.8% during its third quarter, and though shares don't trade at an egregious earnings multiple, we think the "E" part of the equation could fall. We do not think shares look attractive at this juncture.
O'Reilly Automotive (NASDAQ:ORLY) looks like the best house on a bad block at this point, as same-store sales in its third quarter increased 1.3% year-over-year, and operating margins continued to expand to a record 16.4% of sales. Still, O'Reilly's strong execution is already reflected in its current valuation. Therefore, we don't see much upside for the firm from current levels, or any reason why we would add it to the portfolio of our Best Ideas Newsletter at this time.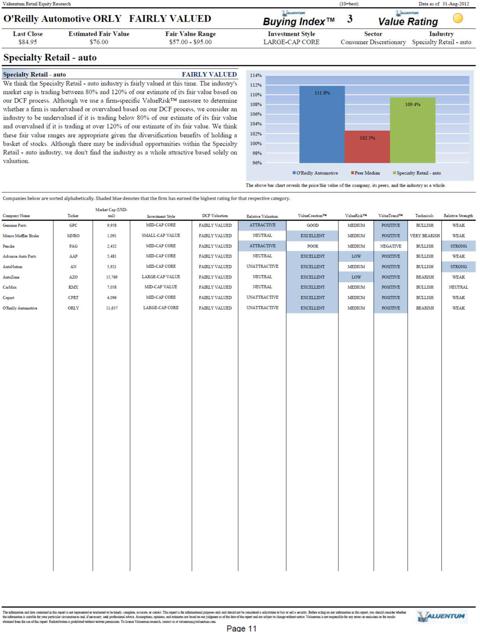 Image Source: Valuentum Securities (page 11, ORLY report)
Disclosure: I have no positions in any stocks mentioned, and no plans to initiate any positions within the next 72 hours. I wrote this article myself, and it expresses my own opinions. I am not receiving compensation for it (other than from Seeking Alpha). I have no business relationship with any company whose stock is mentioned in this article.
Additional disclosure: F is included in our Best Ideas Newsletter.