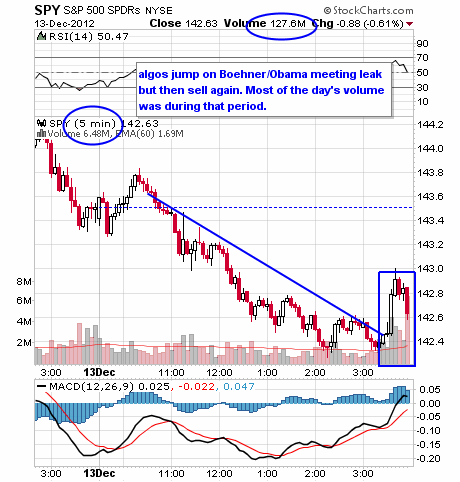 What craziness!
As you can see from Dave Fry's intra-day SPY chart, it takes only minutes to reverse half a day's drop on just the word that Boehner is heading to the White House to meet with Obama - as if that's likely to accomplish anything...
Earlier in the day, dueling press conferences from Boehner and Reid kept downward pressure on the market but the volume was ridiculously low - indicating the last of the retail traders are being herded out of the market - right at our 50 dmas.
That makes today Kill AAPL Day and we can expect that big push to the bottom to keep the Nasdaq down while the funds step back in and start buying. We've seen this movie before and it worked the first few times, so why not try it again. Last month, they drove AAPL all the way down from $535 to $505 and that was a Friday too (16th) and now it's Friday the 14th and we're replaying that sequence (which was followed by a pop to $565 the next day).
So clearly the play of the day will be picking up some AAPL calls for next week. Nothing too fancy but figure we can pick up the Dec $560s for $1 or less and, if we get a nice pop on Monday - those calls can jump quickly to $5 and at least $2 so figure we're risking .50 to make up to $5 - that's a nice risk/reward profile. It's also a good day to sell those 2015 $400 puts we love so much, maybe $55+ if we get a nice drop.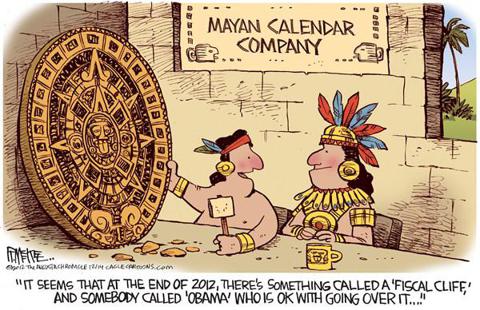 Of course it's just 7 days until the world ends so we may as well make the best of it and it's interesting that the Mayans predict the world will end on option expiration day as that's the day our calendars roll over as well.
China has a different calendar than we do and their market jumped over 4% this morning as the HSBC Flash PMI report came in at a 14-month high of 50.9, up from 50.5 in November driven mainly by (drum-roll please) Domestic Demand - which is the holy grail of the Chinese Economy. There were also signs that the new Government, which is meeting this weekend, will allow brokerages more funds to buy equities and that sent that group up 6.7%.
"It looks like institutional investors are re-entering the market and they have to increase their stock positions now in order not to miss the boat," said Dai Ming, a fund manager at Hengsheng Hongding Asset Management Co. in Shanghai, which manages $190 million. "The economy has stabilized."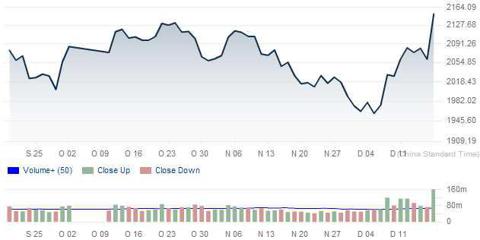 China may relax or abolish a rule that requires Renminbi Qualified Foreign Institutional Investors to keep most of their funds in bonds, according to the Hong Kong Monetary Authority, a move that may boost demand for stocks. The Shanghai Composite's 9.7 percent rally from its Dec 3rd low still lags the 25% gain by the Hang Seng China index of mainland companies listed in Hong Kong from its Sept 5th low. Chinese companies on the mainland traded at their biggest discount to their Hong Kong-traded counterparts since January 2011 yesterday, according to an index from Hang Seng Bank Ltd.
As you can see from the chart of the Shanghai, we rocketed back from our 1,950 lows and now, at 2,150, the Mainland Index is up 10% in 10 days, whipsawing the shorts - who were as sure as AAPL bears that the index would simply keep going down forever. Coincidentally, today is the day iPhones go on sale in China - these are interesting times indeed.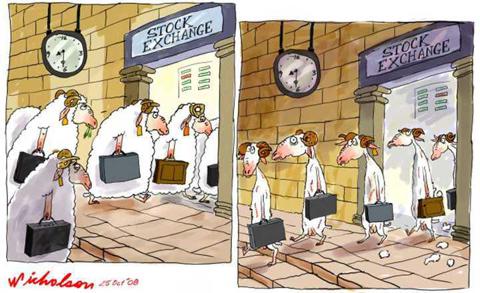 While AAPL is being used to push down the markets today (and see our 12/5 commentary from the last time they did this) the big boys are scooping up what the retail sheeple are selling because how long can we really ignore a 10% rally in the world's 2nd largest economy? 4.3% of that rally came this morning and, perhaps, after this weekend's conference, we get another 2-3% on Monday. How behind will our markets be then?
Our own December Flash PMI came in at 54.2 this morning - up from 52.4 in November and clearly showing expansion. Output was 55.1 vs 53.5, New orders 54.8 vs. 53.6 and even employment is improving from 52.6 to 54.4 - these are good numbers folks!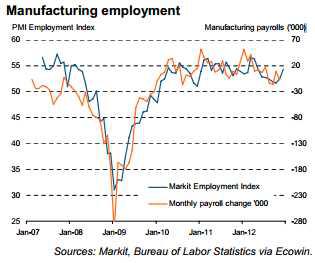 Check out this chart on Manufacturing Employment - we're back to our pre-crash levels and the PMI hasn't been over the 55 line since 2007 but one more report like this and we're at 5-year highs - should this be a market that is selling off with the Dow up just 15 net points for the week at the moment?
No, you are being herded out of stocks by the people who are buying them. You are being told to panic when there is nothing to panic about. "How fragile is this economy?" asks Jim Cramer as he attempts to stampede his sheep out of their position so his hedge fund buddies can buy on the cheap.
"Forget all those reports released by the Labor Department, Commerce Department and USDA" says Cramer. In other words - ignore the facts and listen to his rumors - because the facts aren't going to panic you into selling low - he needs you to be irrational - he needs you to be scared - he needs you to make bad decisions so they can keep this scam going - so they can keep conning you into making poor decisions while telling you how they are only here to help you (much like the GOP).
So far, the only 50 dma we've blown is the AAPL-influenced Nasdaq, which failed to hold its 3,000 line but we need to confirm a failure of the Dow (13,126), S&P (1,415), NYSE (8,227) and the Russell (817) before we're even close to hitting the panic button on this, so far, little pullback. If 2 of 4 of our remaining levels break - then we'll add a downside hedge but XLF is still over $16, and oil is still in the mid-$80s and the VIX is still just 16.50 so this is hardly panic - except among those who listen to the idiots on TV and, unfortunately, there's plenty of them.
If our levels do hold, we can expect a nice pop on Monday.
Have a great weekend,
- Phil
Disclosure: I am long AAPL, XLF, HPQ, HOV, BBY, T, SCO, IMAX, GDX. I wrote this article myself, and it expresses my own opinions. I am not receiving compensation for it. I have no business relationship with any company whose stock is mentioned in this article.
Additional disclosure: Positions as indicated but subject to change (fairly bullish mix of long and short positions - see previous posts for other trade ideas).