So why are insiders and institutional owners selling and shorts holding a large negative position in Dole Food (NYSE:DOLE)? Well, this is a somewhat complex story. While the stock screen stats seem to paint a very negative outlook, there are actually some positive catalysts just under the surface.
First, how did I find Dole? I have been examining a number of screens lately to find battleground stocks - stocks where there appears to be strong differences in sentiment between insiders, institutions and short-sellers. One recent screen pulled out 12 stocks where all three groups seemed to agree, the direction was down. Dole was on that list.
The starting point for this review was a screen run on finviz.com looking for:
very negative insider transactions (insiders net decreasing their positions by more than 20%);
the short float of more than 20%;
and negative institutional ownership (net decrease of more than 10%).
Dole Food Company is the world's largest producer and marketer of high-quality fresh fruit and fresh vegetables. Dole markets a growing line of packaged and frozen fruits and is a produce industry leader in nutrition education and research. Their main publicly traded competitors are (NYSE:CQB) Chiquita Brands International and (NYSE:FDP) Fresh Del Monte Produce.
Institutional Actions
The 145 Institutional holders control 46% of the outstanding shares of Dole. At last report, they held 40.6 million shares with a net reduction of 2.6 million shares. This net number came from a variety of changes (based on information available 30 September).
35 new institutions opened positions
69 increased positions
62 decreased positions
22 totally exited
14 holders made no changes
So while a reduction, the net activity is negative, given the broad scope and balance of up and down changes, this is probably just fund rebalancing and not a major problem.
Short-Sellers
Two ways to measure short positions are
the percent of open float which is sold short and
the average days of trading volume needed to cover short positions.
In Dole's situation, there has been some unusual insider activity which has more than doubled the average daily volume so the days to cover does not help us here. Looking at the percent of float short, Dole had open short interest of 14% as of November 30th. This has ramped during the year and is now declining. It is down almost 50% from the end of October. In total shares, there are 7 million short. One year ago, there were 10.5 million shares short. Given the reduction in shorts, this an improvement for Dole.
On the flip side, as noted in Dole's December 6th press release, the earnings are being compressed, which will impact the P/E negatively, support a thesis for the shorts.
Dole's fresh produce business will be significantly smaller and is continuing to experience declining earnings in a continued difficult economic environment both in the United States and in Europe. So why are the shorts reducing their positions ?
Options Market
Looking at the current option open interest in Dole, the options market is positively significantly skewed towards upside out of the money calls. This could mean either the traders are looking for some upside or just some call income. The five largest date/strikes are:
January $12.50 calls - 32,137 contracts
January $15.00 calls - 15,716 contracts
January $11.00 calls - 12,280 contracts
January $9.00 puts - 9,223
January $10,00 puts - 8,463
Insider Transactions
Now we are getting a little closer to solving this mystery. The bulk of the recent insider activity comes from the chairman, David Murdoch. The 86 year old leader of the company, has been active in exercising options and other transactions. Between July 16 and August 16, he executed 17 separate transactions which increased his holdings from 40 million shares to 45 million shares. Then, on November 1st, he disposed of 23 million shares in a non open market transactions. This is the source of the negative insider action. At his age, this may be more of an estate planning action than a vote on the company.
The timing of these share actions are intertwined with the July 20th announcement that Dole was considering an action to sell part of the business. The likely buyer was announced on September 18th - ITOCHU.
These recent large stock actions by Mr. Murdoch combined with the large open short interests, probably caused a short squeeze in the July / August time, which propelled the stock upwards. Looking at this chart which also compares relative prices of the main competitors, there was no industry wide action in the same time.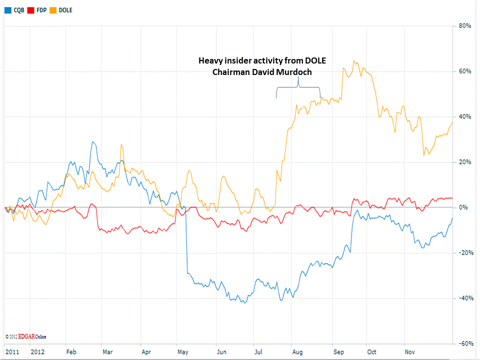 Recent news
Dole is going through a transformation with the sale of its worldwide packaged foods and Asia fresh businesses to ITOCHU Corporation for $1.685 billion in cash.
From their December 6th press release:
The consummation of the sale will result in a substantial portion of Dole's operations being sold to ITOCHU, with the new Dole having a smaller footprint with two lines of fresh produce businesses: fresh fruit and fresh vegetables. The Dole operations will no longer include the worldwide packaged foods and Asia fresh businesses, resulting in overall revenue for the new Dole in the approximate $4.2 billion range with revenue from its fresh fruit business line being reduced in size by approximately 30%.

Dole will be putting in place a new capital structure at the time of consummation of the sale which, together with substantially all the proceeds from the sale transaction, will be used to pay off existing indebtedness and to provide funding for transaction-related taxes, costs and expenses, the possible settlement of some or all of Dole's long-term Japanese yen hedges, anticipated post-closing restructuring expenses and other corporate purposes. It is expected that the new Dole will benefit from a significant reduction in interest expense and a substantially reduced leverage ratio on a going forward basis.
In addition, there has been a series management responsibility changes, the most noteworthy of which is that David Murdoch coming back into the role of Chairman and CEO. This is highly unusual for someone his age. It is unlikely that with such strong insider and family ownership that an outright sale is in the works beyond the planned divestiture. However, based on the announced plans to use the cash to settle debt and other balance sheet liabilities, Dole will have a VERY clean balance sheet when this is all complete which opens the door for many possibilities.
It begs the question - what is the end-game? Is there a larger restructuring in the works, possibly going private? There must be some compelling reason for Murdoch to be returning to an active role.
On a slightly negative note, why did Murdoch feel compelled to return to the CEO role? As the largest shareholder, does he have some concerns about the management team?
Price Target
DOLE has a p/e of 15.32 while the industry has a p/e of 18.12. If DOLE achieved the average, this would give an 18% upside, or a price target of $14.33, very close to the analysts consensus of $14.83. DOLE is currently trading around $12 per share, mid-way in the 52 week range of $8 - $15. This is assuming status quo. If there is another significant even, these targets would be meaningless.
Conclusion
There is a mixed bag of signals and data here. The balance of positive and negative aspects make giving a clear directional call tough. However, the prospects of a significant event (leveraged buyout or a strategic acquisition) using the soon to be clean balance sheet, are positive catalysts indeed.
Dole is heavily controlled by insiders, with the Chairman recently having as much as 50% of the outstanding shares under his control (direct or indirect). With institutions having another 46%, this leaves very little in actual free float. So, this stock will be highly sensitive to any move (beta 1.46), up or down. If the news is positive, this will have a very nice pop.
Disclosure: I have no positions in any stocks mentioned, and no plans to initiate any positions within the next 72 hours. I wrote this article myself, and it expresses my own opinions. I am not receiving compensation for it (other than from Seeking Alpha). I have no business relationship with any company whose stock is mentioned in this article.
Additional disclosure: I am not a registered investment advisor and do not provide specific investment advice. The information contained herein is only my opinion based on personal research and offered for informational purposes. Nothing in this article should be taken as a solicitation to purchase or sell securities. Before buying or selling any equity, do your own research and reach your own conclusion. Investing includes risks, including loss of principal.