As we approach the end of a great year for the stock market, investors are faced with an interesting dilemma. December has historically been a great month for investors in S&P 500 (NYSEARCA:SPY) related investments. This month has actually provided the highest average return of any month since 1950 (see below), but no one is really sure how the drama surrounding the fiscal cliff will impact market returns.

Investors are laser focused on Washington and this kind of headline driven market tends to be the most difficult to trade (unless perhaps you are a high frequency trader with a fancy news scanning algorithm). The short term market moves are driven less by fundamentals and more by the latest hot rumor from a generally unconfirmed and anonymous source. Maybe a deeper look at the fundamental and technical data will help filter out the noise and provide at least some clue as to how to position moving forward.
Our evaluations always start with valuations-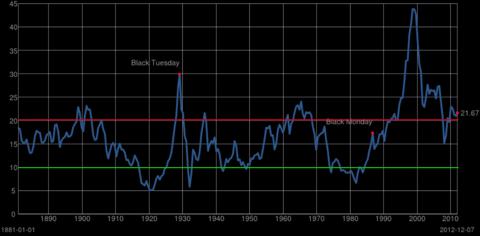 When looking at a chart of the S&P 500's historical Shiller P/E ratio (based on the work of Yale professor Robert Shiller), it becomes apparent that stocks are currently very expensive. The Shiller P/E ratio is a poor predictor of short term price movements, but does provide good insight into the long-term expectation of return. With a P/E ratio of 21.83 and Price of 1428.48 as of December 12, 2012, we can easily calculate a ten year expectation of return on the S&P 500. If we assume that corporate profits grow at a 3.8% annual rate (the average rate of earnings per share growth from 1874 to 2004), the market will provide an average dividend yield of 2% and that the Shiller P/E will normalize over the next 10 years towards its long-term average of 16, then we can expect that the S&P 500 will deliver an underwhelming 2.62% average annual return over the next 10 years.
The saddest part of this assessment is that this estimate may actually prove overly optimistic as corporate profits as a percentage of GDP are well above their long term historical average (see below) and secular bear markets have not typically ended until after the P/E ratio drops far below its historical average.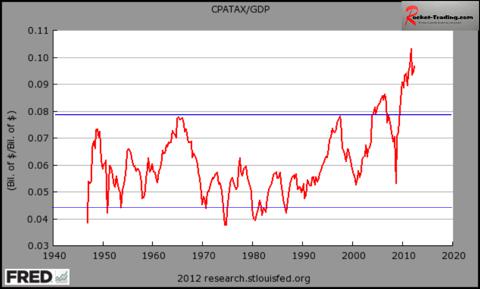 So, considering current valuations and the current level of corporate profits as a percentage of GDP, it seems that the only way that we could see large equity returns moving forward would be to see a dramatic re-acceleration of global growth or the re-inflation of a 1990s type stock market bubble.
So let's take look at the economy-
At least in the near-term things don't look so great - Europe and Japan are currently in recession and China continues to slow. In the US, leading economic data continues to show weakness. Take a look at the Index of US leading economic indicators: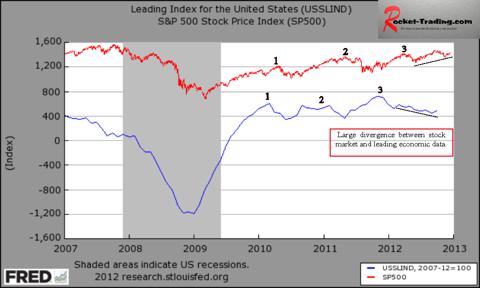 Not only have we seen that the data continues to weaken, but we also see a stock market that continues to ignore the data. The decoupling of the US stock market from other leading economic data is likely the result of the large quantitative easing programs initiated by the Federal Reserve. As long as the Fed continues its asset purchase programs, we may continue to see this divergence. However, it is important for investors to remember that although the Federal Reserve may be able to temporarily elevate asset prices (think the tech or real estate bubbles), stock prices are ultimately a function of underlying fundamentals over longer periods of time.
So far on the bear side, we have stocks that are overvalued and an economy that continues to weaken and on the bull side, we have seasonality and big money Ben Bernanke. Let's take a look at the charts and see what they have to offer to the debate.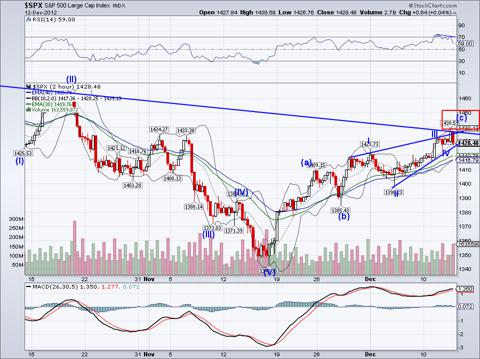 Although the trend has now moved to the upside, the S&P500 looks ready for a breather. We seem to be completing an ending diagonal of an ABC correction. If the above count is correct, the formal price target is 1451, however, the upward move could have actually completed today. We currently have RSI divergence on the 120 minute chart (higher high in market price, lower high on RSI) and completed a bearish gravestone doji candlestick pattern on the daily chart. For now I'd have to put the charts in at least the short term bearish camp.
Additional considerations - We only have a handful of trading days left in the year and the fiscal cliff is still unsettled. Granted the failure to achieve a deal prior to year end will, at least initially, only have a minimal economic impact, it would likely have a significant stock market impact. Each day that passes without a deal increases the likelihood of sales from nervous investors. In addition to the fear of the cliff factor, we are also likely to see some selling from investors sitting on large capital gains. For high income investors long term capital gains tax rates are not likely to ever be lower than the current year.
Conclusion: This is in no way constitutes trading advice and we suggest that you do your own analysis, but given the overvaluation in the S&P 500 (SPY), weakening economic data, the looming fiscal cliff, a chart that seems to indicate lower prices, and tax driven selling - near term caution is likely warranted.
Disclosure: I have no positions in any stocks mentioned, but may initiate a long position in SDS, QID, TWM over the next 72 hours. I wrote this article myself, and it expresses my own opinions. I am not receiving compensation for it (other than from Seeking Alpha). I have no business relationship with any company whose stock is mentioned in this article.