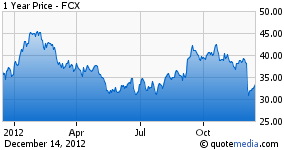 Leading copper and gold miner Freeport McMoRan (NYSE:FCX) announced a $9 billion blockbuster deal to acquire its former holding McMoRan Oil & Gas (NYSE:MMR) and independent oil and gas company Plains Exploration & Production (NYSE:PXP).
The deal itself values Plains at approximately $45-50 per share ($25 per share cash/0.6531 shares of FCX per share), while Freeport will pay $14.75 per share for McMoRan Oil & Gas. Given the cloudy long-term outlook for copper and gold mining, mainly a result of the often unfriendly places these resources reside, we think the company is happy to purchase operations in the Gulf and continental U.S. We've seen mine nationalization in both South America and Africa; a risk not present in the U.S., even if regulations are stricter.
Although the company paid near to the high end of our fair value range for McMoRan Oil & Gas, we do not think the price was outrageous. According to management, returns on projects should exceed the mid-teens assuming prices of at least $90 per barrel of crude oil, and the firm will benefit from all marginal price increases. While we think oil isn't destined to hit record high, pre-crisis levels (think $150 per barrel), we believe the long-term demand picture for oil and gas remains strong.
As for Plains, the deal comes literally days after the company closed on some deep water Gulf assets from the struggling BP (NYSE:BP). The company also owns significant shale assets throughout Wyoming, Colorado, California, and Texas. We don't formally cover Plains in our coverage universe, but based on initial research, we feel that Freeport paid a fair price.
Almost as important, in our view, is that Freeport has diversified its asset base. We've seen BHP (NYSE:BHP) undertake similar measures in recent years, which has been relatively successful for the company thus far. The long-term demand for gold and copper are uncertain, but we think energy demand growth over the long-run is almost a certainty. And, as we said earlier, diversifying away from untrustworthy nations to trustworthy nations reduces some of the risk profile.
We understand why some investors may be upset that Freeport is no longer a "pure play" copper and gold company, but we think diversification in the resource space is a wise move at this time. The deal expands the company's balance sheet, but strong returns from the new assets should pay for themselves relatively quickly. Overall, we like the deal for Freeport, but we think it provides some financial risk while decreasing sovereign risk. Given the intertwined nature of the companies, we think Freeport has sufficient access to determine the value of the assets it has acquired. Shares look fairly valued at this time, in our view, so we won't be adding the name to the portfolio of our Best Ideas Newsletter.
Disclosure: I have no positions in any stocks mentioned, and no plans to initiate any positions within the next 72 hours. I wrote this article myself, and it expresses my own opinions. I am not receiving compensation for it (other than from Seeking Alpha). I have no business relationship with any company whose stock is mentioned in this article.