Very few major energy concerns have a rougher year than Occidental Petroleum (NYSE:OXY). After reaching $105 a share earlier in the year, the stock is down some 30% since then. The company has vastly underperformed other majors such as Exxon (NYSE:XOM) and Chevron (NYSE:CVX) as well as the overall market (See Chart). This presents a bargain entry point for these cheap energy shares. The company is starting to pick up some positive catalysts and these beaten down shares should do much better in 2013 for intrepid investors that buy now.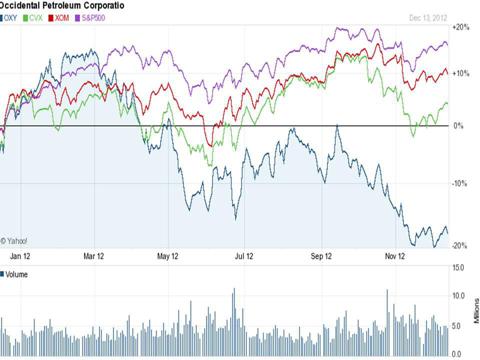 Key recent catalysts for OXY:
Dahlman Rose initiated the shares as a "Buy" earlier in the week.
Standpoint Research also initiated the shares as a "Buy" on Monday with a $90 price target.
According to a filing with the SEC, director Avedick Poladian bought 5,000 shares on December 4th at an average price of $73.43 per share. It is the first insider buy since September of last year.
Noted short seller Jim Chanos recently initiated a long position on Occidental Petroleum saying it is undervalued compared to peers. It constitutes over 3% of his portfolio.
4 additional reasons OXY is undervalued at $75 a share:
The mean analyst price target held by the 19 analysts is north of $100 a share, a third higher than the current stock price.
OXY yields 2.8% and more than doubled its dividend payouts over the past five years.
The stock is selling near the bottom of its five year valuation range based on P/E, P/S, P/B and P/CF.
Revenue growth should resume next year after being flat this fiscal year. Analysts expect a 5% sales increase in 2013 and the stock is selling at just over 10x forward earnings, a discount to its five year average (12.6).
Disclosure: I am long OXY. I wrote this article myself, and it expresses my own opinions. I am not receiving compensation for it (other than from Seeking Alpha). I have no business relationship with any company whose stock is mentioned in this article.