Dan Niles, a technology analyst I respect, has four top stocks for 2013. While discussing the logic behind his top four stock picks, Niles said Facebook (NASDAQ:FB) is his "favorite idea for 2013." In this article I summarize the interview and offer my alternatives to his four stocks, with one that has less risk than Facebook and the other three offering better Alpha if you believe Niles is right about what sectors will do well in 2013.
Yesterday (12/13/12) on CNBC Maria Bartiromo interviewed Dan Niles. Niles is currently a "Sr. Portfolio Manager" at Alpha Capital Partners. Niles has been on a roll since shorting FB at the top when it had its IPO. Today Bartiromo said Niles shorted FB at $42.
In my Oct. 25, 2012 Seeking Alpha article "Facebook: Dan Niles Now Long After Covering His Short Position" when Facebook was $23.23 per share, I explained why Niles covered his short and went long. At the time, Niles said in that Facebook had changed from a "dud to a stud." Niles said he didn't like Facebook at the IPO in large part because they didn't have a mobile ad strategy. Once FB announced its growth strategy for mobile, Niles covered and went long and said he thinks FB can get back to its IPO level ($38) in the next year or two.
Today, Niles said he was bearish because Facebook only had one way to make money and it didn't include mobile. He covered and went long when they announced a mobile strategy he believes in. Now he says they have other initiatives for growth that he feels are "interesting."
"They went from one horse pulling the wagon to multiple revenue drivers for next year."
Dan thinks they can do $2B of total revenue from mobile from $7B overall revenue from things like "Facebook ad exchange," gifting and possibly search.
Niles' three other names on his "Top Stock Picks for 2013" list are Juniper Networks (NYSE:JNPR), On Semiconductor (ONNN) and Cisco Systems (NASDAQ:CSCO).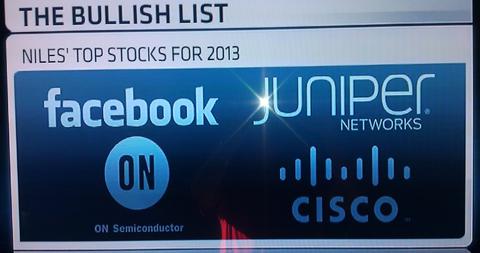 Niles said that after many years of being negative, he was excited again for stocks people hated for good reason until now. Here is why he changed his mind:
Semiconductors: Niles said the Index is down about 7% while S&P is up 13%. Dan thinks the "semiconductor space" outside of PCs has bottomed. Dan likes ON Semiconductor as his top pick in the space saying it is one of the top 20 biggest semiconductor companies in the world selling 42 billion units EVERY YEAR.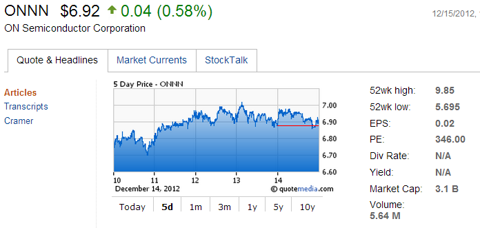 Telecom Space: Dan says spending in the telecom sector went down last year but this year several deals mean more spending directed at wireless. So now he is bullish on Cisco which is down 2% over the past two years. He thinks we will see a big turnaround for a lot of names in telecom equipment. He also had Juniper Networks on the chart but ran out of time to discuss it with Maria.
My Picks:
I respect Dan Niles and agree with much of what he says but I don't own any of his four stocks. I prefer Google (NASDAQ:GOOG) over Facebook because GOOG has a proven model with many diverse, new areas of growth while selling at a very reasonable valuation compared to Facebook. Google's PE of 20 is less than a tenth of Facebook's PE of 275 so it doesn't have as much downside risk. My guess is Niles is betting momentum for FB will continue next year and he has no interest in it as a long-term investment if it stumbles.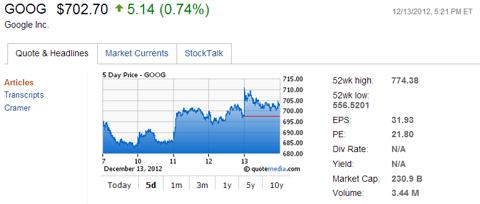 I like the semiconductor and telecom equipment sectors a lot but I have different stocks in my portfolio. I like owning semiconductor equipment makers that benefit from increasing sales in the semiconductor space.
Applied Materials (NASDAQ:AMAT) and Lam Research (LRCX,) are two of my favorites that I have in my personal and explore portfolio. These are usually more volatile than semiconductor stocks so I like to consider them as similar to stock options that don't expire. You add to positions when they are down and take profits when they go up to buy again during the next down cycle. AMAT is so hated it pays a 3.2% dividend yield.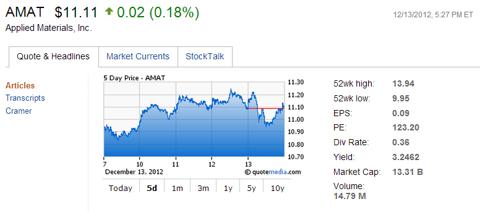 Lam made about $6 a share at the peak of the last semiconductor cycle. Since then it bought Novellus and expects to make more once they combine operations and cut expenses. Even if they only make $6 again at the peak, that could mean $72 a share with a PE of 12. If they get there, I'll be taking profits once again.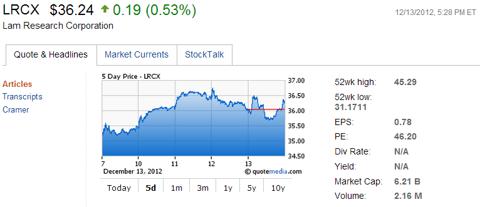 Cisco is a great company and we have some in my girlfriend's portfolio, but I personally own and recommend Finisar (NASDAQ:FNSR) in my newsletter because it is even more volatile and exciting. Finisar will benefit from the build-out of telecom to deliver video to portable devices as well as to your home to watch on the big screens. Finisar also benefits from the expansion of data centers to serve cloud computing as using fiber to move bits saves power and is faster than copper. Finisar is volatile so it pays to be quick to take profits and buy the dips.
I last took profits in FNSR for my explore portfolio at $15.94 in September then I bought the shares back recently at $12.56. I have a large core position in FNSR with a "break-even" price of $7.88 which I plan to trade down to "house money" by taking profits and buying the dips as it soars in the year ahead.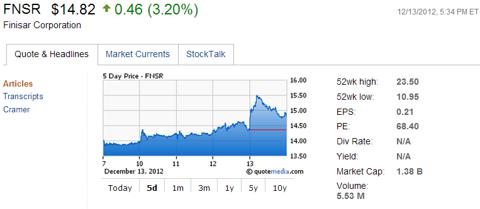 Remember, the best trading stock is one that is both volatile and going up. I trade FNSR now much more than LRCX as it seems too many people like LRCX for it to be as volatile on the downside as it has in past year.
I like and respect Dan Niles. I think he is correct that next year will be profitable and exciting for many companies but we have different ways to take advantage. It will be interesting to come back at the end of 2013 and see how our favorite stocks compared.
Disclosure: I am long AMAT, GOOG, FNSR, LRCX. I wrote this article myself, and it expresses my own opinions. I am not receiving compensation for it (other than from Seeking Alpha). I have no business relationship with any company whose stock is mentioned in this article.