Food is a necessary consumer product, and this lends some stability to the grocery business. However, competition among retailers is fierce. Wal-Mart (NYSE:WMT), Costco (NASDAQ:COST), and some smaller companies like Trader Joe's have for many years been increasing their grocery business at the expense of the traditional grocers.
The three biggest traditional U.S. grocers -  Kroger (NYSE:KR), Safeway (NYSE:SWY), and SUPERVALU (NYSE:SVU) - cannot beat Wal-Mart or Costco competitively, but they do not need to in order to generate an adequate return on capital. All three of these traditional grocers have sufficient scale to where they can price competitively and still generate good profitability. In the future it is unlikely that any of them will lose enough market share to significantly jeopardize their profitability.
The major decline in the stock market in 2008 has been indiscriminate in that the stock prices of the grocers have declined significantly along with most other stocks. This has created an attractive investment opportunity to buy the stock of one or more of these companies. In particular, Safeway seems moderately undervalued and SUPERVALU seems extremely undervalued. In the near term Kroger has been generating significantly better identical retail sales than Safeway and SUPERVALU, and as a result Kroger stock has outperformed the other two stocks and is arguably a little overvalued.
My estimates of fair value are based on a discounted cash flow model that uses the same cost of equity (11.0%) and growth rates (2.0% in perpetuity) for all three of the grocers. The basis for concluding that SUPERVALU's stock is priced as though the company is going to fail is that in this valuation model, the current stock price is implying a growth rate in free cash flow of about minus 12.6% in perpetuity. 
Recently SUPERVALU's identical retail sales have been poorer than Kroger's and Safeway's, and have even been slightly negative the last two quarters. However, I believe SUPERVALU will find the right business formula to where the company can compete very well against both Kroger and Safeway. Therefore, a stock price that reflects a significant negative growth rate in free cash flow is way undervalued.
Finally, SUPERVALU pays what I believe is a secure dividend, that provides a yield of 5.8% based on the current stock price. Therefore, you are paid well to wait for a higher stock price.
images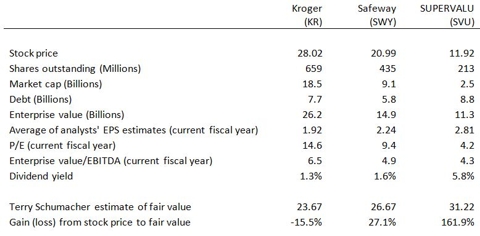 Brief Company Descriptions
Kroger has 2,487 supermarkets and multi-department stores in 31 states. Store banners include Kroger, Ralphs, Fred Meyer, Food 4 Less, Fry's, King Soopers, Smith's, Dillons, QFC, and City Market. The company also operates convenience stores and jewelry stores.
Safeway has 1,743 stores located in 21 states, the District of Columbia, and five provinces in Canada. Store banners include Safeway, Vons, Dominick's, Randalls, Tom Thumb, Genuardi's, Pavillions, Carrs/Safeway, and Pak'nSave Foods.
SUPERVALU has 1,596 retail stores that it owns plus 863 licensed limited assortment food stores. The stores that are owned are located in 40 states. The banners of the owned stores include Acme Markets, Albertson's, bigg's, Bristol Farms, Cub Foods, Farm Fresh, Hornbacher's, Jewel, Jewel-Osco, Lucky, Sav-on, Shaw's Supermarkets, Shop 'n Save, Shoppers Food & Pharmacy, and Star Markets. The licensed limited assortment stores operate under the Save-A-Lot banner. SUPERVALU is also a large wholesale distributor of food products to independent retailers. These retail customers are located in 49 states and range in size from small convenience stores to very large supercenters. SUPERVALU's sales mix is about 78% retail and 22% wholesale. 
Income Statements – Kroger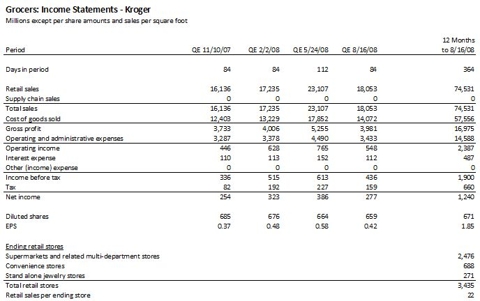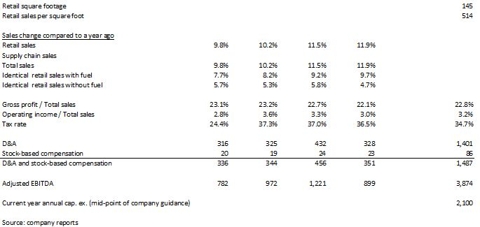 Income Statements – Safeway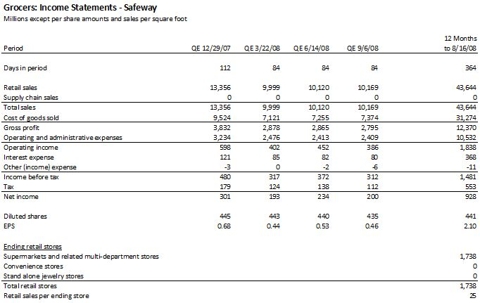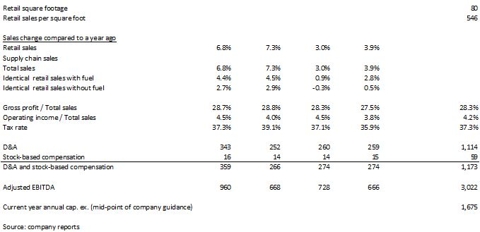 Income Statements – SUPERVALU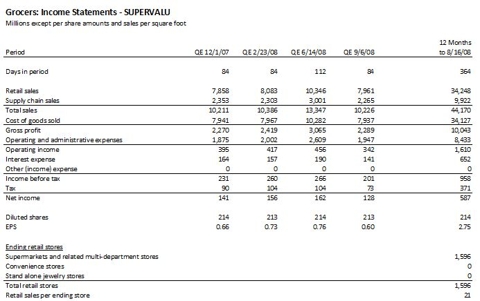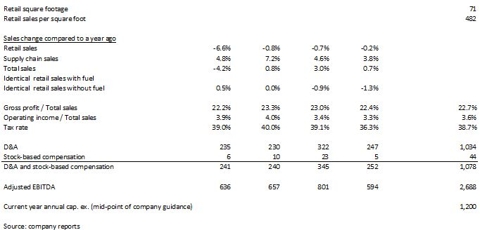 Balance Sheets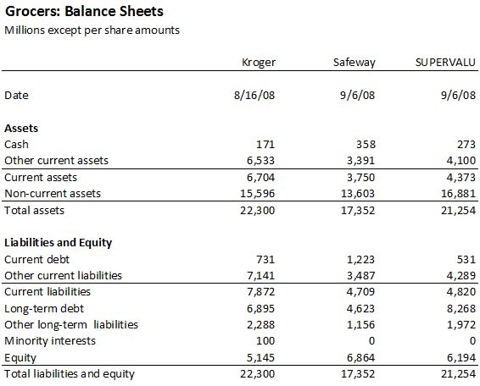 Fair Value Models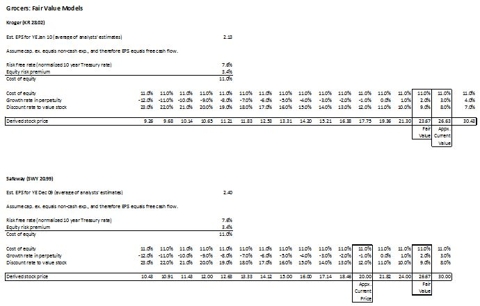 Earnings Estimates

Valuation Comparison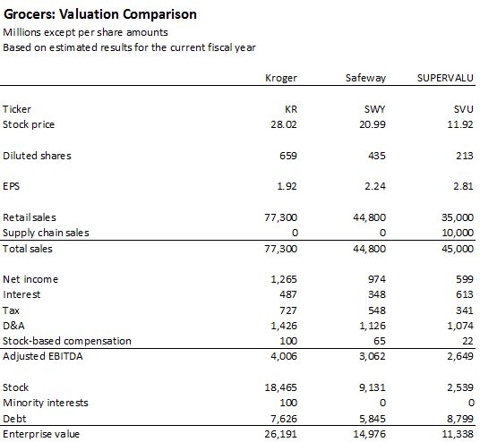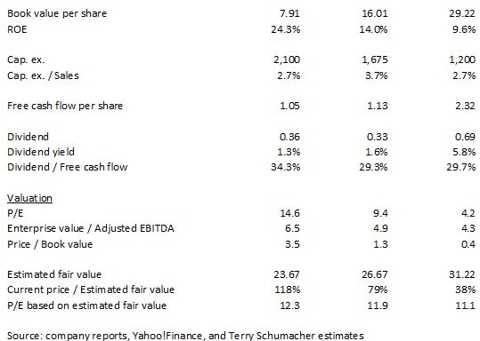 Value Added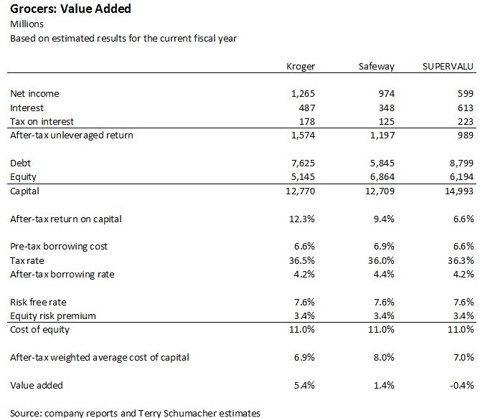 Market Share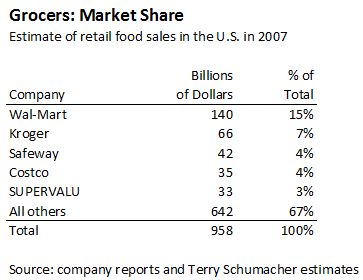 Store Count by Location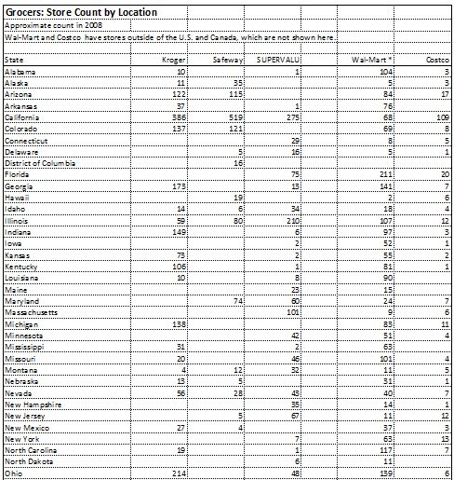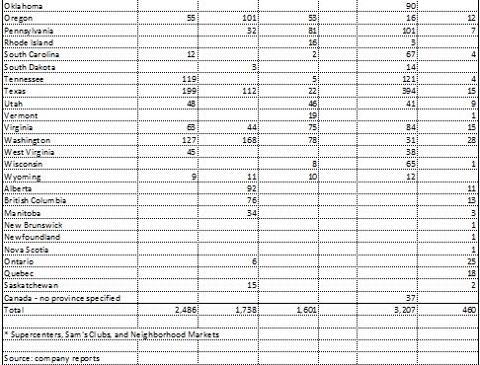 Disclosure: Author holds a long position in SVU, no positions in any of the other above-mentioned stocks.