By Steven Orlowski
I've covered a number of WisdomTree funds over the past few months, and thought it would be a useful exercise to review performance of a couple, take a look at a new one, and see where they might be headed.
One fund I covered back in August is the WisdomTree Emerging Markets Small Cap Dividend Fund (NYSEARCA:DGS) a fund whose name is self-explanatory -- it invests in small cap dividends payers in emerging markets. The fund is allocated among many non-BRIC markets and the top 10 country allocations are as follows: 1. Taiwan 23.36% 2. South Korea 10.56% 3. Thailand 10.27% 4. Malaysia 8.99% 5. Brazil 7.50% 6. South Africa 7.37% 7. Turkey 6.14% 8. China 4.99% 9. Chile 4.90% 10. Indonesia 4.44%.
The fund currently has a yield of a little more than 3%. Since my article was published in August, the ETF is up almost 7%. The fund has been trending higher for about six months now, and is approaching its 52-week high as well.
Much has been written regarding currency diversification lately and given the recent information divulged by the Federal Reserve, it looks like this type of strategy will need to be sustained. The WisdomTree Emerging Markets Local Debt Fund (NYSEARCA:ELD) can help diversify an investor's currency holdings among emerging market countries.
The fund has a yield of approximately 3.25% and is diversified as follows: 1. Mexico 10.42% 2. Brazil 10.27% 3. Indonesia 10.27% 4. Malaysia 10.21% 5. Turkey 7.14% 6. Russia 7.10% 7. Poland 7.09% 8. South Korea 7.04% 9. Thailand 6.92% 10. South Africa 6.67%.
It has also been performing well.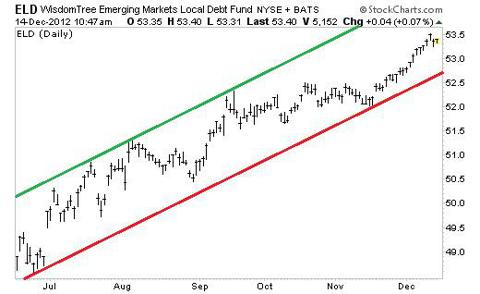 The fund is up approximately 9% over the past six months. Layer the yield on top, and you have returns that would keep most equity investors happy.
The third fund is the WisdomTree China Dividend ex-Financials Fund (CHXF). This is a very new fund. It just began trading this past September, but it has been doing well.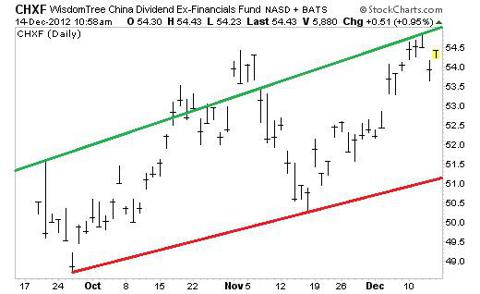 It is up approximately 8% since it went public. The fund is diversified, excluding financials, with a bias toward energy and materials. The complete sector allocation is as follows: 1. Energy 24.71% 2. Materials 15.57% 3. Industrials 13.59% 4. Telecommunication Services 13.43% 5. Consumer Staples 12.29% 6. Information Technology 7.25% 7. Utilities 6.22% 8. Consumer Discretionary 6.10%.
The inauguration of CHXF is suggestive of the market still being concerned not just about financials in China, but about the global financial system as a whole. The other two funds indicate an inclination away from concentration in the BRIC countries toward a more diversified approach, including frontier nations. All three funds provide differing avenues toward diversification, and are reasonable considerations for any portfolio.