I believe the Mondelez's (NASDAQ:MDLZ) stock is undervalued in the market and with the article I will discuss a few factors that bode well for the company. Its exposure in emerging markets will be a key driver of top line growth in the range of 5%-7%. Also, MDLZ's efforts to promote operational efficiency will lead to margin expansion and growth in EPS of double digits. Furthermore, the stock provides a decent dividend yield of 2% which along with other factors make it a buy.
Mondelez is one of the largest food companies in the world, with annual sales of approximately $36 billion. The business earns a hefty portion from its snack category, which generates 75% of total sales. The company owns a strong brand profile, and most of the brands hold leading positions in the market. Popular brands include Cadbury, Oreo, Milka, LU and Tang.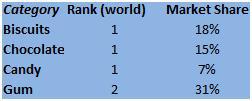 MDLZ's separation from Kraft Foods (KRFT) will turn out to be positive for investors as MDLZ will be able to focus on high growth categories and markets. This will also help the company to improve upon its cost structure (by reducing overheads) and help expand margins.
Geographical diversification should allow a business like MDLZ to bring about product innovation by targeting several different markets. In this regards, I believe that a key performance catalyst for the company is its emerging market exposure, which contributes 44% of total sales.
Emerging markets that contribute the greatest in revenues are: BRIC (~$5.3bn) and Mexico ($0.9bn). BRIC markets contribute nearly 15% to total company's sale and MDLZ has plans to expand its presence further in the region. Sales in emerging markets are expected to increase as MDLZ offers high growth products (biscuits and confections). A rising middle class in the emerging markets is one reason for the expected growth. It is anticipated that in the next four years, this region's market share in the global packed food category will be nearly 50%. MDLZ is eyeing an expansion of its distribution in Brazil and plans the same in India and hopes to achieve revenue synergies.
Besides targeting emerging market to achieve growth, I believe the company should also aim to fill white space opportunities available around the world. For this the company needs to focus on product innovation, must improve its supply chain and aggressively enter new markets. It is estimated that white space opportunities can drive the company top line growth in range of 1% - 1.5%. Encouragingly, the company has been putting in efforts to tap white space opportunities. For example Oreo has been launched in several international markets and Gum (Stride) was recently launched in China.
I strongly believe that the company has an opportunity to improve upon its margins, which are slightly at the lower end of the industry. MDLZ's operating margin is at around 13% while its peers operate in the range of 15%-16%. I think the company can match its competitors in the next three to four years through overhead control and revenue synergies. The chart below show margins comparison between MDLZ and its peers Kellogg (NYSE:K), General Mills (NYSE:GIS) and The Hershey Company (NYSE:HSY).


Source: Ycharts.com and Quarterly Reports.
Margin expansion can be achieved in all of the three geographical segments of the company: Europe, North America and Emerging Markets. Europe's margin can be improved on the back of LU biscuit's (business of Groupe Danone) acquisition in 2008 and Cadbury's purchase in 2010. These transactions should give MDLZ an efficient infrastructure and expanded market presence which will allow for revenue growth. Also, cost control opportunities exist and MDLZ is expected to enjoy revenue synergies amounting to $750 million and $1 billion in 2012 and 2013 respectively. In North America, the company can improve upon its costs structure since the separation of its North American grocery business will allow MDLZ to focus on its core business of snacks. Margin expansion in emerging markets can be derived by strong growth and leveraging fixed cost or as the revenue growth will outpace the growth in expenditure resulting in margin expansion.
Input cost has remained favorable for the company as cocoa, coffee and energy prices have decreased.
The following is the guidance provided by the management of the company:
FY 2013 EPS of $1.5 - $1.55 versus analysts' expectation of $1.58,
Long term organic sales growth in range of 5% -7% and EPS growth to remain in low double digit
Dividend Yield of 2%
Along with the attractive growth opportunities the company offers a decent dividend yield of 2%. Recently the company declared a regular dividend of $0.13 per share, payable on Jan. 14, 2013. Free cash flow is expected to remain at around 85% of net income. Given strong free cash flow generation and a low payout of ~35%, I believe dividends can grow going forward. Also, the company can opt for share repurchase given its strong free cash flow position.
Risks
Risks to strong financial performance includes slow and sluggish consumer spending pattern in Europe and North America which may also be experienced in emerging markets. Also, as the company has significant international market exposure, foreign currency risk (strengthening of dollar) is also present.
Valuations
Large US packaged food companies have a historical median P/E of 16.5x, however I believe due to significant emerging market exposure and strong growth opportunities MDLZ should trade at premium compared to its peers. That is why I applied a 10% premium to median P/E 16.5x to calculate the price target. Based on P/E of 18.2x and forecasted FY 2014 EPS of $1.80, a price target of $32.50 is calculated. This provides investors with an upside potential of 24%.
Disclosure: I have no positions in any stocks mentioned, and no plans to initiate any positions within the next 72 hours. I wrote this article myself, and it expresses my own opinions. I am not receiving compensation for it (other than from Seeking Alpha). I have no business relationship with any company whose stock is mentioned in this article.