CSX Corp (NYSE:CSX), a Class I railroad in the United States, provides rail-based transportation services, including traditional rail service and the transport of intermodal containers and trailers. CSX operates 21,000 miles of track and hauls shipments of coal products (32% of consolidated revenue), chemicals (14%), intermodal traffic (12%) and other merchandise. Since 2003, the Company had been improving its net margin from 3.16% to the current 15.84%, ttm. The return on equity had also been improved dramatically from 3.88% in 2003 to the current 21.69%, ttm. Despite the 16% decline of coal volume in the first three quarters of 2012, CSX managed to improve its operating margin continuously, as compared to the 15.82% margin in 2011. With its stable outlook, strong balance sheet and continued operation improvement, CSX is expected to generate consistent cash flow for its investors.
Revenue, Earnings Estimate,and Analysts' Calls
For the current quarter, analysts are expecting $2.87B revenue, as compared to the $2.95B for the same quarter last year. Analysts are also expecting $11.75B revenue for the 2012 fiscal year and $12.07B for the 2013 fiscal year.
In the past 90 days, the EPS estimate had been lowered to $0.40 from $0.46 for the current quarter. The full year EPS estimate was also lowered to $1.75 from $1.84. Analysts are currently projecting an EPS of $1.89 for 2013, which was also lowered from $2.05 as compared to 90 days ago, as seen from the table below.

Source: Yahoo! Finance
On Dec. 13, 2012, JPMorgan Chase reissued their neutral rating on CSX with a $24.00 price target. On Nov. 20, 2012, Zacks reiterated a neutral rating on CSX with a $21.00 price target. On the same date, Avondale Partners downgraded CSX from an "outperform" to a "market perform" rating. Lastly, on Oct. 26, analysts at Atlantic Securities reiterated an overweight rating on CSX with a $25.00 price target.
Increasing Net Income
As seen from the simplified income statement below, CSX continued to achieve increasing operating income since 2007. In 2009, CSX still managed to achieve increasing operating income despite a 19.67% drop in revenue, comparing to year 2008.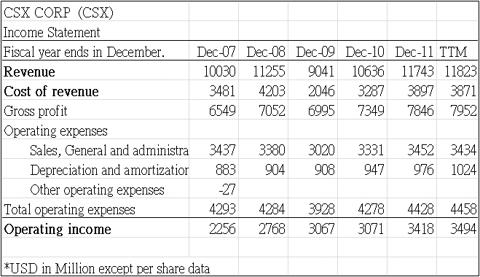 Since 2007, the operating margin had also been improving from 17.99, 22.35 (2006), 22.49 (2007), 24.59 (2008), 25.27 (2009), 28.87 (2010), 29.11 (2011), to the current 29.55, ttm.
As stated in CSX latest 10-Q filing, while CSX continues to strengthen its core business, the Company is focusing on three key strategic growth initiatives, including intermodal, export coal and Total Service Integration. CSX's Total Service Integration initiative was launched in 2006, which "supports growth by improving service, optimizing train size, and increasing asset utilization for unit train shipments from origin to destination." Despite the decreased operating income ($854 million) and slightly increased operating ratio (70.5%) due to lower volume, primarily in coal, in Q3, 2012, CSX still managed to improve its operating margin to 70.1% in the first 9 months of 2012, as compared to 70.7% for the same period in 2011. With the projected revenue of $12.07B with $1.89 EPS, along with the increasing operating margin trend, investing in CSX for 2013 makes sense. There is a high chance that CSX will still achieve income growth in 2013, even without economic recovery.
Valuation
CSX has a lower P/E of 11.0 as compared to the industry average of 14.6. The current P/E is also lower than CSX's 5 year average of 14.2. CSX also has a lower P/B of 2.2, P/S of 1.7, and P/CF of 6.4, comparing to the industry averages of 2.6, 2.4, and 9.9, as seen from the table below. CSX is also trading at 9.9 Forward Price/Earnings as compared to the average of 14.2 for the S&P 500. CSX is currently under-valued as compared to its competitors and should deserve a better valuation.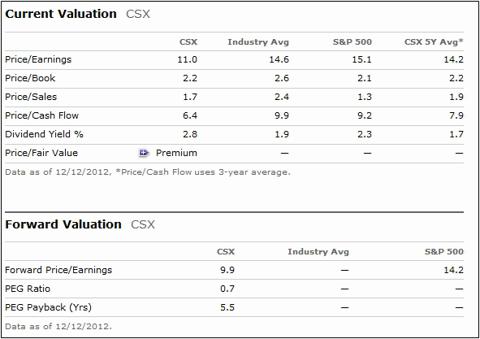 Source: Morningstar, Inc.
Technical Analysis
CSX closed at $19.74 with a 0.51% gain on Dec. 13. The volume of 8.15M is 18.42% less than the 30 day average of 9.99M. CSX had been trading in the range of $18.88-$23.71 in the past 52 weeks. CSX has a beta of 1.22. The MACD (12, 26, 9) indicator started to show a bullish sign since Nov 26; however, the MACD difference had been converging in the past 6 trading days. The momentum indicator, RSI (14), is showing a decreasing selling momentum as it moved toward the 50 middle-line today. CSX is currently trading below its 50-day MA of $20.28 and 200-day MA of $21.28. As seen from the chart below, the next major support will be $18.69, its S1 pivot point, followed by $17.62, the S2 pivot point.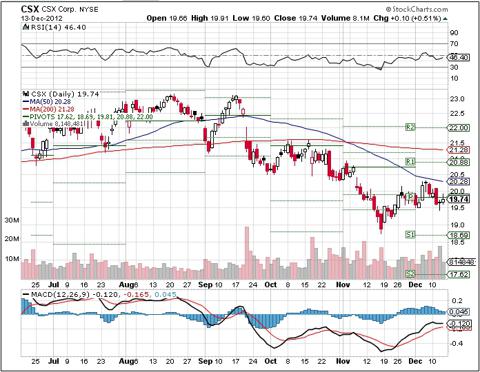 Source: StockCharts.com
Options Play
While the state of the economy for 2013 and the U.S. fiscal cliff is still not clear at this moment, CSX offers an attractive valuation and consistent cash flow with improving operation efficiency for the long-term. For bullish investors, a credit put spread options play will be reviewed for investors who would like to acquire the stock at a lower price while gaining some upside potential.
Short 1x May 18, 2013 put at the strike price of $17.50 for the credit of $0.54
Buy 1x May 18, 2013 put at the strike price of $15.00 for the cost of $0.20
The maximum profit is $0.34, and the maximum risk/margin requirement is $2.16 ($2.5 loss - $0.34 credit received). If CSX closes above $17.50 on May 18, 2013, 15.74% return on margin will be gained. If CSX falls below $17.50 upon options expiration, CSX will be acquired at $17.16, which is 13.07% lower than the current trading price of $19.74. The projected annual dividend yield will be 3.26% based on the acquisition cost of $17.16 and the projected dividend of $0.14 per quarter.
Note: All the prices are quoted from the closing of December 13, 2012 and all calculations are before fees and expenses. Investors and traders are recommended to do their own due diligence and research before making any trading/investing decisions.
Disclosure: I have no positions in any stocks mentioned, but may initiate a long position in CSX over the next 72 hours. I wrote this article myself, and it expresses my own opinions. I am not receiving compensation for it (other than from Seeking Alpha). I have no business relationship with any company whose stock is mentioned in this article.