It was reported this week that Starbucks (NASDAQ:SBUX) is apparently dropping the prices on its Verismo brewer line. For those not familiar with the story, Starbucks released their version of a single-cup brewer several months ago in an attempt to compete with Green Mountain Coffee Roasters' (NASDAQ:GMCR) dominance of that sector. There has been much concern among Green Mountain investors over the expiration of their K-cup patents and alleged accounting irregularities, which led to the significant short interest and a very large price decline.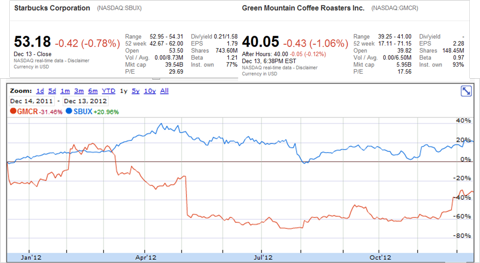 Despite the initial excitement surrounding the Verismo release, it became clear pretty quickly that consumers were not overly happy with the product. The majority of complaints concerned the number and price of pods needed to make a drink similar to one bought in a Starbucks café, as well as the quality of that drink. Now that we have gotten a couple weeks into the holiday shopping season, we see that the Starbucks brewer is likely not selling as well as hoped, and the company is cutting the price by either $50 or $100 in an attempt to cut into Green Mountain's market share.
This tactic might be what we would expect in this situation, however it could be too little too late. We know that the expiration of the K-cup patents has allowed anyone to make their own pods for the Green Mountain Keurig brewers. This cuts into the money Green Mountain was receiving before from pods, but assists in further cementing the Keurig into place as the single-cup standard by creating a vast array of options for those owning the brewer. The sheer number of pods available makes the Keurig a legitimate option even if Starbucks places their brewer at a lower price point.

We should also analyze what message Starbucks sends by lowering the price on the Verismo. Starbucks has long been considered as a premium coffee brand, which is why it made sense for the Verismo to be priced slightly higher than the Keurig brewer. By lowering the Verismo price to garner market share, Starbucks risks sending the message to consumers that their brewer is not as good as the Keurig. The bottom line is that Starbucks may be late in getting to the single-serve party. This is not a threat to the company overall, but my opinion is that companies should focus on what they do well. For Starbucks, that primarily means selling gourmet and specialty coffees at a premium price. There is potential for investing in either company, depending upon your tolerance for risk. Despite a well-received quarterly earnings report, there is still some significant doubt regarding what actually constitutes a fair value on Green Mountain.
In the past year I have held long positions in Starbucks and both long and short positions in Green Mountain. At this point, I will continue short-term options plays on the Green Mountain volatility until the stock levels off. Good luck out there!
Disclosure: I have no positions in any stocks mentioned, but may initiate a long position in GMCR over the next 72 hours. I wrote this article myself, and it expresses my own opinions. I am not receiving compensation for it (other than from Seeking Alpha). I have no business relationship with any company whose stock is mentioned in this article.
Additional disclosure: I may initiate another short-term options position in GMCR depending upon the price movement of the stock.