Southwest Airlines (NYSE:LUV) is the largest and most well-managed airline in the United States. The company has 40 years of history and is known for its low-fare, high-quality air service. The company is repeatedly cited in case histories in business school for being an exceptionally well-run company. The stock price has shown great strength over the previous quarter. The company is likely to grow earnings, and analysts remain upbeat on forward growth.
Qualitative Analysis
The airline industry has been mired in problems since the turn of the decade, but somehow Southwest Airlines was able to prevail through it all. In a 2011 letter to shareholders, CEO Gary C. Kelly states with beaming confidence and pride:
The challenges of the last decade have been daunting for the airline industry: The worst economic recession in aviation history, a worldwide credit crisis, and energy prices rising over five-fold have resulted in total financial losses for the U.S. airline industry in excess of $50 billion. Many U.S. airlines succumbed to the challenges by either ceasing operations or reorganizing through bankruptcy. Southwest Airlines, in stark contrast, prevailed. We are the only major U.S. carrier that provided annual profits for its Shareholder for 39 consecutive years. Our people were undaunted. The notable list of accomplishments in 2011, alone, is attributable to the championship efforts of our employees. It is because of their unwavering warrior spirits that we accomplished all that we did in 2011, and they deserve our thanks.
Management's core growth strategy remains the same. The company's goals include taking good care of its employees, winning more customers, boosting operating revenues, keeping prices low, having a strong balance sheet, and achieving and sustaining 15% pre-tax return on invested capital.
Management approaches growth with a multifaceted approach. Management remains price competitive by utilizing economies of scale. Southwest Airlines operates 610 Boeing 737 aircraft (the largest aircraft in the world). Currently, Boeing operates 88 Boeing 717s(smaller aircraft that came from its AirTran Holding buyout). In total, its fleet consists of 698 aircraft. The smaller aircraft compose a smaller portion of its fleet, and it primarily prioritizes the highest traffic hubs (Seattle, New York, Chicago, Phoenix, Los Angeles, etc.) while avoiding low-traffic markets (hence the lack of smaller aircraft in its fleet).
Other airlines provide broader variety by serving cities with less travel with far smaller aircraft, but not so with Southwest Airlines. Southwest Airlines' primary focus is on operating the single-largest model aircraft. Southwest Airlines has plans of either selling the 717s or depleting the assets' remaining useful life and replacing them with the Boeing 737 Max in 2017. This means Southwest Airlines is unwilling to serve smaller cities, and is determined to operate purely at scale.Southwest Airlines only has operations in the U.S. market. Southwest Airlines has plans of expanding into high-traffic foreign markets, implying growth catalysts.
Southwest Airlines has aggressively hedged fuel price (its derivative position is currently worth $1.3 billion), meaning earnings management. The company is updating its fleet with the Boeing 737 Max. The new aircraft is more fuel efficient (reduces fuel costs by 10%), and the first delivery is expected in 2017. Meanwhile, Southwest Airlines currently updates its fleet with the Boeing 737-800, which has 38 more seats per aircraft than the Boeing 737-700. This supports Southwest Airline's focus on operating at economics of scale.
Southwest Airlines aggressively competes with Republic Airways Holdings (RJET), United Continental Holdings (NYSE:UAL), U.S. Airways Group (LCC), Delta Air Lines (NYSE:DAL), JetBlue Airways (NASDAQ:JBLU), Spirit Airlines (NASDAQ:SAVE), and many others. Southwest Airlines relies on proven management practices, outsourcing of in-house operating activities, hedging of oil prices, economies of scale, infrastructure investment, and unique marketing campaigns to remain competitive. This fine-tuned operational approach has allowed Southwest Airlines to generate profits year over year and is what keeps me optimistic on growth for years to come.
Technical Analysis
Southwest Airlines has been on a continuous uptrend since October 2011. In recent history, the stock broke above the 20-, 50-, and 200-day MAs. This indicates that the stock is in a strong uptrend, and that investors should be wary of further strength.
Click to enlarge images.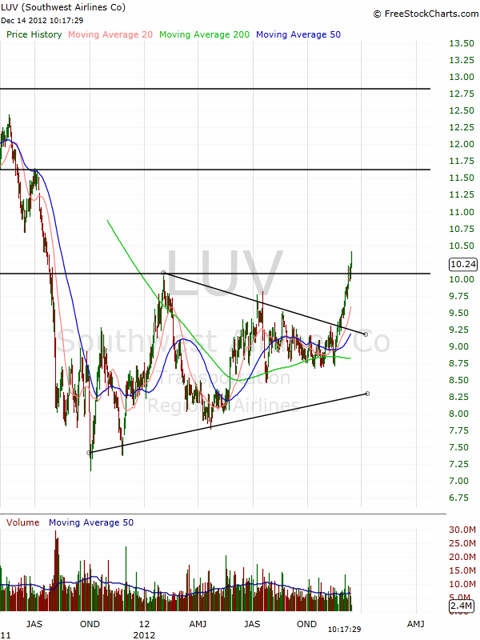 Source: FreeStockChart.com.
In December the stock broke the pennant formation and trended higher. The stock is likely to sustain positive momentum. The recent move is low volume, implying accumulation of shares. Notable support is $10.00 per share. Notable resistance is $11.60, $12.80, and $14.20 per share. I anticipate the stock to rally from current levels ($10.19 per share).
Street Assessment
Analysts on a consensus basis have strong expectations for the company going forward.
| | | | | |
| --- | --- | --- | --- | --- |
| Growth Est | LUV | Industry | Sector | S&P 500 |
| Current Qtr. | -11.10% | 66.40% | 89.00% | 8.40% |
| Next Qtr. | 350.00% | 277.30% | 5092.30% | 14.80% |
| This Year | 27.90% | 30.90% | 206.30% | 5.50% |
| Next Year | 65.50% | 38.60% | -37.50% | 13.20% |
| Past 5 Years (per annum) | 8.53% | N/A | N/A | N/A |
| Next 5 Years (per annum) | 19.80% | 29.89% | 15.13% | 9.17% |
| Price/Earnings (avg. for comparison categories) | 18.22 | 39.45 | 16.72 | 13.49 |
| PEG Ratio (avg. for comparison categories) | 0.92 | 1.26 | 1.06 | 0 |
Source: Table and data from Yahoo Finance.
The company shows reasonable growth as analysts on a consensus basis have a five-year average growth rate forecast of 19.80% (based on the above table).
| | | | | |
| --- | --- | --- | --- | --- |
| Earnings History | 11-Dec | 12-Mar | 12-Jun | 12-Sep |
| EPS Est | 0.08 | -0.05 | 0.33 | 0.12 |
| EPS Actual | 0.09 | -0.02 | 0.36 | 0.13 |
| Difference | 0.01 | 0.03 | 0.03 | 0.01 |
| Surprise % | 12.50% | 60.00% | 9.10% | 8.30% |
Source: Table and data from Yahoo Finance.
The average surprise percentage is 22% above analyst forecast earnings over the past four quarters (based on the above table).
Forecast and History
EPS History and Price History

Year

Basic EPS

P/E Multiple

2006

$ 0.63

24.00

2007

$ 0.85

14.19

2008

$ 0.24

35.54

2009

$ 0.13

87.23

2010

$ 0.61

21.15

2011

$ 0.23

37.09
Source: Table created by Alex Cho, data from the shareholder's annual report, and price history is from Yahoo Finance.
The EPS figure shows that throughout the 2007-11 period, revenue growth slowed as the company was adversely affected by the Great Recession. Once the United States economy exited the recession in 2010-11 the company's earnings have improved.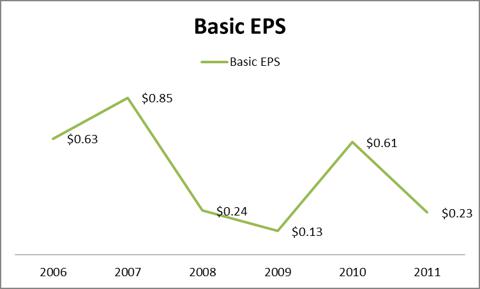 Source: Table created by Alex Cho, data from the shareholder's annual report.
By observing the chart, we can conclude that the business is cyclical and is affected by macroeconomics. Therefore, the largest risk factor for Southwest Airlines is the slowing of international gross domestic product growth and fuel prices. As long as the world economy continues to grow, the company will generate outstanding returns over a five-year time span, based on the forecast below.

Source: Forecast and table by Alex Cho.
By 2016, I anticipate the company will generate $1.43 in earnings per share. This is because of earnings growth, improving global outlook, and the continued success of its product offerings. The forecast is proprietary, and below is a non-linear chart indicating the price of the stock over the next five years.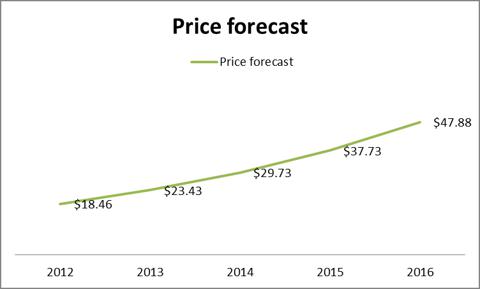 Source: Forecast and chart by Alex Cho.
Investment Strategy
LUV currently trades around $10.32, and although the holiday season is coming to a close, I remain optimistic. I have a price forecast of $18.46 for 2012, being that there are only 16 days before the end of 2012. It may not necessarily hit that price target due to the short time frame. That means we should move to the long run, and focus on 2012-13. In the first quarter of 2013, Southwest Airlines will announce earnings for the fourth quarter of 2012. Up until the earnings are announced, the stock should experience a strong run-up. I anticipate the stock to trade to around $18.46-$23.43, implying a lot of upside going forward.
Short Term
Over the next couple months, the stock is likely to appreciate from $10.19 to $18.46-$23.43. This implies 78%-127% upside from current levels. The price history shows an up-trend in price action. Therefore, both the forecast model for fundamentals and the market sentiment make me inclined to recommend buying at $10.19 and selling at $18.46-$23.43 per share. There is notable resistance at $11.60, $12.80, and $14.20 per share. It is likely that the stock will experience minor pullbacks at each level throughout the 2012-13 period.
I would sell the stock beyond $18.46 per share to pocket short-term gains in 2013.
Long Term
The company is a great investment. I anticipate LUV to deliver on the price and earnings forecast despite the risk factors (global economic slowdown and fuel prices). Southwest Airlines' main upside catalysts are economic growth and international expansion. I anticipate the company to deliver on my forecast price target of $47.88 by 2016. This implies a return of 363% by 2016.
Conclusion
Southwest Airlines is a great investment opportunity. The strong market sentiment and price forecast keeps me an optimist. The answer seems simple: Buy LUV.
Disclosure: I have no positions in any stocks mentioned, and no plans to initiate any positions within the next 72 hours. I wrote this article myself, and it expresses my own opinions. I am not receiving compensation for it (other than from Seeking Alpha). I have no business relationship with any company whose stock is mentioned in this article.