When forming a dividend portfolio, one wants to be as diversified as possible. The problem is, when trying to find exposure to the financial sector, it is very difficult to find choices that still offer a dividend to make holding the stock worthwhile. During the recent financial crisis, Citigroup (NYSE:C) cut its dividend dramatically, from a split-adjusted high of $5.40 quarterly to its current 1 cent dividend. The company hopes to bring it back after fulfilling its obligations to the government, but for now, it is not a viable option for dividend investors. The same can be said for Bank of America (NYSE:BAC), whose dividend has decreased from $0.64 in 2008 to a penny today as well. Even financials that still offer reasonable dividends, such as Wells Fargo (NYSE:WFC), Goldman Sachs (NYSE:GS), and JP Morgan (NYSE:JPM), offer a maximum yield that is under 3%. While I am extremely bullish about the growth prospects of some of these, particularly Wells and Goldman, they are not exactly a dividend investor's dream.
However, there are some stocks to be had that will give you both a respectable income and exposure to the financial sector. My favorites, in no particular order, are:
1. NYSE Euronext (NYSE:NYX) - This holding company was created by the combination of NYSE Group and Euronext in 2007. The company operates a total of six exchanges in six different countries. As of this writing, the company pays out a 5.18% dividend, and trades at only 12.1 times 2012 earnings. The company is expected to grow its EPS by 12% annually for the next three years, according to Standard and Poor's, so the dividend is likely to increase in the future. Not only was the dividend not cut during the financial crisis, it was actually raised in 2008 to the level it remains at today. In addition, the average price target among all analysts covering the company is $27.63, representing a potential 18% upside over current levels.
(click images to enlarge)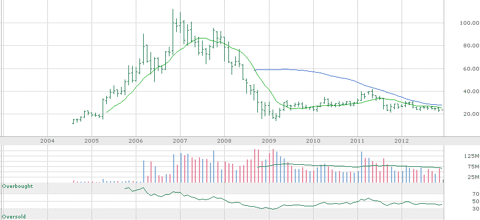 2. KKR & Co LP (NYSE:KKR) - This global investment company offers a range of investment management services, and currently yields 6.05%. Trading at only 6.7 times TTM earnings, this is a cheap stock with strong growth prospects, having grown earnings at an average 22% rate over the past five years. Among all analysts covering the stock, there is an average price target of $18.43, which is a 33.6% upside potential, in addition to the excellent yield.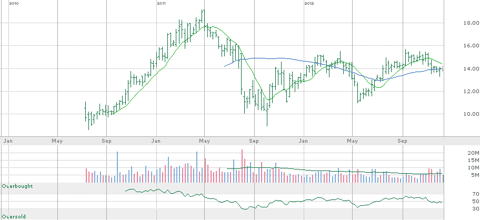 3. Oaktree Capital Group LLC (NYSE:OAK) - This is a global investment management company focused on alternative markets. The company manages funds in investment strategies that fall into six asset classes. These include distressed debt, corporate debt, control investing, convertible securities, real estate, and listed equities. The company's assets under management are $79.5 billion. Currently yielding 5%, the company is projected to grow earnings from $3.47 a share in 2012 to $4.75 a share in 2013, meaning it currently trades at just 9.3 times forward earnings -- a great valuation for a company expected to grow its earnings at almost 37% year-over-year. The average 1-year price target among analysts is $50.36, 14.3% above Oaktree's current share price.
In conclusion, companies such as these are a great way to get exposure to the financial services sector while still earning the level of income that dividend investors expect. All three of these companies are very fairly valued, and have very sound balance sheets. The amount of growth expected of these companies should mean that the dividends are not only safe, but will more than likely increase over the next few years.
Disclosure: I have no positions in any stocks mentioned, and no plans to initiate any positions within the next 72 hours. I wrote this article myself, and it expresses my own opinions. I am not receiving compensation for it (other than from Seeking Alpha). I have no business relationship with any company whose stock is mentioned in this article.