"The China flash factory purchasing managers' index was at 50.9, the highest in 14 months and the fifth consecutive monthly gain. New orders rose to 52.7, also a fifth consecutive monthly rise. Exports continued to be weak, pretty much as advertised from the trade data earlier this week, and this is a reason for China's new leadership to keep an accommodative stance to its monetary policy." -- Jim Cramer (Financial Analyst, Editor and TV talkshow host, December 14, 2012)
The news about what's happening in the world's second largest economy is at times confusing and at best contradictory. One factor removes the guess work, and that is China's new leadership and the Bank of China have lots of reasons to follow the example of the U.S. when it comes to monetary policies.
Mr. Cramer's quote above hits on an important reason why. Chinese exports have been weak, and that won't continue for long if China hopes to keep its own economy from a recession. Nothing changes until something moves, and that "something" is monetary stimulus.
Recently I learned from a Mineweb.com report that China has become the world's largest market for silver investment. The story quoted a Thomson Reuters GFMS study released Thursday, December 13th by the Silver Institute.
The report, The Chinese Silver Market, "...forecasts growth in China's domestic silver mine production over the next couple of years." "This growth is premised on a strong project pipeline from primary silver mines, coupled with ongoing gains in silver produced as a by-product of base metals and gold mining," said the study. "Gains will be further augmented by a greater degree of commercialization and consolidation across the Chinese mining industry." Since silver is an industrial metal as well as a precious metal, it's another indicator of ongoing industrial growth that has catapulted China into the position of being the world's second largest silver fabricator.
So what are some direct and indirect ways of benefiting from China's expected monetary policy easing and its ongoing industrial recovery?
One way is through shares of the iShares FTSE China 25 index ETF (NYSEARCA:FXI). This is a convenient way to participate in the price movement of 25 of the largest and most liquid Chinese companies. These include China Mobile (NYSE:CHL), energy giant CNOOC Ltd. (NYSE:CEO) and China Construction Bank Corp. (OTCPK:CICHY).
The 12-month chart below indicates the positive price movement of FXI and its ongoing Relative Strength Indicator (RSI).
(click images to enlarge)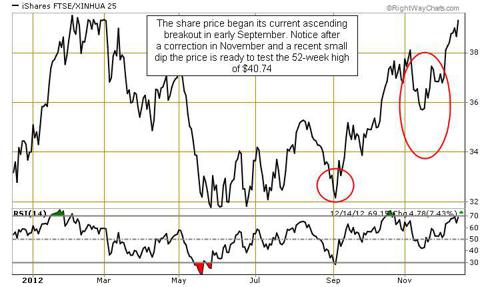 The very popular RSI or Relative Strength Indicator, is a momentum oscillator that compares the strength of gains against the strength of losses over a given period. Notice the RSI appears to be topping up.
It appears FXI's share price is about to go above an RSI of 70, so it may be overbought. Or it may be about to break out above the overhead 52-week high resistance and begin the climb to new heights.
A joyfully received New Year's announcement by the Bank of China that monetary policy will continue to be in the direction of easing may be just the "ticket" to that rally. This would be in line with what the U.S. central bank (aka The Federal Reserve) unveiled on Wednesday, December 12th.
Another way to participate in the under-anticipated upside in China and the global recovery story would be to invest in shares of General Electric (NYSE:GE). The oldest member of the DJIA 30 had an upbeat duo of shareholder-friendly announcements on Friday, December14th.
GE said it will buy back an additional $10 billion of its shares and increase its dividend for the fifth time since 2010. CEO Jeff Immelt, who will host an analysts meeting on Monday, December17th, appears to be keen on returning a greater amount of GE's cash flow to shareholders.
GE raised the dividend payout by 2 cents to 19 cents a share payable on January 25, the Fairfield, Connecticut-based company said Friday in a statement. The world's largest maker of everything from diesel locomotives to medical imaging equipment had slashed the payout to 10 cents a share in 2009 to save cash during the financial crisis.
The company had about $4.9 billion remaining on its existing repurchase plan running through 2013, so the additional shares will extend the stock buyback program out through 2015. This is, by coincidence I imagine, in lock-step with The Fed's 0% interest rate plans.
"Returning cash to our shareholders remains a top priority," CEO Immelt said in the statement. "Coupled with our strong operational outlook, today's announcement underscores our balanced and disciplined approach to capital allocation."
Immelt said during a September 27th meeting with analysts that he'd like to reduce GE's outstanding shares to fewer than 10 billion and expand the dividend "in line with earnings" while targeting a dividend payout ratio of 45 percent (it's currently at around 52%).
There were 10.5 billion shares of GE stock outstanding as of September 30th, according to data compiled by Bloomberg. On December 12th, the Office of the Comptroller of the Currency approved GE Capital's acquisition of MetLife's (NYSE:MET) deposit business for $6.5 billion.
The Street.com's Research Director Stephanie Link recently commented on that decision, which I refer to in a new article that will be released on Monday morning, December 17th. Ms. Link states, "… it [the MetLife transaction] provides a critical addition to GE Capital's Consumer Finance business and the ability to self-fund its private-label credit card receivables."
Some speculation abounds that this may be part of a yet-to-be disclosed plan by GE to spin-off its financial services operations. This would be another very positive "gift" to shareholders if indeed it happens. Below is a 12-month chart with both price and RSI.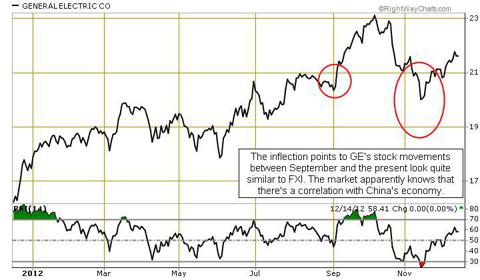 You can see from the chart above that the RSI has been moving steadily higher from its post-election November oversold condition. Both the RSI and the stock could move up to former high levels.
Let me add a comment here about the unresolved federal tax and budget issues in Washington, D.C. I'm not going to use the term "fiscal cliff" (oh my gosh, I did it anyway!). It's not impossible that a last-minute compromise may be hammered out very soon.
On the other hand, the issues and the "trauma-drama" may carry through into January. Does it really matter that much either way when it comes to the reaction of the stock market? It may bring somewhat more volatility in the very near term, but eventually, the market will either have a "relief rally" or climb a wall of worry. So will shares of GE.
Finally, what's the best way to participate in China's seemingly insatiable appetite for silver? I maintain that the most conservative way is through shares of Silver Wheaton (SLW).
As of the closing price on Friday, December14th of $37.10, you can buy stock in this silver royalty-streaming company, which has little debt, $555 million in total cash (most-recent quarter),operating and profit margins that are outstanding (74% and 73%, respectively). All this with a forward (1-year) PE of just above 16, and an analysts' consensus price-per-share estimated target of nearly $48.
If the price of silver suddenly and unexpectedly spikes higher (as it has done twice in the past 10 years), SLW could double in price from here. If silver prices stay range-bound, SLW has many lucrative silver-purchasing agreements in place to buy from silver producers at an average price of around $10 an ounce.
You don't need my testimony on SLW to convince you of its value and upside potential. I enthusiastically encourage you visit its well-organized website and to peruse its many sections for details.
If you have the risk tolerance for volatility and geopolitical uncertainty, you may want to invest a modest amount in shares of Vancouver, B.C.-based silver producer Silvercorp Metals (NYSE:SVM). Its main operations are in Chinese provinces. Shares rose over 3% on Friday, December 14th on average volume.
If you can believe the company's accounting reports and key financial statistics -- and I have no reason to doubt that you can -- SVM has no debt and Total Cash (mrq) of nearly $196 million. It claims a forward PE of less than 10, and its operating margin (TTM) is a respectable 48%.
Like SLW, I'd heartily encourage you to explore the user-friendly company website. The website has the latest news and the company's earning reports.
No one knows for certain, but evidence is mounting of a global economic recovery fueled by the generous "goosing" of monetary policies by the world's central banks. When the media "soap-opera" in Washington plays itself out, those who are well-positioned in stocks or ETFs poised to benefit from China's rebound will breathe a happy sigh.
Disclosure: I am long FXI, GE, SLW, SVM. I wrote this article myself, and it expresses my own opinions. I am not receiving compensation for it (other than from Seeking Alpha). I have no business relationship with any company whose stock is mentioned in this article.