It is often said that every rise has to see a fall at some point in time. This postulate seems to be valid for two titans of the past i.e. J.C. Penney (NYSE:JCP) and Best Buy (NYSE:BBY). A hit of 50% to the stock values of both BBY and JCP this year has made the Street forget about successes of both companies in the past. The key reason behind this drop in value seems the existence of operational, financial and strategic issues. We suggest staying away from both JCP and BBY until breakouts in their strategies start appearing.
JCP
JCP, the 110 years old department store chain, is now fighting for its revival. After a 25% drop in sales in previous quarter, Mr. Johnson, the new CEO introduced the new concept of "store within store." An overview of JCP's operational performance shows despite implementation of the new store concepts in 10% of its stores, JCP reported poor operational performance in Q32012. If compared to Q32011, the company witnessed deep drop in market share as its revenue went down by 26% and gross margin went down by 40%. Its performance relative to industry was also disappointing as its operating and net profitability margins were negative (both at -4%) compared to industry average of 10% and 5%, respectively.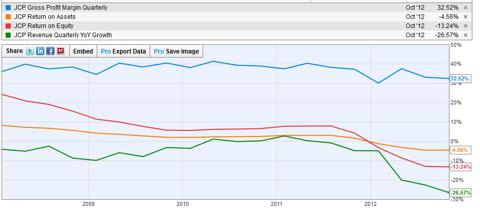 Source: Y Charts
Should investors expect a bullish operational future for JCP based on its revamping strategies? The answer would be a no because of management deviating away from the traditional core.
Although the CEO seems quite optimistic about his new strategies, we feel that his efforts are not really valid in JCP's business context. We could have supported Johnson's strategies had JCP been a provider of breakout products like Apple Inc. (NASDAQ:AAPL) is. Revamping its stores and giving them a high end look made sense for AAPL owing to its unique products. However, the products which JCP provides in the new store formats are certainly not as unique as AAPL products. Moreover, the company has only been able to convert 11% of its main stores into the new formats. Johnson still has to work on the remaining 90% which seems to be a tough task as a financing of $1 billion in the coming years might not be feasible because of JCP's poor operational performance.
We feel that relying on debt for financing this $1 billion would be really difficult for JCP given its current capital structure. Its debt to equity ratio of 85x is already higher than competitors' average of 67x. Moreover, getting access to credit would become even more difficult for JCP as S&P has cut JCP's credit ratings because of weak financial results. Such circumstances are certainly not favorable for relying on debt financing.
BBY
While BBY has suffered a lot because of poor operational performance, some hopes came for the investors in August 2012 as Richard Schulze showed willingness to buy the company for revamping. While 10th December 2012 was the date set for announcement of Schulze's plans, more time has been demanded by him to make the decision extending the date to a point in February 2013. Pessimism about BBY seems prevalent in Wall Street as the stock has lost 14% of its value after this news.
One key question which arises in mind is that why does Schulze need more time to make the decision? The answer probably lies in the operational, financial and strategic dimensions of the company. From an operational perspective, BBY has seen a drop in revenue by 95 bps despite a rise in COGS by 92 bps. This is the key reason why it has faced losses for Q32012 despite the fact that its competitors have reported an average net profitability of 5%. The company has also witnessed an overall drop in same store sales by 4.3% compared to a drop of only 0.7% in the same period of the prior year. Reporting such poor performance in November 2012 can be one reason why Schulze wants to wait till the next quarter. Perhaps, he wants to see how the company does in this quarter before making the final decision.
Still another reason behind his extension seems to be the unsatisfactory performance of BBY in stock market. Based on its historical P/E of 4.95x and forward EPS of $2.15, we set a target price of $11 for BBY. As this price is lower than the current market price of $14, BBY can generate capital losses of 25% for investors.
Still another reason behind the extension of Schulze's decision can be the infancy stage of Mr. Joly's strategies. As his plans to integrate online format with the brick and mortar structures are in early stages, not much can be predicted about the effectiveness of his plans. He has also been facing some challenges in implementing the plans making it even more difficult to predict something about future profitability of BBY. Maybe Schulze wants to wait till the results of Joly's strategies start appearing.
Our Stance
Both JCP and BBY are facing deep operational troubles because of a loss in revenue as well as profitability. As strategic horizons for both the companies are yet not clear, we suggest avoiding both the stocks till the next few weeks.
Disclosure: I have no positions in any stocks mentioned, and no plans to initiate any positions within the next 72 hours. I wrote this article myself, and it expresses my own opinions. I am not receiving compensation for it (other than from Seeking Alpha). I have no business relationship with any company whose stock is mentioned in this article.