Overview
As part of the volatile transportation sector, railroad stocks can sometimes be overlooked as potentially compelling investments. Rail stocks are sensitive to changes in fuel prices, as well as to fluctuations in freight prices. The US stocks recommended in this article are cheaper than their Canadian counterparts such as Canadian Pacific (NYSE:CP) and Canadian National Railway (NYSE:CNI), which trade at 17.5x and 14.7x 2013 earnings estimates, respectively. The companies below have market caps of at least $19 Billion, have dividend yields of at least 2.9% and trade for less than 11x 2013 earnings estimates.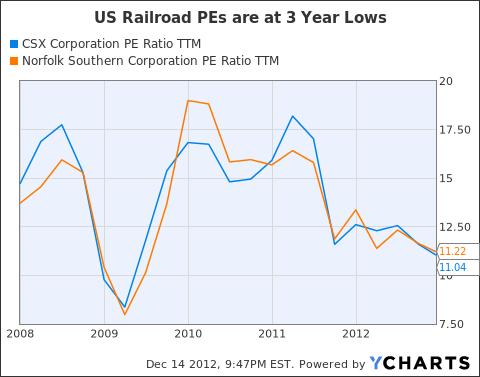 CSX PE Ratio TTM data by YCharts
CSX (NYSE:CSX)
Market Cap: $20 Billion
Dividend Yield: 2.9%
Estimated 2013 PE Multiple: 10.5x
CSX, one of the country's largest railroad companies, is down more than 7% over the past year. The company operates approximately 21,000 miles of rail track in 23 US states, Washington DC and two Canadian Provinces. Over the years 2003 to 2011, CSX was able to increase EPS at a CAGR of 26%. Additionally, during this period, CSX was able to improve operating margins by 1,774 BPS. Although, the company has suffered some volume losses recently, CSX was still able to increase EPS in Q3 2012 by slightly more than 2% YoY partly due to its stringent cost cutting measures. In addition to its 2.9% dividend yield, CSX is also undertaking a fairly large share buyback program.
Norfolk Southern (NYSE:NSC)
Market Cap: $19 Billion
Dividend Yield: 3.29%
Estimated 2013 PE Multiple: 10.8x
Norfolk Southern, another premier railroad company, is down almost 17% over the past year. The company operates approximately 20,000 miles of rail track in 22 US states as well as in Washington DC. The company has increased its dividend per share at a CAGR of 22% from 2002 to 2012. Norfolk Southern is optimistic about the increased business that it should receive as a result of the "Shale Boom" in the US. The company has initiated a few new capital plans that should help the company increase volume and profitability. The company has a healthy 3.29% dividend yield and trades at a reasonable earnings multiple of 10.8x 2013 estimates.
Disclosure: I have no positions in any stocks mentioned, and no plans to initiate any positions within the next 72 hours. I wrote this article myself, and it expresses my own opinions. I am not receiving compensation for it (other than from Seeking Alpha). I have no business relationship with any company whose stock is mentioned in this article.