Despite higher industrial production (1.1%, higher than expected 0.3%) and capacity utilization (78.4%, higher than expected 78.0% and highest since July, 2012) in The United States and stronger HSCB purchasing managers index for China (50.9, higher than expected 50.8, highest level in 14 months), the market still could not manage a gain as the concerns for fiscal cliff lingered on.
NASDAQ was hurt by Apple Inc. (NASDAQ:AAPL)'s 3.76% decline. NASDAQ declined with another 0.70% loss, and S&P fell by 0.41%. Dow Jones had a less volatile day but still closed with a loss of 0.27%. PowerShares QQQ Trust ETF (NASDAQ:QQQ) stayed below its 50-day MA of $65.50 and 200-day MA of $65.40 throughout the trading day. SPDR S&P 500 ETF (NYSEARCA:SPY) was approaching its 50-day MA support of $141.80. SPDR Dow Jones Industrial Average ETF (NYSEARCA:DIA) still maintained above its 50-day MA of $130.79 by closing at $131.46. For the week, NASDAQ fell 0.2%, S&P declined 0.3%, and Dow Jones gave up 0.1%. Technology sector led the decline with 0.85% loss while basic materials managed to close with the highest gain of 0.85% among all sectors. The gain in the basic materials sector was mainly due to recovery from Hurricane Sandy.
For NYSE, 1,427 stocks advanced, 1,601 declined, and 126 stayed neutral. For NASDAQ, 1,196 stocks advanced, 1,238 declined, and 129 stay unchanged. The No. 1 story stock with unusual call activities on Friday will be introduced below for traders/investors to research further.
| | | | |
| --- | --- | --- | --- |
| Name (Ticker) | Call Volume | Average Call Volume | Daily Volume Ratio |
| Avago Technologies Ltd (NASDAQ:AVGO) | 11,144 | 1,245 | 8.95 |
Source: Schaeffer's Research
Avago Technologies Ltd
Avago Technologies is a designer, developer, and global supplier of a broad range of analog semiconductor devices with a focus on III-V based products. The Company serves three product categories, including optoelectronics semiconductors, radio frequency microwave components and enterprise application-specific integrated circuit (OTC:ASIC). AVGO is a part of the Technology sector, which includes companies such as Intel Corporation (INTC) and Taiwan Semiconductor Manufacturing Company Limited (TSM).
Recent Highlights
In the past 2 trading days, AVGO fell from $34.57 (closing on Dec. 12) to $31.14 with 9.92% loss. A few events had happened in past few trading days. AVGO distributed $0.17 cash dividend per share on December 13, 2012. Tan Hock (President & CEO of AVGO) sold 300,000 shares at a price of $34.43 as reported on Dec. 13. On the same date, Goldman Sachs upgraded AVGO from a neural rating to a buy rating with a price target of $44.00, which was up from the previous price target of $40.00. Lastly, on Dec. 14, Jefferies's analyst Peter Misek reported that AAPL suppliers had received order cuts in the last 24-48 hours, although he believed that assembly orders remain unchanged. As quoted, "Our checks indicate the builds at the assemblers (Hon Hai, Pegatron, Jabil) have remained constant since then. But in the last 24-48 hours, component suppliers have seen large order cuts as the assembly bottleneck has not improved as much as hoped. We believe assembly is currently ~15M iPhone 5 handsets per month with a target of 20M/month in January. We had thought Apple would be further along the assembly ramp at this point and believe Apple will see extra charges due to the excess component inventory." AVGO was impacted negatively with this report.
Fundamental Overview
By using the data obtained from Morningstar, AVGO's key stats will be compared to its peers in the semiconductors industry. AVGO has a higher revenue growth and EPS growth (3 year average) of 11.2 and 103.5, as compared to the industry averages of 10.8 and 29.0. AVGO also has a higher operating margin and net margin of 24.4%, ttm, and 23.6%, ttm, comparing to the averages of 19.3% and 12.1%, respectively. AVGO also generates stronger ROE of 26.8 with lower debt-to-equity of zero, as compared to the averages of 13.9 and 0.5. AVGO is currently under-valued with PE of 14.0, as compared to the average of 19.7.
Technical Analysis
AVGO closed at $31.14 with 7.60% decline on Friday. The volume of 9.87M is 4.33x of 30 day average volume of 2.28M. AVGO had been trading in the range of $27.39-$39.22 in the past 52 weeks. AVGO has a beta of 0.93. The MACD (12, 26, 9) indicator started to show a bearish sign since Dec 13. The MACD difference diverged Friday, as seen from the chart below. The momentum indicator, RSI (14), is showing an increasing selling momentum at 30.90. AVGO sliced through its 50-day MA of $33.77 and 200-day MA of $34.77 in past two trading days. AVGO is very bearish in the short-term.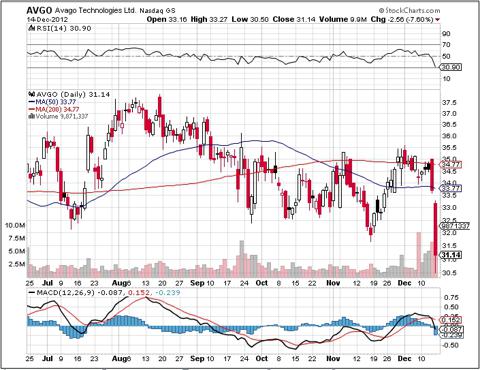 Source: StockCharts.com
Options Activities
The most active call was Jan 18, 2013 at the strike price of $35.00 with the volume of 17,040 and an open interest of 8,171. The implied volatility is 35.3, and the chance of breakeven is 11.91. The Jan. 18, 2013 $30.00 call also had a high volume of 12,015. The historical volatility for AVGO is 22.99 for 1 month, 30.34 for 3 months, and 33.02 for 1 year.
Note: All numbers/prices are quoted from the closing of December 14, 2012 with the data provided from Barron's, MorningStar, Schaeffer's Investment Research, Inc., Google Finance, and Yahoo! Finance. Investors and traders are recommended to do their own due diligence and research before making any trading/investing decisions.
Disclosure: I have no positions in any stocks mentioned, and no plans to initiate any positions within the next 72 hours. I wrote this article myself, and it expresses my own opinions. I am not receiving compensation for it (other than from Seeking Alpha). I have no business relationship with any company whose stock is mentioned in this article.