One of brightest growth stories of the last few years is the continued domestic energy expansion that should make this country energy independent within two decades, or at least less interrupted. One of the challenges of this additional oil & gas output is the lack of pipeline capacity to carry all of it. This has meant many E&P producers in developing shale regions are employing railcars and trucks to carry their expanding energy bounty (oil & natural gas liquids) to market. This can mean they receive significantly less per BOE (Barrel of Oil Equivalent), which reduces their margins significantly. This provides an opportunity to invest in high yield master limited partnerships in this space that will build, maintain and profit from the continuing pipeline build out. One of the companies I like here is Magellan Midstream Partners (NYSE:MMP) which has substantial growth prospects ahead of it. It also has a history of consistently increasing its distributions to its unit holders.
Magellan Midstream Partners consists of the following assets:
It owns and operates storage terminals that have storage capacity of approximately 36 million barrels.
The company owns and operates inland terminals that have a combined storage capacity of approximately 5 million barrels
The partnership owns the longest refined petroleum products pipeline system in the country, with access to more than 40% of the nation's refining capacity and is comprised of approximately 9,600 miles of pipeline and 50 terminals; and 6 petroleum storage terminals located along coastal waterways.
Magellan also has just under 30 inland terminals located primarily in the southeastern United States.
Finally it possesses an ammonia pipeline system consisting of a 1,100-mile pipeline and 6 terminals.
New growth opportunities:
It announced it is partnering with Occidental Petroleum (NYSE:OXY) to build the necessary infrastructure to provide 300,000 BPD of new capacity. The infrastructure build will consist of approximately 450 miles of new pipeline and two storage facilities totaling 2.6mm barrels of capacity. This will enable Occidental Petroleum to bring its Permian Basin production from Colorado City to market. The company has easy access to financial markets right now to fund its growth. It just successfully floated a $250 debt offering maturing in 2042 for just over 4.2%.
Expansion plans also include a $375mm effort to convert a section of its refined products pipeline, enabling West Texas crude oil to ship to Houston refineries and gain access to crude oil from the Eagle Ford Shale. It also is considering selling its 1100 mile ammonia pipeline as it views the assets as non-core and the funds could be utilized to further build out is crude oil infrastructure.
Distribution growth:
MMP currently yields 4.6% and just announced a 3% distribution payment increase. It was the 42nd time the company has raised its payout since its IPO in 2001. As you can see from the chart below, MMP consistently raises its payouts even through the financial crisis. Those payments have accelerated the last two years.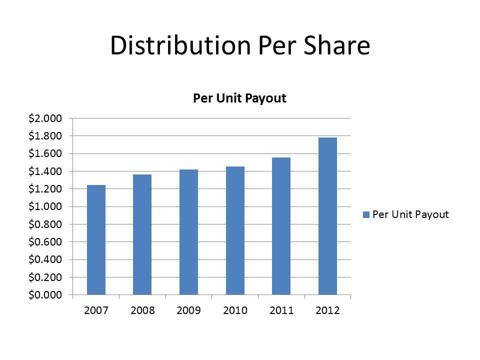 3 additional reasons MMP is solid long term income pick up at $42 a share:
One of the best ways to evaluate investments in the space is looking at operating cash flow growth (OCF). Magellan has more than tripled its OCF in the last three years.
Revenue growth is expected to accelerate to the mid-teens in FY2013 from the low single digit sales increases this fiscal year. The completion of the Occidental Petroleum pipeline in Mid-2014 should ensure positive revenue increases continue.
S&P has a "Buy" rating and a $48 price target on MMP. The stock also provides a low beta (.37) for income investors looking for opportunities with good yield and lower volatility than the overall market.
Disclosure: I am long OXY. I wrote this article myself, and it expresses my own opinions. I am not receiving compensation for it (other than from Seeking Alpha). I have no business relationship with any company whose stock is mentioned in this article.