In a previous article, we explored the top 10 cross holdings of three ETFs based on dividend payment consistency, financial quality of the companies and low volatility of their stock prices.
We did so in response to this generic conversation between an advisor and a retiree.
Financial Advisor: What is it that you want from the stocks in your portfolio?

Retiree: Well, I need income and I need it to grow to keep up with inflation. I want the income to be reliable, coming from high quality companies with a proven history; and I'd like the stocks to be a bit less volatile than the stock market overall.
The three ETFs the advisor evaluated to filter for the retiree's goals were:
S&P 1500 Dividend Aristocrats (NYSEARCA:SDY)
S&P 500 High Quality (NYSEARCA:SPHQ)
S&P 500 Low Volatility (NYSEARCA:SPLV).
That hypothetical retiree took a look at the top ten cross holdings of those three ETFs, and also the full list of cross holdings, and came back with another issue.
She, being cautious, said:
Retiree: That list has a lot of names I recognize -- big companies -- solid. I wonder, though, what a larger group of funds that focus on dividend income would own. I'd like to have that information in hand to compare to whatever we consider for my portfolio.
The advisor went to work to pull that list together. He identified 13 funds (12 mutual funds and 1 ETF not in the list above) that have dividend income as an objective, at least $100 million in assets, and a trailing yield (as of November 30) of at least 3%.
He identified the top 50 holdings, put them in order by allocation assuming equal weight of each of the 13 funds, and showed her the list. It looks like this, and is available in full as a download from our Rational Risk website.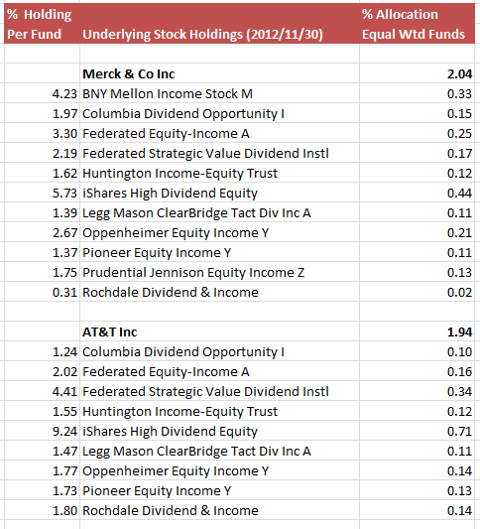 Let's look at the top 10 cross holdings among the top 50. The data is from Morningstar and is as of November 30, 2012.
The names and symbols of the top 10 are:
That is a substantially different list compared to the top 10 of the dividend, quality and low volatility ETFs used in the first round of filtering for the retiree. Only Johnson & Johnson is in both lists. There is more overlap farther down in the two full lists, but in the top 10 of each, only 1.
(NYSE:PG) Proctor & Gamble
(NYSE:SYY) Sysco Corporation
Johnson & Johnson
(NYSE:KMB) Kimberly-Clark Corporation
(NYSE:PEP)

PepsiCo

(NYSE:ABT) Abbott Laboratories
(NYSE:CLX) Clorox Company
(NYSE:KO) Coca-Cola
(NYSE:CL) Colgate-Palmolive
(NYSE:MCD) McDonald's
Data below is for the top 10 from this filter of 13 dividend income funds.
Dividends, Yields, Payouts and Dividend Growth Rates

Trailing Returns, Worst 3 Months in 10 Years, and 3-Yr Std. Dev.

Valuation by P/E, P/B, P/S and PEG With Historical Ratios

Sectors Compared to the S&P 500
Assuming the top 10 companies were held in equal weights, this is how the sector allocation would look ("Bmark" = benchmark - S&P 500).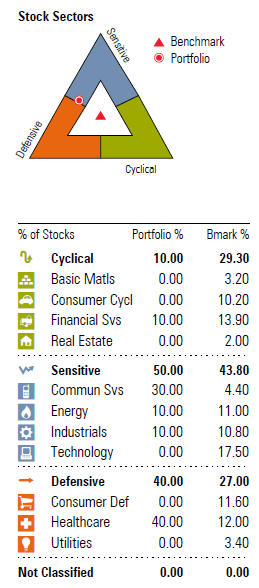 Company Type versus the S&P 500
The list is not surprisingly much less cyclical and slower growing than the S&P 500, but much higher yield -- a larger portion of future total return would be expected to come from income than from capital gains, than for the S&P 500. Total return may or may not exceed that of the S&P 500, but most likely the ratio of dividend return to total return would be higher from this list.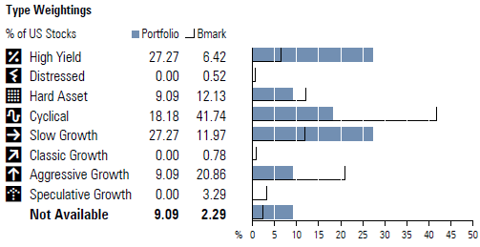 The trailing yield of this particular equal weighted 10 stock portfolio is 4.28% (compared to 2.01% for SPY, an investable S&P 500 proxy).
Volatility and Risk/Reward
While the advisor did not filter for low volatility, the portfolio is less volatile than the S&P 500. The 3-year Beta is 0.72, and the 5-year and 10-year Betas are 0.82.
For each of 3 years, 5 years and 10 years, this set of 10 stocks had they been held at the beginning of each period in equal weights and rebalanced monthly, would have generated a higher mean return, a lower standard deviation and a better Sharpe Ratio than the S&P 500.

Worst Drawdowns
This set of 10 stocks held in equal weights also produced less in the way of drawdowns than the S&P 500 through November 30, 2012.
Here are comparisons over 3 months, 1 year and 3 years (portfolio % / S&P 500 %):
3 months (-18.94 / -29.66)
1 year (-35.14 / -43.43)
3 years (-8.54 / -15.08)
Quarter-by-Quarter Performance Top 10 vs. S&P 500
Knowing that the retiree would want more granular data on historical performance comparisons, the advisor provided this histogram, which shows the quarterly difference between the return of those top 10 holdings held in equal weight versus the S&P 500.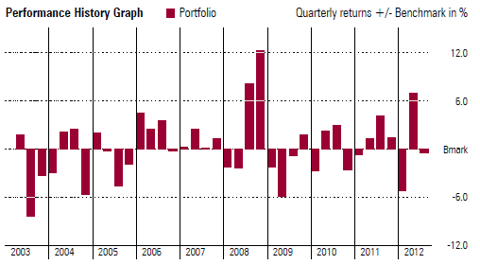 He cautioned her that just about any portfolio will sometimes outperform an index, and other times underperform, even if over longer periods it outperforms.
In this example, of 10 years (40 quarters) the portfolio of 10 stocks underperformed the S&P 500 in 18 of 40 quarters -- just about 1/2 of the time. And in 3 of the 10 calendar years, underperformed in 3 consecutive quarters.
The advisor and the retiree had much more to discuss, but this plus data on the cross holdings of the three ETFs based on dividend consistency, financial quality and low volatility gave them plenty of meat to chew on.
We have a different cross section here of what the advisor showed her about these stocks, versus what he showed her about the top 10 in the prior list.
In a future article, we will look in on those two people to see how they narrowed a selection of dividend income stocks for her personally, probably out of the two full sets of cross holdings with a single set of data.
Disclosure: QVM has positions in JNJ, PEP, ABT and MCD is some managed accounts as of the creation date of this article (December 15, 2012). We certify that except as cited herein, this is our work product. We received no compensation or other inducement from any party to produce this article, but are compensated retroactively by Seeking Alpha based on readership of this specific article.
General Disclaimer: This article provides opinions and information, but does not contain recommendations or personal investment advice to any specific person for any particular purpose. Do your own research or obtain suitable personal advice. You are responsible for your own investment decisions. This article is presented subject to our full disclaimer found on the QVM site available here.