My Top 5 Picks for 2012 outperformed nicely. I'm happy to make these lists until that is no longer the case. Below are the results:

Disclosure: Equal weight, $100,000 portfolio setup with Finviz.
I traded Dolby (NYSE:DLB) and Eli Lilly (NYSE:LLY) throughout the year. I should have had the balls to pickup Bank of America (NYSE:BAC) when I knew it was too cheap at a $50B market cap - but that just shows you the difference between having good investment ideas and being able to manage money. That's part of the reason I want to keep making these lists, to learn from mistakes.
So here are my Top 5 Picks for 2013. I've kept the comments brief as I encourage you to do your own due diligence:
American International Group (NYSE:AIG)
I first wrote about AIG on Seeking Alpha here. Everything I said remains true, the only difference is that the treasury has fully sold their shares and any concerns about an 'overhang' are no longer valid.
You are buying the largest underwriter of commercial and industrial insurance in the United States for less than 0.5x book value - a book value that has undergone the most scrutiny of any public company on this planet - whose return on equity meets its cost of equity and exceeds it if it lowers that cost by selling off riskier assets (which it has been doing) and raising returns by repurchasing shares below book (which it has also been doing). As a kicker, the Morningstar Fund Manager of the Decade, Bruce Berkowitz, has over 30% of his clients' money in AIG. It is now one of the most popular stocks in hedge fund portfolios, and it will likely offer a dividend in 2013.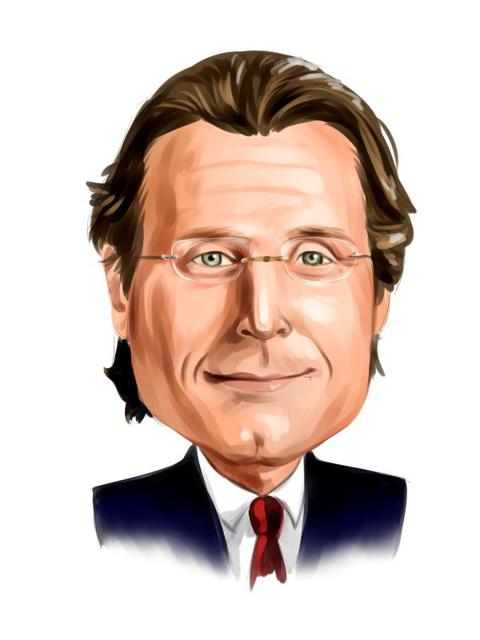 Price Target: $47
Gravity Co., Ltd. (NASDAQ:GRVY)
Gravity is a micro-cap Korean game maker that sells below net-cash balance, that has 10 years of positive free cash flow due to a blockbuster game (Ragnorok Online) and recently released the sequel (RO2). It has a large following among investment blogs. Gravity's majority shareholder, Gungho Online Entertainment, may decide if they want to take it private for an immediate profit considering $1.70 a share in net-cash versus the current quotation at $1.20. As you may be wondering, they are not burning through that cash.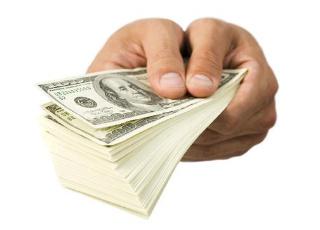 Price Target: $3
To download an in-depth presentation on both AIG and GRVY please follow this link
Gentex Corp. (NASDAQ:GNTX)

Gentex is a niche auto parts supplier with a huge moat (88% market share in auto-dim rear view mirrors) and a major upcoming catalyst with the implementation of the Kids Transportation and Safety Act. It has paid a dividend for 10 years, yields about 3%, and has the ability to easily trade above a $3B market cap, with it currently at $2.6B. It is not the highest reward but definitely the lowest risk of any of the companies in my Top 5. It is also the only dividend payer in my Top 5. After getting hit over 30% this year, I'm very confident it will have a good 2013.
Price Target: $21
Baidu, Inc. (NASDAQ:BIDU)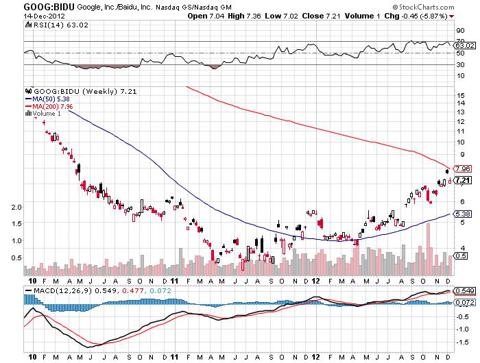 This is the GOOG:BIDU ratio which has just this year started increasing (a stronger Google and a weaker Baidu) which got me curious.
I've always wanted to own Baidu, but it used to trade at ridiculous multiples of earnings. At about 22x trailing twelve month earnings, it is much more reasonable. Free cash flow growth is averaging about 70% over the past 5 years.
I did a pretty simple value calculation here. With over 80% internet market share in China, assume that internet usage in China grows at x over the next 10 years and Baidu's cost of capital averages y. Conservatively, that should equal a zero growth, terminal value for Baidu.
I took the country equity risk premium provided by NYU Stern Professor Aswath Damodaran for China at 7.05% and also used his industry average unlevered beta for internet companies (1.25, and Baidu is debt free). That gave me a cost of capital at 8.35%
If you assume 6% growth, combined with 8.35% cost of capital, that's a $75B market cap. If you increase the cost of capital to 10% and lower the growth to 3%, that's a $25B market cap. At $38.4B, I like the reward-risk a lot on this one. I plan on opening a position when the technicals flash stability. Right now, the stock is in a free-fall and you could see $70 in all reality.
I like that it's essentially got a legal monopoly on a high-growth, necessary service in China. I think China continues to be oversold at this point. Although theirs are genuine economic concerns, I have to agree with Jim Rogers that "the 21st century will belong to China."
Price Target: $127
General Motors (NYSE:GM)
One word: David Einhorn
Cash composes 3/4 of the total market cap.
People think Ford (NYSE:F) is cheap, but on an EV/EBITDA basis, Ford's, as well as Toyota's (NYSE:TM) and Honda's (NYSE:HMC), valuations are are over 10x, whereas General Motors' is at less than 2x
The government stake reminds me of the bull run we've seen in AIG as they've wound down their stake. GM has 4 core brands and has cut away everything else. Another interesting point made by Einhorn is that they won't pay tax for 10 years. Some more good points here.
I would say that of the Top 5, I have done the least due diligence on this one. I also drive a '99 Lexus that is still going strong so I definitely see the argument for buying Japanese autos over American. Nevertheless, this stock is so hated that there is likely value here.
Price Target: Not Available
Conclusion
I will be going equal weight these as of January 1st. I'll keep you posted on the results. I will likely not buy BIDU nor GM until I have done a more in-depth valuation which you will see sooner or later on Seeking Alpha. Happy Holidays!
Disclosure: I am long AIG, GRVY, GNTX. I wrote this article myself, and it expresses my own opinions. I am not receiving compensation for it (other than from Seeking Alpha). I have no business relationship with any company whose stock is mentioned in this article.
Additional disclosure: I may purchase shares of BIDU and/or GM over the next 72 hours