October, 2008 was a raucous month for America and search markets. Upheaval in the financial markets, showdowns in politics and hallows on Halloween all contributed to unprecedented query volume. Collectively, the top search engines broke 10 billion query mark for web searches.
Not much changed, though, in terms of how the search engines performed individually last month. There was some minor jostling between Yahoo! (YHOO) and Windows Live Search and Google (NASDAQ:GOOG) continued to maintain its gigantic lead.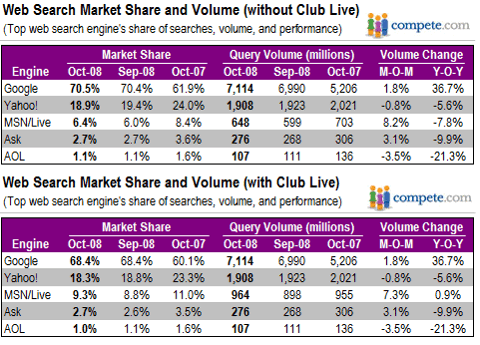 Google posted a record 70.5% market share on respectable 1.8% growth in query volume. That's up 0.1 share points versus September and an astounding 36.7% in m-o-m query volume versus last year. Meanwhile Yahoo! lost 0.5 share points and fell to 18.9% market share on negative -0.8% query growth. Yahoo! has lost 5.1 share points since October, 2007 and query volume has declined 5.6%. The company recently abandoned a search partnership with Google.
Windows Live Search managed to pick up 0.4 share points, reaching 6.4% market share on strong 8.2% query growth versus September, though query volume has actually declined 7.8% since last year. If we count Club Live, Windows Live Search reached 9.3% market share on 7.3% m-o-m query volume growth. That's up 0.5 share points from September but down 1.8 share points from last year.
Ask and AOL were essentially flat with 2.7% and 1.1% market share, respectively. Ask posted a solid 3.1% increase in m-o-m query volume. AOL query volume has declined 21.3% in the past twelve months.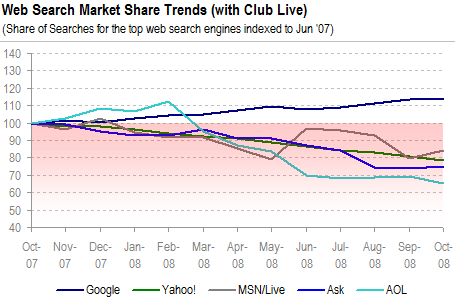 The key points for October, 2008 (excluding Club Live from the market)…
Google set new record of 70.5% share on steady 1.8% m-o-m query volume growth
Yahoo! fell to 18.9% market share on -0.8% m-o-m query volume loss
Windows Live Search rose to 6.4% market share (with Club Live, it hit 9.3%)
Ask maintained 2.7% share on a solid increase of 3.1% m-o-m query volume
AOL continues to hold on with 1.1% share, though it lost 3.5% m-o-m query volume
Next month… we add paid referrals to find out who's monetizing all those searches for Thanksgiving recipes!
If you want to get your hands on the actual data in this post and a lot more don't forget to check out Compete's Data Hub.
*Search market share includes web search only for the Adult US Online Population and is calculated based on unique queries within each session during the given month.