Investing in the energy sector can be volatile, exposing your portfolio to additional risk that is unnecessary and can ultimately be avoided. Investing in clean energy inevitably will be the investment of a lifetime for very few market participants and by exposing a relatively small portion of your portfolio to this sector through a diversified array of energy companies will certainly pay off down the road. Energy Select Sector SPDR Fund (NYSEARCA:XLE) is an exchange traded fund that offers low risk exposure to the energy sector. XLE is a non-leveraged fund that achieved a five star rating from Morningstar for its highly diversified asset composition. This article will provide an overview to the fund, outline several valuation as well as risk metrics, and conclude with discussing XLE's top ten holdings.
Overview
XLE's total asset value is approximately $7 billion. Based on its current market value per share of roughly $71-$72, XLE is trading at a discount of its net current asset value. In addition, XLE has a consistent track record of distributing dividend payments. Its current dividend yield is 1.69%, or the equivalent $1.21 annually. The figure below illustrates XLE's performance over the last five years.
Figure 1: XLE Five-Year Price Graph from TD Ameritrade

To provide investors with a better idea of what to expect over the next year, I computed an expected return of 12.55%. This calculation is based off XLE's historical monthly holding period returns including distributions and takes into account the net current asset value of the fund relative to its market value. XLE's risk metrics reveal a fund-specific beta value of 1.21, which indicates XLE is relatively low risk, only lying slightly above the market that has a beta of 1. In addition, I computed an alpha value of 2.03, which indicates the overall asset composition of XLE is undervalued.
XLE's Asset Allocation
XLE has provided investors with a net asset value return of 27.65%. The current Sharpe ratio of the entire fund is approximately 0.5, which is relatively higher than competing funds. This is an indication that XLE provides investors with a better return for the same level of risk. Figure 2 below illustrates XLE's top holdings as a percentage of its total assets.
Figure 2: XLE's Top Ten Holdings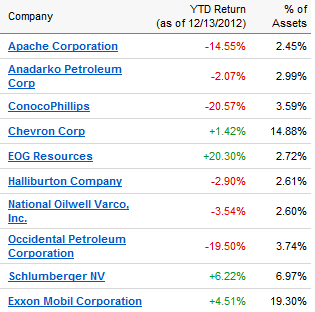 As you will see above, Exxon Mobile Corporation (NYSE:XOM) and Chevron Corp (NYSE:CVX) are XLE's two largest holding by far. Together both holdings construct nearly 35% of the entire fund.
Conclusion
XLE provides a diversified, yet secure investment opportunity for individuals seeking a low risk return in the energy sector. Through a wide array of holdings, XLE diversifies the firm-specific risk associated with many of the firms in this sector. In conclusion, for the investors that are more risk adverse XLE is the gateway to investing in energy.
Sources: TD Ameritrade, Google Finance, FinViz, and The Wall Street Journal.
Disclosure: I have no positions in any stocks mentioned, and no plans to initiate any positions within the next 72 hours. I wrote this article myself, and it expresses my own opinions. I am not receiving compensation for it (other than from Seeking Alpha). I have no business relationship with any company whose stock is mentioned in this article.