As some analysts feared, Wednesday's launch of a new wave of Federal Reserve money printing (more politely known as "QE4″, or the central bank's fourth round of "quantitative easing") failed to spur a rally in precious metals markets as prices for both gold and silver ended the week below where they began. Since, in the past, new stimulus measures by the Fed have been a major factor in pushing metal prices higher, this has prompted some concern amongst investors.
The comforting news, however, is that all of the fundamental drivers for a continuation of the secular bull market in gold and silver are still in place, namely, negative real interest rates for years to come, fading confidence in the current monetary system, and strong demand from both emerging market central banks and investors around the world.
So, in the fullness of time, recent price weakness will likely be viewed as just another buying opportunity and this may be particularly true for silver as last week's price decline came along with reports of surging demand in China and India.
Perhaps more importantly, maybe last week's Fed meeting was never destined to be the next important catalyst for precious metals markets, a topic that was discussed over the summer in Forget About QE3, Look To The 'Fiscal Cliff' For Gold's Next Big Move.
For the week, the gold price fell 0.5 percent, from $1,704.50 an ounce to $1,696.20, and silver dropped 2.4 percent, from $33.11 an ounce to $32.31. Gold is now up 8.3 percent in 2012, down 11.8 percent from its high last year, and silver is 16.0 percent higher this year, down 34.7 percent from its early-2011 high.
To be sure, the effect of a Federal Reserve money printing announcement is not what it used to be for precious metals. As detailed in this item last week, with each successive round of Fed stimulus, the impetus for higher metal prices has waned and, with that in mind, it's no surprise that, last week, prices for almost all risk assets declined after the central bank announced it will soon increase its money printing effort to $85 billion per month.
But, along with the "QE4″ announcement came a surprise move in which the Fed will now link interest rates (and possibly other policy decisions) to specific targets for unemployment and inflation as detailed in this item from last Wednesday. While the central bank was quite clear that their current economic forecasts are consistent with the previous mid-2015 guidance for when short-term interest rates might begin to rise, some gold investors apparently think that Fed economists are being too pessimistic and that the long path back to normalizing interest rate policy might begin sooner than previously believed.
As shown below, projecting the current unemployment rate trend forward, it's not hard to come up with a date sometime in 2014 for this measure to reach the Fed's new 6.5 percent target, well before the central bank's prior date-based guidance of mid-2015.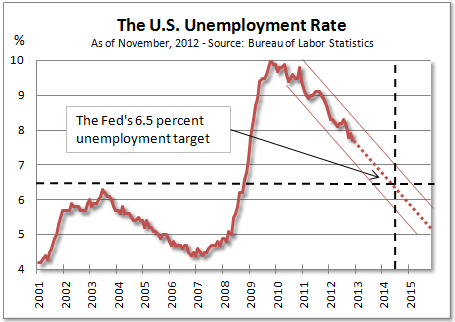 Of course, to believe that the Fed is going to start raising rates a year early would also have you believe that the U.S. will be back to full employment in less than three years and, well, that's just silly.
After the calamitous effects of the 2008-2009 financial crisis and given the plethora of unfavorable long-term economic trends, I don't think we'll see a five percent unemployment rate in the U.S. in my lifetime.
Moreover, when considering that, last month, the jobless rate fell from 7.9 percent to 7.7 percent because people dropped out of the labor force - not because more people had jobs - it seems even sillier to think that the Fed will be raising interest rates in just over a year.
As shown below from last week's Fed forecast, this is clearly not what the central bank thinks will happen.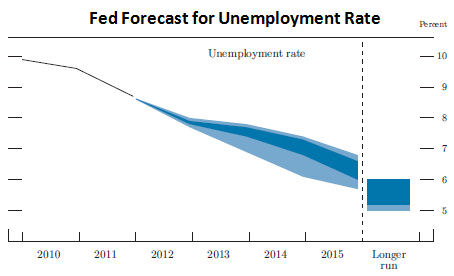 Admittedly, Fed economists have been wrong more often than right about the economy in recent years, but this is one case where, in my view, they'll probably do better than anyone extrapolating from recent trends.
In short, if the poor showings for gold and silver last week were based on this reasoning, it won't take long for markets to figure out how flawed that thinking was and make the necessary adjustments in how they price gold and silver.
But, the lessening impact of Fed stimulus on financial markets was clearly a factor and this runs counter to the experience of the last few years. Importantly, it wasn't just precious metals prices that faltered as stocks and bonds also moved lower shortly after the Fed announcement and this continued in the days that followed. This suggests the very real possibility that the Fed could now be "firing blanks" in its attempt to influence asset prices.
My guess is that precious metals will be range-bound until there is some sort of resolution on the fiscal cliff or until January 1st arrives, whichever comes first.
With the Fed meeting now out of the way, more and more analysts are looking at the impact any fiscal cliff deal or no-deal might have on precious metals markets and I think UBS put it best last week (via this item at Kitco) when they noted "A compromise lacking specifics would benefit gold inasmuch as it disappoints those looking for long-run fiscal discipline. Gold's 'X-factor' is a 'cliff' resolution that include a lift to the debt ceiling which, in turn, increases the likelihood of ratings agency action, boosting gold's popularity in 2013."
I've felt that the U.S. budget situation and how credit ratings agencies respond to any deal that is made would be a key driver of the gold price for some time now, having written about this as far back as July in the article referenced above.
We'll soon see if that thinking is correct.
In other news, Indian silver demand has recently surged and a Silver Institute report(.pdf) detailed how, over the last decade, China has evolved into the world's largest market for silver investment and the nation has become one of the world's top producers.
As shown below, demand for silver bars and coins jumped to over 17 million ounces last year - about 525 tonnes, or nearly eight percent of worldwide demand for physical silver - and that figure is expected to rise this year.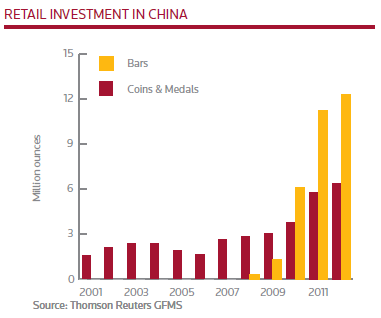 China has also become the world's largest silver jewelry fabricator and further growth in that sector is also expected as "Ongoing urbanization should fuel the expansion of retail outlets and lift the exposure of silver as a fashion jewelry alternative".
As is the case for gold, the Chinese people have clearly taken a liking to silver in investment and jewelry form, but a far larger share of silver demand comes from the manufacturing sector in general, electronics in particular.
The study notes, "This has propelled China into becoming the world's second largest silver fabricator, with its share of global demand standing at 17 percent at the end of 2011″.
This is once again a reminder of the growing importance of China in global precious metals markets, a trend that is set to continue for many years to come.
Here in the West, investors held tight to their precious metal ETF shares as the holdings at the giant SPRDR Gold Shares ETF (NYSEARCA:GLD) were steady last week, just two tonnes below the record high of 1,353 tonnes reached the week prior. Also, the iShares Silver Trust ETF (NYSEARCA:SLV) added 42 tonnes to its trust following an addition of 71 tonnes during the first week in December, reversing about a third of the outflows seen during the month of November.
There may be little action in precious metals markets during the last two weeks of the year, but that is likely to change in the New Year.
Disclosure: I am long GLD, SLV. I wrote this article myself, and it expresses my own opinions. I am not receiving compensation for it (other than from Seeking Alpha). I have no business relationship with any company whose stock is mentioned in this article.
Additional disclosure: I also own gold and silver coins and bars