Last week I posted an intermarket analysis that covered quite a few things, but notably the importance of Apple (NASDAQ:AAPL) to the rest of equity markets. Apple has undoubtedly been weighing down the Nasdaq and, arguably, US equity markets in general.
Not surprisingly, there has been much written about Apple recently. Given its importance to US equity markets, I thought I would share a very basic technical overview, some research from a paper I believe to be very insightful, and comparative analysis of Apple's stock performance to past technology giants. It is not my intention to provide any sort of thorough fundamental or technical argument for the stock; however, I would like to highlight a few points that I believe deserve consideration.
First of all, there is a very noticeable head and shoulders formation occurring. The classic head and shoulders formation is often discussed, but even more so is inaccurately interpreted. A head and shoulders pattern is complete when the neckline is breached on significant volume. When this occurs, the head and shoulders pattern is one of the most reliable technical patterns and forecasts lower prices. Friday's price action seems to confirm this pattern; however, a couple more days below the neckline, and perhaps the $500 level on high volume would certainly add to this bearish argument. A move back above the neckline however could negate the head and shoulders pattern. There are many other bearish patterns present in Apple's chart, but they are beyond the scope of this article. In any case, the near-term price action could prove to be very important.
Apple Daily Chart from summer of 2011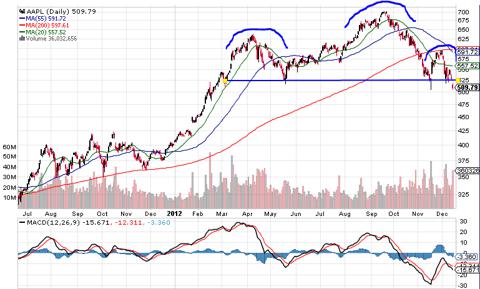 Regarding fundamentals, many still argue that Apple is strong. This is debatable as the company has a low P/E and plenty of cash, which suggests that the stock is currently cheap. However, history has shown that most large-cap technology companies that have slowed their growth rate of operating EBITDA to under 20% have had their share prices implode. Once the "story" ends, the share price's meteoric rise does the same. Well-known examples of technology giants that had similar growth stories are Cisco (NASDAQ:CSCO), Microsoft (NASDAQ:MSFT), and most recently, Netflix (NASDAQ:NFLX). These are not perfect comparisons; however, one cannot overlook the many similarities.
Cisco 20-year Monthly Chart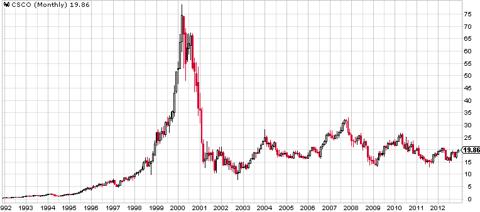 Microsoft 20-year Monthly Chart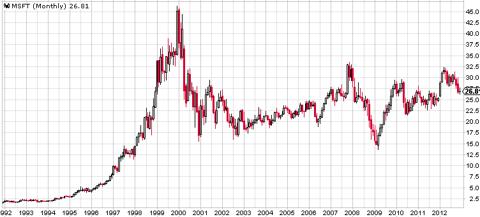 Netflix 10-year Monthly Chart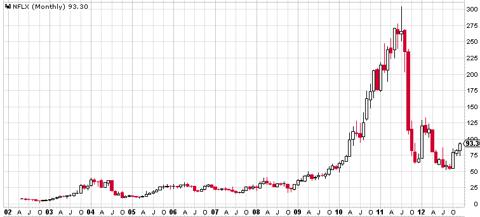 Apple 10-year Monthly Chart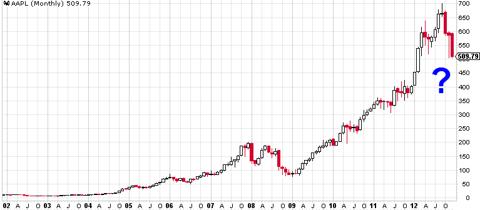 Notice that all the mentioned technology giants had a very strong run up in stock price that eventually collapsed, only to remain relatively flat in the years after. Apple has had the longest run out of this sample, and that warrants consideration. Does this mean it may defy history and be the odd one out? Or does it infer that an equally long price depreciation is to follow? I would like to suggest the latter to be more likely; however, I believe the coming week's price action could be determinate of the longer-term trend.
If one is to look at the company itself it becomes evident that Apple is faced with two fundamental challenges of new product development and operating margin compression. I remember one year ago I posted a question on Facebook (NASDAQ:FB) about what new smartphone to get. The answers were overwhelmingly swayed to Apple; however, one response (of over 20) suggested Samsung (OTC:SSNLF), to which I replied "is that a joke?" as at the time I only considered RIMM (RIMM) and Apple the only viable candidates. One year later and all the talk is about Samsung, and now even RIMM appears like it may re-emerge as a competitor. iPhones are quite expensive, and as Samsung, RIMM, and other competitors develop cheaper smart phones to complement their flagship models, Apple may see a loss in its market share. With lower sales, margins will inevitably decrease, and that poses further difficulties for the Apple growth story. That being said, Apple has done quite well to date in product development, and opportunities such as Apple TV are still present. Smart phones are not Apple's only product, however, these issues are not isolated to the smartphone segment. In any case, one cannot rule out the very likely possibility of operating margin compression.
A look at some of the available academic literature supports the case that the Apple bull story may have reached its climax. A paper entitled "The Level and Persistence of Growth Rates" analyzed a sample of common stock from 1961 to 1997. The number of firms included ranged from 359 in the first year to 6,825 in the last. The purpose of the paper was to attempt to draw conclusions about sustainable growth rates. To date Apple has maintained an exceptionally high growth rate. The paper illustrates some important realities for those counting on a resumption on the bull trend in Apple:
While above average sales growth is seen with some persistence, there is however essentially no persistence in above average growth of earnings over the long run across the entire sample of firms.
Signs of persistent growth in earnings are slim even in cases that are popularly associated with dazzling growth stocks (pharmaceutical and technology stocks, growth stocks and firms that have experienced persistently high past growth).
While security analysts' long-term estimates point in the same direction as realized growth over short horizons, they are over-optimistic and do poorly in predicting realized growth over longer horizons.
It was only a few months ago that price targets for Apple ranged from $800 to $1000, and some even higher. Sure, over the last couple years many analysts have been accurate on their bullish price targets. However, with the stock down almost 30% in the last few months, targets aren't exactly being revised upwards anymore.
In conclusion, I would like to suggest that Apple may be a very difficult stock to invest in the near future for long-term investors. For short-term traders and investors, however, there will likely be many opportunities both on the long and short side as the stock remains highly volatile. Key levels and patterns seem to present reliable trading opportunities, and I would imagine Apple will be on the top of stock watch-lists for most traders. In any case, any long-term investor should consider locking in some profits or at least having stop losses in place in order to protect their capital. History does not support the overly optimistic growth story of years past for Apple.
I would like to thank Stanley J. G. Crouch from EXP Wealth Enhancement, LLC and Chris Vermeulen from The Technical Traders for sharing their insight on Apple with me, which I have incorporated in this article.
Disclosure: I have no positions in any stocks mentioned, and no plans to initiate any positions within the next 72 hours. I wrote this article myself, and it expresses my own opinions. I am not receiving compensation for it (other than from Seeking Alpha). I have no business relationship with any company whose stock is mentioned in this article.