Ellington Financial (NYSE:EFC), a partnership investing in non-Agency and Agency mortgages, is an investment in a hedge fund-like structure with one of the best mortgage teams in the business. At a price 11% below book value, Ellington trades cheaper than almost all of its peers, yet has generated far better Returns on Equity (ROEs) averaging 13% per year since December 31, 2007. Even better, EFC offers a current yield of 13% today.
Given what the Fed has recently announced in terms of purchasing mortgage backed securities and long dated treasuries, Ellington looks to be a solid pick for 2013 based on its historical track record and current focus on lower priced, non-Agency paper that will continue to directly benefit from higher prepayments and improving home prices.
This is not a company that has juiced its ROEs with massive leverage either. Indeed, Ellington is the least levered mortgage investor of the bunch, at a mere 1.4x (debt/equity) today, yet still offers similar yields and returns.
Basics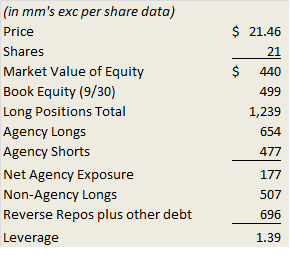 Company
Ellington Financial was formed in 2007 by Ellington Management Group (let's call them EMG), raising $250mm in a private placement to fund an entity focused on investing in distressed mortgage paper, i.e. subprime and Alt-A mortgages. In October 2010, Ellington Financial went public, issuing 4.5mm shares at $22.50. Despite a near flat stock price since, the company has paid out $5.81 in dividends since its IPO two years ago, providing investors with a 21% total return in just over two years.
Generally, the firm looks to invest in either residential non-Agency mortgages (or RMBS), or Agency mortgage paper (that is, mortgages whose principal and interest are guaranteed by Fannie Mae and Freddie Mac, and by extension, the government). Today, they are heavily weighted toward non-Agency bonds on a net basis, with only $177mm of net Agency exposure on a $500mm book. The rest of their assets, $500mm roughly, are non-Agency bonds at an average price of 60 cents on the dollar (not to mention credit default swaps as they also get long synthetically).
Importantly, Ellington is NOT a REIT. It's a partnership, with a 1.5% fee base plus incentive fees of 25% of profits over a 9% hurdle. This LLC structure actually provides significant advantages over mortgage REITs who must be at least 75% invested in real estate assets and must generate at least 75% of gross income from rents or mortgage interest. Generally mortgage REITs are long only, levered vehicles with less discretion on exposure to the markets, and with far less credit expertise than a firm like Ellington.
Ellington then can choose to be long, short, or market neutral different mortgage asset classes. EMG (the manager of EFC's capital) is in fact well known as a relative value fund. As an example, Ellington has recently rotated out of its pre-2005 vintage subprime mortgage bonds and into 2005-2007 subprime bonds which offer better risk/reward characteristics, meanwhile shorting generic Agency bonds at huge premiums to par. There are literally scads of math majors and PhDs on staff at Ellington Management, including the founder Mike Vranos.
This is a group that understands the credits they buy, in my view far more than the mREIT crowd who simply lever up Agency bonds, or perhaps attempt to juice Agency returns with a smattering of subprime paper or CMBS (commercial mortgage backs).
This credit expertise explains the far superior performance of Ellington Financial since 2007 compared to virtually any of its non-Agency peers. In terms of book value, EFC has grown from $18.78 in book value per share at the end of 2007 to $24.02 as of the end of November 2012. They have also paid out $9.96 in dividends since 2007. (As a side note, the IPO and a secondary offering this summer were priced pretty close to book value, meaning neither meaningful accretion nor dilution to book from the capital raises).
Peers
I recall distinctly the IPO for Chimera (NYSE:CIM), a mortgage non-Agency REIT that went public in late 2007, around the same time that Ellington raised its first capital. Chimera came out at around $15, formed to take advantage of the housing crisis and its impact on mortgage bonds. While I liked management after a roadshow meeting (they were essentially an Annaly (NYSE:NLY) created company), the outlook for riskier mortgage paper looked quite bleak at the time. Their expertise truly resided in valuing Agencies, not non-Agency paper, and frankly, I shorted CIM shortly after the deal.
Chimera was too early in a limited long-only REIT structure that has since spelled disaster for shareholders. Today CIM trades at $2.71, approximately 0.9x book value, and down 65% since its IPO (including dividends). Not sure why I would want to own Chimera at 90% of book, with declining ROEs, declining dividends, and no financials or real information to speak of, when I can purchase EFC at 89% of book with far better management, returns, and investing flexibility.
Another peer I recall looking at in 2008 was Redwood Trust (NYSE:RWT), a non-Agency REIT that also invested in commercial mortgage bonds. Redwood has also performed atrociously. From its peak stock price of over $60 six years ago, today it trades around $16. Book value is even lower at $12.88 from a high of over $40. Today, RWT trades at 1.25x book despite clearly a terrible track record of grossly negative ROEs.
So, EFC is more like a mortgage investment fund that over time generally will pay out dividends from its interest income, and likely will manage its exposure(s) to fit their view on the mortgage universe. The aim of management is to pay out 100% of net income by the way.
Here are the firm's returns since inception: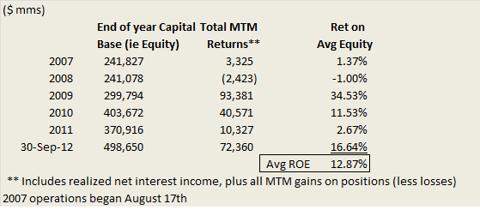 For the sake of conservatism, I didn't include re-invested dividends. However, according to the latest 10Q, assuming dividends reinvested at book value, total return from August 17, 2007 (inception) to September 30, 2012 was 85%, or 14% on a CAGR basis.
Here are their comps. I only included the ones that traffic in non-Agency mortgages, and to me EFC looks quite compelling on a relative value basis.

Management
While the numbers may sound great, an investment in EFC really has to be considered in light of its founder, CEO and CIO, Mike Vranos. Vranos graduated magna cum laude / Phi Beta Kappa from Harvard with a degree in mathematics in 1983. He joined Kidder Peabody right out of college, ultimately becoming a star bond trader and Kidder's youngest managing partner in history. When Kidder flopped in 1994, Vranos left to form Ellington Management Group (manager of the funds today of EFC).
While it is difficult to find performance numbers for EMG, there were disclosures that EMG generated annual net returns of 14% from 1994 through 2006. With the launch of the public entity in August 2007, and EFC generating 13% ROEs since then, it's safe to say that the long term track record of EMG is stellar.
Vranos is clearly a talented investor, perhaps one of the best not only among mortgage investors, but among the hedge fund crowd too. Guys I have spoken with who know management here describe them as geniuses, and Forbes called Vranos "one of the best bond traders on Wall Street."
Risks, Conflicts and Issues
To be fair, it's healthy to be a bit skeptical of the genius crowd. Long Term Capital was a pile of brilliant academics who blew it as a hedge fund. In hindsight, investing on academic theory with 33x leverage at the peak was clearly beyond foolish. Smart guys do dumb things all the time.
Ellington has also had its share of knocks too. In fact, in 1998, the implosion of Long Term Capital lead to margin calls for EMG's hedge funds, forcing the liquidation of $2BB of mortgage bonds. The three hedge funds at EMG lost 25% that year.
They bounced back, however, and were profitable until the housing debacle in 2007 that again caused losses. The Wall Street Journal reported that one of EMG's hedge funds (the Credit Fund) was down 22% from January through October of 2007. This also happened to be during the period that EFC was raising capital, and given the mortgage mess that was already brewing, EFC was only able to raise $250mm compared to the $750mm that management was seeking.
Overall, though, EMG has recovered well from these rough patches, and hindsight suggests that any hiccups along the way are likely buying opportunities. And potential conflicts of interest between EMG and Ellington (such as cross-trading) seem to be limited to date.
2011
There were some minor hiccups last year. The Federal Reserve picked up a portfolio of non-Agency mortgages from AIG called Maiden Lane II amidst the financial crisis. During Q2 2011, the Fed dumped roughly $4.7BB in market value of this paper on the market (I am guessing over $10BB notional). According to the company, these sales did not get absorbed well during a period of market weakness. They are widely viewed as contributing to falling non-Agency paper prices over the rest of 2011. Earnings generally were weak for Ellington on a marked to market basis.
Here are summary income statement numbers from the 10K. I suggest also reading the MD&A sections in the 10K and recent 10Q to get a sense for Ellington's trading strategy, commentary on the market, and outlook going forward.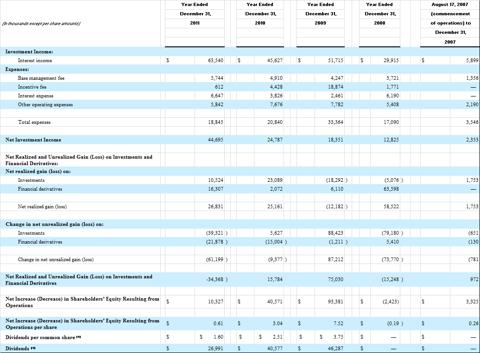 In case you missed it above, EPS is the line entitled "Net Increase in Shareholder's Equity Resulting from Operations per Share."
Considering that the company earned $4.15 in EPS in the 9 months ending September 2012, compared to $0.51 in the prior year's period, it's evident that the Maiden Lane overhang impacted earnings significantly last year. It also points to the issue of earnings volatility.
The plus side to earnings volatility is simply that Ellington uses marked to market accounting, unlike virtually any commercial bank on the planet these days. We know exactly what the portfolio is worth, with EFC even reporting monthly book value per share figures as a supplement to the quarterlies.
This earnings volatility may scare some, but if banks were required to mark to market, investors wouldn't touch them either. While it is virtually impossible to predict with any certainty what EPS will look like in 2013, I think it is reasonable to assume a go forward level of ROEs on book. Conservatively, 10% makes sense given the reduced leverage today, meaning that on a $24 book, EFC could easily earn $2.40 per share in EPS each year on average over the next couple of years.
Dividends
Ellington dividend strategy is similar to the other mREITs, that is, to pay out 100% of net income. Looking at 2011, net investment income was $45mm, easily covering the $27mm in dividends paid. However, marked to market losses (both realized and unrealized) added up to $34mm. Paying out $1.60 in dividend perhaps seems risky given the combined EPS of $0.61 (by combined I mean investment income less capital losses).
However, this year's $4.51 in EPS through September far exceeded the $1.80 in dividends paid. Generally, I view this "smoothing" as reasonable as long as the firm isn't suffering significant realized losses amidst another Armageddon scenario. Given my view of an improving housing market and higher prepays (which is good for heavily discounted non-Agency paper), I am generally bullish on EFC.
By the way, the current quarterly dividend is $0.70 a share, which implies a 13% yield on the stock today. I like the yield and will take it, but I think over the longer term, there will be ups and downs in the dividend.
Industry Trends
Here is a chart of home prices, which according to Case-Shiller have improved for six straight months.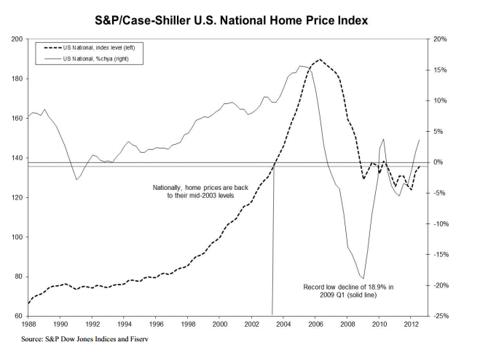 Expectations of a rising foreclosure tide (post the February 2012 settlement with the largest mortgage servicers) also have not materialized. RealtyTrac's forecast earlier this year for a huge increase in foreclosures in 2012 has been surprisingly wrong. In fact, according to RealtyTrac, 972,000 homes were put in foreclosure in the January to October time frame, down 8% from the same period a year ago.
Not to mention also that homebuilder stocks have in many cases doubled this year, with the Homebuilder Index (NYSEARCA:XHB) up 50% year to date. Anecdotal evidence also points to improved housing in most of the country with low inventories, private capital investing in single family homes, and even bidding wars again in certain markets.
Valuation
Over the past two years, EFC stock has ranged from a high of 1.0x book value, to a low of 0.78x book around this time last year. Given the weak year in 2011, that is not surprising. The question is, at 0.89x book today, are we heading back to parity, e.g. 1.0x book, or back to a larger discount?
With the Fed behind our backs, and Goldman Sachs two weeks ago recommending that investors sell protection on the ABX index (that is get long non-Agency credit) as a play on a housing recovery, I posit that earnings likely continue the trend started in 2012. The ABX index by the way is an index comprised of 20 subprime mortgage bonds, issued every year and also tranched out into senior and junior pieces.
"The higher-rated tranches have already re-priced significantly, but still price in severe future mortgage default assumptions that are more likely than not to surprise on the low side," the Goldman Sachs analysts wrote. "They are clearly sensitive to further home price strength."
For example, the 2006-2 vintage ABX AAA index currently trades at 65, above its 28c low, but with plenty of room to continue upward if housing and delinquencies continue to improve.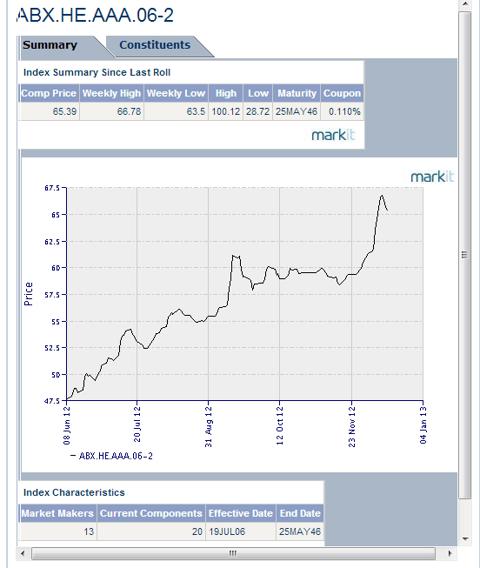 Assuming EFC traded back to book value in twelve months and generated a conservative 10% ROE (lower than its historical performance), then investors could see 23% returns over 12 months. The downside I view as 78% of book (its historical low), and a dividend cut in half, which implies a down 6% scenario.
Conclusion
While I find the case for Agency Mortgage REITs to be spotty at best amidst a flattening yield curve, I suggest that investors look elsewhere in mortgage land for value. Here, you can pick up shares of EFC for an 11% discount to book, with perhaps the best management team in the space.
Agency Mortgage REITs like Annaly will likely continue to see declining dividends, and even capital losses on portfolios of bonds that are priced at a premium. Refinancings of Agency bonds seems quite likely with the Fed supporting this market with so much printed money.
By the way, Ellington's exposure to Agencies is such that the average price is 103 net of their short book. That is, 100% refi's would only be a $5mm hit to earnings, quite negligible. It is their bet on the Jumbo Prime, Subprime and Alt-A paper that comprises the bulk of their income.
Finally, I failed to mention that Mike Vranos holds 2.5mm shares of EFC, or 12% of the company. Other insiders take management holdings up to 15% in total, and their actions to date suggest that they are acting like owners as shareholders, not managers working for a fee. With the stock at a discount to book, management also has a $10mm share repurchase plan in place which should also support a move back toward book value.
Disclosure: I have no positions in any stocks mentioned, but may initiate a long position in EFC over the next 72 hours. I wrote this article myself, and it expresses my own opinions. I am not receiving compensation for it (other than from Seeking Alpha). I have no business relationship with any company whose stock is mentioned in this article.