I never thought I'd say this, but sometimes valuation means little for certain stocks, and especially tech stocks. I know this is terrible to say when investing, but look at ARM Holdings (NASDAQ:ARMH), for example. With a current P/E ratio of 68x, and a projected earnings growth rate of 22% for 2013, ARMH is proof the market is willing to pay up for tech stocks with above par innovation, and a nearly untouchable business model harnessing patent protected intellectual property.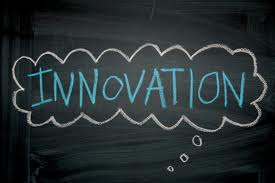 With this in mind, perhaps the heart of the seemingly everlasting tech valuation debate should focus on who will have the next hot product or niche technology, and not so much who has the lowest valuation metrics like P/E or P/S.


What Have You Invented Lately?
Innovating technologies not only create the excitement of long lines at new product launches,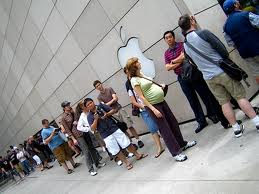 but also can become foundations for entire ecosystems. This concept of an ecosystem, where one product compliments the next with great synergy, is key to Apple's (OTC:APPL) success, and is unparalleled by any other company in my opinion, including ARMH. However, as an Apple shareholder, I sometimes worry that Apple's new product edge is cooling off too fast too soon, as the "what have you invented lately" mindset could reduce investor enthusiasm and shrink Apple's P/E accordingly.
Back in 2007, Time magazine named the iPhone the "Invention of the Year". Looking back, this undoubtedly turned out to be an omen of good fortune, as the iPhone has become Apple's flagship product, and a milestone in technological evolution. However, it seems Apple hasn't really released any new ground-breaking products since. The main concern for investors is can Apple make due with a flagship product that was essentially invented five years ago? Is Apple done innovating?
For the bulls, Apple's strong ecosystem of cloud sharing and product integration could guarantee near-term success, as the Apple meshing of products is unchallenged by rivals. But for the bears, new ground breaking technologies of competitors might take hold and could antiquate some of Apple's products within a blink of an eye -- after all, this is tech we are talking about.
Just recently, Time magazine recently awarded Google Inc.'s (NASDAQ:GOOG) "Project Glass" with "Invention of the Year" for 2013. That's right, not Apple, Google. Although the product will not be available for some time, it could be a game changer:
"Glass is, simply put, a computer built into the frame of a pair of glasses, and it's the device that will make augmented reality part of our daily lives. With the half-inch (1.3 cm) display, which comes into focus when you look up and to the right, users will be able to take and share photos, video-chat, check appointments and access maps and the Web. Consumers should be able to buy Google Glass by 2014."
I doubt this product will replace the iPhone. But the point here is there are many companies nipping at Apple's heels for the next greatest gadget meant to transform our lives. Eventually, something has to give. The question is, who will invent it first? How much more time does Apple have?
If Blackberry Is Gone...
I don't feel it is imminent for Apple, but we have seen this fall from grace type of event over and over in the recent past, and it might be a real concern for some Apple investors at some point in the future. In 2000, we saw the tech bubble burst. Around this time, we saw Palm Inc.'s quick rise and fall, which now seems nothing more than a "flash in the pan." Most recently, in as little as two years, we witnessed Research in Motion's (RIMM) Blackberry fall way out of favor. At one time, RIMM's wide moat was its firm hold of the business market due to a very secure operating system, not to mention the appeal of BB Messenger. Back then, RIMM's status as a top dog in the smartphone market seemed unbreakable, but needless to say things changed quickly. Could the same happen for Apple some day? The answer is yes, but the real question is when.
Although tech companies rise and fall as fast as technology itself, I'm on the side of the bulls for Apple. The Apple ecosystem is already a very strong part of peoples' lives, and regardless of improved technologies and inventions, it will take time to have people change their habits. People are hooked on Apple and its product synergy, or the Apple lifestyle, if you will. Sound far fetched?
To support my opinion of Apple's strong product synergy, even Samsung Electronics' (OTC:SSNLF) chief strategy officer, Young Sohn, recently admitted to using Apple at home in an interview with MIT Tech Review:
If you look at the strengths of Apple, in a way it's not the product per se. It's that consumers like their ecosystem such as iCloud.... It is sticky, but it is a proprietary architecture.

...[The Samsung Galaxy Nexus] is a better phone, in my view. It's a better display. It's faster. But eventually the connected ecosystem is really critical.

...We actually provide more devices that are interacting with consumers than anyone in the world. But if you think about our experiences, it's device-centric. It's experienced by itself. It's not experienced in a connected way...

At work I'm using Samsung devices; Apple at home, mainly because all of my systems and files are done that way. That's sticky, you know? However, I did figure out how to sync all of my contacts and all of my schedules between the two different systems. You can do it. It's a bit of work, but it is possible.
It seems even the chief developer at Samsung, Apple's biggest competitor, is unwilling to work around Apple's synergistic line of products. Perhaps being such a part of his life, Young Sohn finds it difficult to avoid Apple altogether, much like many other Apple customers. Or , it could be Apple has a really useful system of syncing systems and files. He termed it "sticky."
Final Thoughts
Apple doesn't need a new mind-blowing product, like Google's Project Glass for example, to foster a reasonable growth rate in the near term. A less exciting route, like putting the "Apple touch" on already widely used products, such as TVs and radios, could be enough to grow the Apple ecosystem and maintain some degree of investable growth and stock appreciation -- at least for the time being.
Apple's ecosystem can safeguard against new competing product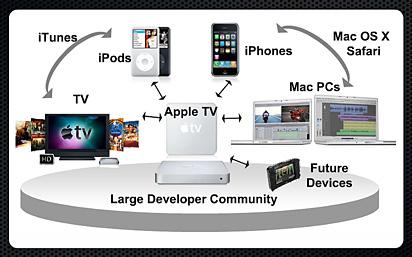 challenges, and could be enough to foster reasonable growth going forward. However, until Apple develops another significant, earth-shattering product like the iPhone, I feel Apple's era of 40%-50% growth is in the rear view mirror. I feel many investors are doubting the "wild card" that's still possible for this epic company to achieve. Another technological icon like the iPhone is very possible and who knows -- perhaps it's currently in development as you read this.
I feel this possibility, although slim, is not currently priced into shares. At $500/share, Apple trades at under 12x P/E and has over $100 B in cash. The stock seems like it's cheap, but then again, if a technology company stops innovating, valuations mean little. What really matters to investors and thus, to multiple expansions, is if a company is ahead of the innovation curve.
As I watch Apple's P/E slowly shrink, I feel it is due for a new product to encourage investor excitement again... any day now, please?
Disclosure: I am long AAPL. I wrote this article myself, and it expresses my own opinions. I am not receiving compensation for it (other than from Seeking Alpha). I have no business relationship with any company whose stock is mentioned in this article.