We have been following SUPERVALU (NYSE:SVU) since 2009 and we sold our position in the company in June 2011. We reentered it in May 2012 because its share price had declined by nearly 50% in that time frame even though it had improved its identical store sales performance from negative 6% in FY 2011 to negative 2.8% in FY 2012. Our rationale for it also was that it had a high free cash flow yield of 40% as of May 2012 and it was making steady payments on its debt that it utilized to finance its acquisition of Albertsons Inc. in 2006. We had no illusions of the company's prospects. It was an adequate firm until 2006 but a special situation in 2012 and as such we gave it a small weight in our portfolio. We were disappointed in SVU's performance in its Q1 2013 fiscal period as it failed to anticipate certain pricing and promotional strategies of its competition. SVU's share price suffered badly from July 11th to July 27th as it declined by 62% and that caused its former CEO Craig Herkert to be fired.
SUPERVALU's replacement of its former CEO Craig Herkert with its Non-Executive Chairman Wayne Sales on July 30th gave SVU shareholders a glimmer of optimism. We believed that SVU's properties had value then and we believe SVU's properties have value now. We were not happy that SVU's Q1 2013 performance momentum regressed from its incremental gains in FY 2012 and we were disappointed that Herkert resorted to passive aggressive defensive deflective behavior in SVU's Shareholders' Annual Meeting in July. Fortunately, we believe that the new leadership team won't get caught flat-footed on pricing like Herkert and his team. We also felt a "breath of fresh air" from the new CEO Wayne Sales rather than the tired and burned-out attitude of SVU's former CEO Craig Herkert. Although SVU's Q2 2013 performance was weaker than the Q1 2013, we have greater confidence in Wayne Sales' ability to turn it around relative to Herkert. Although we feel that Herkert did his best considering he was dealt a bad hand with SVU's debt burden, his best wasn't no longer good enough to lead this company.
Although SVU's EPS will certainly miss its $1.27 in adjusted EPS target that the previous management forecasted for FY 2013, we see that SVU had accelerated its operational investments in pricing competitiveness. SVU is expecting recurring free cash flows of $300M-$400M in FY 2013 plus $100M in nonrecurring FCFs from the disposal of closed stores and other superannuated assets. Based on its current market cap of $600M, we're expecting a 50% FCF/Market Cap for FY 2013. We were disappointed that Ken Goldman of J.P. Morgan threw out bankruptcy fears back in the Q1 2013 conference call especially since he had an $11/share fair value based on a "Sum-of-the-parts" methodology earlier in the year. And we were even more surprised that Goldman was not at the Q2 2013 conference, or maybe he decided to not ask a question.
We don't expect a bankruptcy because SVU refinanced a portion of its debt to eliminate certain restrictive covenants which reduce the risk of a "technical bankruptcy due to breaching loan terms". The firm has $1.2B in available unused credit on its new asset-backed revolving credit line. The company has generated $108M in FCFs during H1 2013 and we expect it to generate $200M-$300M in FCFs in H2 2013 as it will benefit from the holiday shopping periods of Thanksgiving, Chanukah, Christmas, New Year's, Super Bowl Sunday and Valentine's Day. We expect the company to use its free cash flows to pay down its $250M in upcoming debt maturities, which primarily consists of debt attributed to the (New) Albertsons Inc acquisition in 2006. The largest tranche of this debt maturity relates to a $140M New Albertsons bond with a 7.25% coupon and a May 1st, 2013 maturity. The next two tranches of this upcoming debt maturity relate to $33M in New Albertsons Medium Term Notes with an average coupon of 6.345% and a February 25th, 2013 maturity. The remaining $77M in upcoming debt maturities relates to the current portion of capital lease obligations and other debt obligations.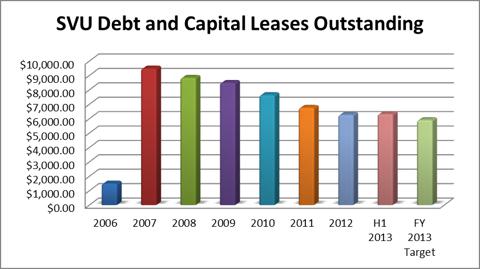 Source: Morningstar Direct and Our Estimates
We were pleased that Deborah Weinswig of Citi Investment Research recently boosted her price target on SUPERVALU by 50% (from $2/share to $3/share) on the potential prospect of SVU selling some of its assets. We believe that there is potential for SVU to strike a deal to sell some or all of its assets considering it hired Greenhill and Goldman Sachs to explore strategic alternatives for the firm. We were irritated that the company's share price declined by 20% on November 29th when talks between SVU and Cerberus stalled. SVU said that sale talks were ongoing with several parties though. Considering that SVU's debt burden is primarily due to its debt funded acquisition of Albertsons Inc., we believe that it would be prudent for the company to sell off some of its stores, chains or even divisions. We published a two part report series as to synergies we felt SVU would offer Kroger (NYSE:KR) or Safeway (NYSE:SWY) if either firm stepped up to acquire it in whole or in part. These synergies would also apply to European grocery chains with significant U.S. food retailing operations.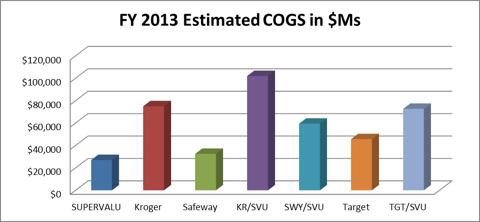 Source: Morningstar Direct and Our Estimates
We don't think that Kroger, Safeway or any other (food) retailer should hope to continue to pick-off SVU's customers without consequence or repercussions. We believe that SVU's continued existence as an independent competitor will force its traditional food retailing peers to keep on fighting each other in a "war of attrition" rather than bulking up to compete against Wal-Mart. Although Kroger has generated impressive identical store sales growth in FY 2013, its Q3 identical store sales growth has eased for the fourth straight quarter. Although Kroger increased its quarterly net income by $120.6M in its Q3 2013 period, it enjoyed the benefit of $74.1M in non-recurring benefits due to a credit card settlement as well as reduced costs associated with funding its share of the United Food and Commercial Workers Consolidated Pension Fund that was created in January. The company also had a $46.1M reduction in its LIFO charge in Q3 2013 versus Q3 2012 and a $900K reduction in its minority interest expense. If we back these non-recurring benefits out of Kroger's net income, its Q3 2013 net income only saw incremental growth versus the prior year's period. Although Kroger's adjusted recurring EPS would have still increased by 12% in Q3 2013 versus the prior year period, this would have been entirely due to its share repurchase program.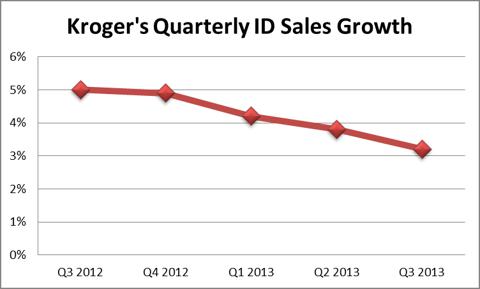 Source: Kroger's Last 5 Quarterly Earnings Results
We were interested where Bloomberg said that if SVU sold its assets on its own, it would be facing the issue of tax payments. We would like to see what this is attributed to as SVU acquired the Albertsons assets at the fair market value as of June 2nd, 2006. Albertsons Inc (excluding the Albertsons LLC stores that went to Cerberus) was acquired for $9.8B in cash and SVU shares as well the assumption of $6B in Albertsons debt and $335M related to cash settlement and assumption of restricted stock unit and stock option awards and direct costs of the acquisition of Albertsons Inc. SVU immediately sold Albertson's stand-alone Osco Drug and Sav-On Drugs drug store business to CVS for $4.9B to reduce its cash portion of the Albertsons Inc acquisition.
SVU brought $3.4B in current assets, $5.66B in property, plant and equipment and $470M in other tangible assets onto its balance sheet with this deal. SVU, brought $3.9B in current liabilities, $6.06B in long-term debt/capital leases, $173M in deferred taxes and $1.56B in other liabilities onto its balance sheet. SVU allocated $5.34B in goodwill and $1.97B in amortizable intangible assets this resulted in SVU adding $5.12B in net assets with this deal as of June 2nd 2006. As SVU has suffered the slings and arrows of $6.8B in intangible asset impairments, we would not expect SVU to generate any capital gains from the sale of its traditional grocery store chain operations, Save-A-Lot or even its wholesale distribution business. SVU has seen its net PP&E decline by $2.6B since its 2006 acquisition of Albertson as it has reduced the number of new store openings and sold or closed off existing stores and operations and we can't see any readily apparent reasons for SVU to book any taxable gains from the sale of its capital assets and operations.
In conclusion, we were disappointed that SVU's merger discussion talks overshadowed some positives we saw with regards to SVU. We were pleased to see that an influential retail sector analyst had recently increased her fair value target for the company's shares and were pleased that SVU's largest competitor is seeing its identical store sales growth decelerate. We also believe that SVU offers potential value for investors because it is still continuing to generate free cash flows and we expect it to continue to pay off its maturing bond issues with free cash flows from operations rather than refinancing it into its asset backed revolving credit line. We also believe that it would behoove its competitors to acquire SVU because it would enable it to generate purchasing synergies, operating synergies, financing synergies and a portfolio of owned real estate that it can use or sell from buying and operating SVU that SVU can't current obtain on its own and these synergies would enable its competitors to help with the payback for a potential deal.
Disclosure: I am long SVU. I wrote this article myself, and it expresses my own opinions. I am not receiving compensation for it (other than from Seeking Alpha). I have no business relationship with any company whose stock is mentioned in this article.
Additional disclosure: This article was written by an analyst at Saibus Research. Saibus Research has not received compensation directly or indirectly for expressing the recommendation in this article. We have no business relationship with any company whose stock is mentioned in this article. Under no circumstances must this report be considered an offer to buy, sell, subscribe for or trade securities or other instruments.