Let's talk about some blue-chips that have been having a rough go of it these past couple years. Many large-cap dividend investors are aware that the past five or so years have not exactly been periods of domination for these three classic staples of conservative portfolios: PepsiCo (NYSE:PEP), Johnson & Johnson (NYSE:JNJ), and Procter & Gamble (NYSE:PG).
The general narrative of bad news confronting these firms for the past couple of years has been obvious enough: Pepsi has been losing ground to Coca-Cola (NYSE:KO) on the soft drink side, and the company has been unfocused (to put it gently) as it grapples between pursuing healthier snack options than the types of junk food produced by the cash-cow Frito Lay division. In the case of Johnson & Johnson, the company has dealt with an embarrassing string of recalls that has called into question the firm's quality control efforts, with the added insult being that Johnson & Johnson used to be the perfect case study in damage control following the disaster with Tylenol in the 1980s. And Procter & Gamble's woes have been well-chronicled as well, with the company's growth being stunted due to tough competition from the likes of Colgate-Palmolive (NYSE:CL), Kimberly-Clark (NYSE:KMB), and low-priced generics.
For some people, it might be easy to conclude that this proves that "buy-and-hold" investing is a naïve anachronism, and even the so-called safest of the safe blue chips can be susceptible to failure. While I think it is always a good idea to keep abreast of financial news while diligently monitoring investments, I think that the earnings results for each of these companies illustrate the strength of dealing with best-in-class companies.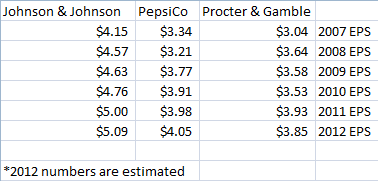 When I make an investment with the intention of holding the stock for 10+ years, I don't expect the stock price to move upward in a linear fashion every year along the way. If I can achieve 8-9% annual growth over a ten-year period with a common stock investment, I don't expect every year to deliver growth in the 8-9% range. There's probably going to be some 12% growth years, but there's also going to be some stagnant growth years. That's where the "real life" part kicks in.
If you accept the premise that these have been rockier periods than usual for J&J, P&G, and Pepsi, then I find it reassuring to know that the companies are still growing earnings per share, even if the ride has been bumpier than conservative investors might like. For instance, all three of the companies are expected to post better earnings per share in 2012 than in 2010. Johnson & Johnson has grown earnings every throughout the period examined. Compared to the earnings per share in 2007 before the crisis hit, all three companies are now earning much more per share than 5-6 years ago.
For me, those facts illustrate the appeal of blue-chip stock investing. When I contemplate a long-term investment, one of the first questions that I ask myself is this: What are some of the realistic worst case scenarios that I could face with this investment? For Johnson & Johnson, the string of recalls and weakness in the consumer division has not stopped the company from growing earnings every year over the period. And even though Pepsi has been clobbered by Coke and has been cementing its second-fiddle status, the company has nevertheless managed to grow earnings every year over this time period, with the exception of the financial crisis in 2008. And while P&G's earnings have certainly see-sawed more than most investors would like, the company is still noticeably more profitable now (on a per share basis) than it was in 2007.
This illustrates what can make blue-chip investing such a common-sense strategy for long-term investors. On one hand, you have companies like Coke, Colgate-Palmolive, and Exxon Mobil (NYSE:XOM) growing earnings at satisfactory clips like clockwork, while the "struggling" blue chips like J&J, P&G, and Pepsi are still generally growing earnings and raising dividends even the companies aren't exactly turning in full performances. It's easy to discard Pepsi as an investment, thinking, "Just like John Mellencamp is a poor man's Bruce Springsteen, Pepsi has become a poor man's Coca-Cola." What that kind of logic ignores is the fact that Pepsi has been growing dividends every year, and with 2008 as the exception, earnings as well.
A common element that links Johnson & Johnson, PepsiCo, and Procter & Gamble is that all three companies have at least a dozen $1 billion brands. When you own a company that possesses that magnitude of diversified revenue streams, you can withstand a lot of abuse and still come out okay. That's the appeal of owning these kinds of blue chips. Even though they're facing troubled circumstances, the earnings and dividends are still growing just about every year.
Disclosure: I am long JNJ. I wrote this article myself, and it expresses my own opinions. I am not receiving compensation for it (other than from Seeking Alpha). I have no business relationship with any company whose stock is mentioned in this article.