I'm delighted to see increasingly positive commentary about Ireland - I believe it now offers a compelling long term investment story:
Ireland's clearly determined to remain in the EU/Eurozone, and hard-core Eurozone countries look increasingly supportive
Its increased debt burden is mainly due to a colossal political blunder (bailout of banks & their creditors), not the profligacy of its citizens
Despite this uncalled for debt burden, the Irish are already tackling the hard slog back to competitiveness & fiscal stability (unlike Greece)
We're now in a fifth year of economic contraction - how much worse do you think it can get?
The ISEQ stock index collapsed 82%, and is still down 68% today - how much worse do you think it can get?
Irish property prices have fallen 50-70% - again, how much worse do you think it can get?
Well known/savvy investors like Fairfax Financial (OTCPK:FRFHF), Kennedy-Wilson (KW), Lone Star, Blackstone (BX), Apollo Global (APO), Wilbur Ross, etc. are all now buying Irish assets
In a similar vein, this post may be well worth a read
So, how do you buy into the Irish market? One answer is a fund:
I covered those during The Great Irish Share Valuation Project. There are 2 ETFs available, iShares MSCI Ireland (EIRL) & the Irish-listed ISEQ 20 (IETF:ID), but the New Ireland Fund (IRL) offers an attractive 13% discount to NAV (Net Asset Value). But top holdings aren't necessarily that Irish in exposure, or that cheap. And large stakes in Ireland's largest company, CRH (CRH), look a pricey bet to me right now. An alternative is to buy into the banks - Bank of Ireland (IRE), for example. Yes, banks offer excellent domestic exposure, but I just can't bring myself to buy/recommend them. However, insurance companies would offer the same exposure to the domestic Irish economy, minus the obscene leverage. And when you look at the market, there's one obvious choice:
FBD Holdings (OTC:FBDHF) = Ireland Inc.
FBD Holdings was founded in the '60s by a group of farmers. It's now one of Ireland's largest Property & Casualty insurers, with a loyal client base of farmers, individuals & small business owners. It's the only remaining Irish-owned insurance company, since Liberty Mutual bought control of Quinn Insurance. There was a changing of the guard in 2008, with Andrew Langford appointed CEO & Cathal O'Caoimh as Group Finance Director. Total director compensation is $2.8 million, which is exceeded by the value of their shares/options (and the CEO's been buying). The founding company, Farmer Business Developments plc, is a long term/core shareholder with a 25.5% stake in FBD's ordinary shares. Fidelity has now announced a 5.2% stake. There are 33.4 m shares outstanding (ignore 'A' shares, they carry no votes or capital/profit participation rights), for a decent $449 m market cap.
An immediate question springs to mind: Is it safe? Let's take Charlie Munger's advice & 'invert, always invert!' - assume we're back in 2007, and I present you with these facts/charts about the following 5 years:
Irish GNP & Domestic Demand will look this bad: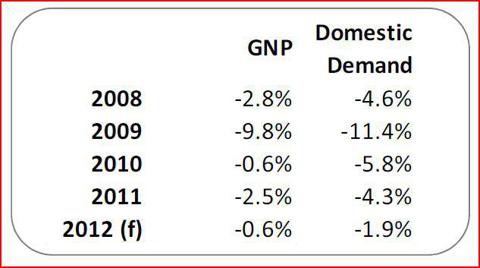 Catastrophic weather claims will rocket: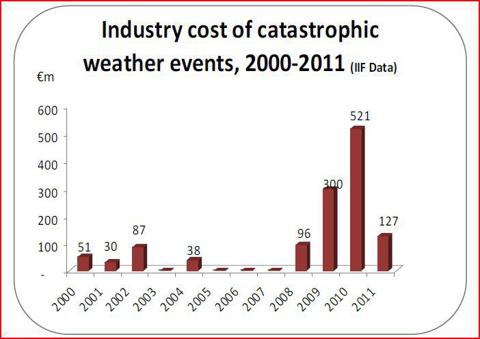 All Irish insurance companies will face a significant decline in premium income: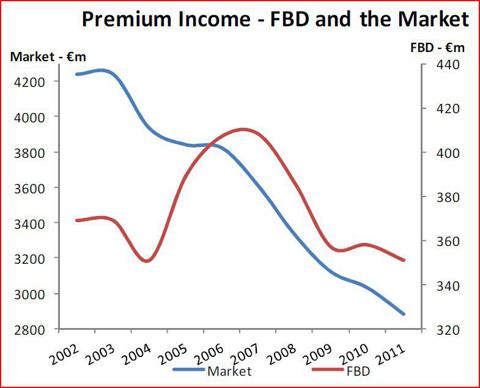 All companies face a competitor, Quinn Insurance, who is clearly mispricing underwriting & investment risk. FBD has 39% of investment assets in Corp. Equities & Bonds/Loans/Property, and will face 3 full years of investment write-downs, restructuring & net losses. FBD's debt will steadily increase, to peak in 2010 at a 67% Debt/Equity ratio.
Now, considering all of that, how would you have expected FBD to end up 5 yreas later in 2012? Does it look anything like this?
Has just racked up 5 years of positive operating earnings
Has eliminated all debt & reduced riskier assets to just 9% of total yr-end 2011 investment assets
Has steadily grown NAV since mid-2010
Has continued a decade of market share increases
Pays a 3.5% dividend yield
Offers an operating RoE (Return on Equity) & net (pre-exceptional) RoE of 25.4% & 22.5%, respectively
Don't worry, I'm quite sure I wouldn't have predicted such an outcome either. If FBD can deliver superb defense in the face of an Irish meltdown, the future certainly shouldn't present any qualms. The explanation for this performance lies in their underwriting record: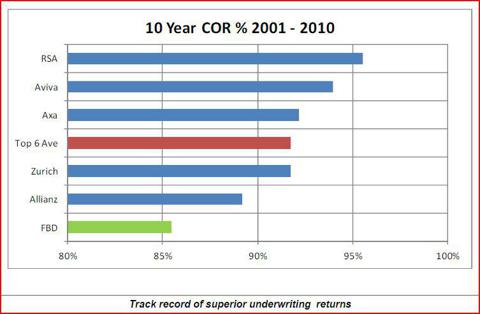 FBD has sustained an average COR (Combined Operating Ratio) of less than 86% for a decade. This is also confirmed by its history of positive runoffs, and it arms the company with an exceptional advantage. If you're concerned it's a fluke, long term RoE looks even better: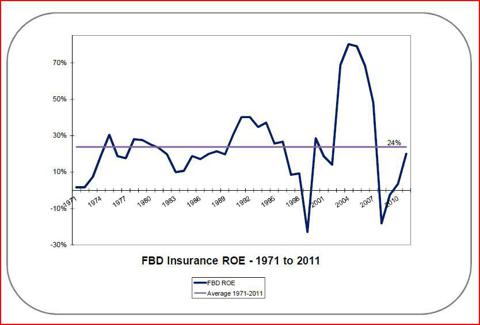 Yes, an average 24% RoE over 4 decades - and now FBD's added a fortress balance sheet to its list of attractions: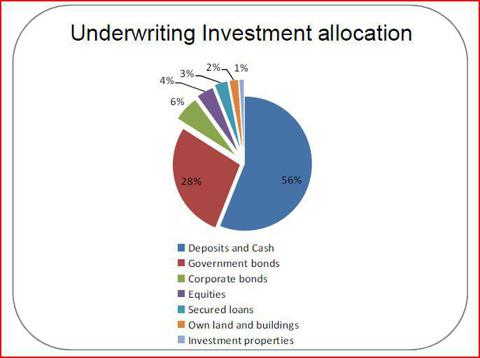 Balance sheet de-risking was completed in 2011, with the spin-off of the majority of remaining property/leisure assets, and the elimination of all debt. Their bond portfolio is mainly invested in German bunds, with the balance in short-dated Irish Treasury Bills (no longer-dated Irish bonds), and duration is kept short. Deposits are invested with (approved) large/highly rated US, UK & European (non-PIGS) banks. Irish exposure's restricted to the largest (government guaranteed) banks. FBD's portfolio is now 92% invested in deposits, government bonds & investment grade corporate bonds. This B/S de-risking was just the catalyst I needed to begin buying. My belief that impairment & restructuring charges were ending was another key factor.
FBD reported H1-2012 operating earnings of $0.987 (EUR 0.75). Diluted EPS of $0.763 (EUR 0.58) included $4.3 m of exceptional charges, implying a pre-exceptional diluted EPS of $0.874 (EUR 0.664). Recently, FBD confidently increased FY-2012 operating earnings guidance to a mid-point of $2.11 (EUR 1.60). That suggests FY pre-exceptional diluted EPS will gross up to approx. $1.865 (EUR 1.417), putting FBD on a 7.2 P/E. I would (conservatively) estimate end-Nov NAV to be $9.48 (EUR 7.20) (vs. an end-June NAV of $8.77). This places FBD on a current P/B (Price/Book) ratio of just 1.4, which seems extraordinarily low for a company with an underlying RoE of 22.5%.
The market will usually award, say, a 1.0 P/B for an 8-12% RoE. I'd argue FBD deserves a premium valuation based on its low-risk balance sheet & long term COR/RoE record. But let's limit our valuation for FBD to a 2.25 P/B. This implies a $21.32 (EUR 16.20) fair value per share, and offers an upside potential of 59%.
FBD's long term RoE, and current 12.2% market share, suggests no barrier to growth. In fact, they've broadened distribution in the past few years via: a) more sales offices targeting its core farming/rural client base, b) FBD.ie & nononsense.ie which particularly target urban customers, and c) a rapidly expanding broker network targeting business owners. Combine that with a fortress balance sheet, a low average COR, predictable investment earnings, and a high RoE - they have the perfect formula to relentlessly grind down competitors & grind out shareholder returns.
If we presume a more conservative 15% compounding of equity, and an ultimate 2.0 P/B valuation, we could see the shares reach $38.12 (EUR 28.96) in 5 years' time. This offers secondary upside potential of 184%. [That price target ignores dividend payments, but if you reinvested dividends on a tax-exempt basis, that kind of return is certainly possible with this scenario]. Obviously, one shouldn't anticipate years of future growth, but this gives you a good idea of FBD's (ultimate) potential.
As with most foreign stocks, I recommend you consider the tighter spread/better volume of local listings (FBD:ID, or FBH:LN). Reviewing local trading, recent (broken) resistance levels include EUR 8.05, 8.50-60 & 9.20-25. Frankly, I expected more consolidation in the 9.00s, but FBD then broke clear of the latest EUR 9.60-90 resistance level. This now acts as support - a retracement back through here would present the ideal accumulation opportunity. However, FBD's been setting new highs all year, and now appears to have plenty of clear blue sky overhead to eventually target $16.45 (EUR 12.50), or even $20.73 (EUR 15.75), on a technical basis.
FBD Holdings is a Top 5 & 5.6% portfolio holding for me now.
Market Cap: $449 mio
Gross Debt: Zero
Current NAV: $9.48 (EUR 7.20, end-Nov estimate)
P/E: 7.2 (based on FY-12 pre-exc. diluted EPS estimate)
Price/Book: 1.42
Tgt P/E: 11.4
Tgt P/B: 2.25
Tgt Mkt Cap: $713 mio
Tgt Fair Value: $21.32 (EUR 16.20)
Upside Potential: 59%
Disclosure: I am long OTC:FBDHF. I wrote this article myself, and it expresses my own opinions. I am not receiving compensation for it. I have no business relationship with any company whose stock is mentioned in this article.