On Friday night, the NASDAQ OMX Group, Inc. (NASDAQ:NDAQ) announced the results of the annual re-ranking of the NASDAQ-100 Index, which will become effective prior to market open on Monday, December 24, 2012. Among the most recent inclusion is Equinix (NASDAQ:EQIX), the worldwide leader in the network-neutral colocation business, a company whose birth, survival through the dot-com bubble burst and impressive growth afterwards is one of the most interesting stories in the Telecom sector.
Background
Equinix was founded in 1998 by Jay Adelson and Al Avery, with the aim to provide secure physical connection points where networks, content providers and enterprises could interconnect through a neutral party to avoid the competing interests of telecommunication providers.
By creating physical places for ISPs and networks to exchange critical information, Equinix was also making the internet more scalable, and contributing to decreasing the cost of an internet presence, by allowing its non-Telecom customers to peer with each other directly and source bandwidth from several providers, putting all of them into competition for their business.
Several Silicon Valley tech companies embraced the business model, and the company could count on big names like Microsoft (NASDAQ:MSFT) and Cisco System (NASDAQ:CSCO) as some of its original investors. Michelangelo Volpi, at the time Cisco's Senior Vice President and General Manager of the Routing and Service Provider Technology Group, joined Equinix's BoD, as well as Scott Kriens, from Juniper Networks (NYSE:JNPR).
In July 1999, the first-ever International Business Exchange [IBX] data center was built in Ashburn, Virginia. Today, it represents the most connected Telecom hub on the East Coast of the U.S.A.
In August 2000, the Equinix IPO raised more than $270 million. The company priced its shares at $12, or today's equivalent of $384 after the 2002 reverse split (more on this later).
Key developments
At the very beginning of its activity, Equinix succeeded in convincing the seven major U.S. networks to interconnect with each other under its roof in the largest Telecom hubs of the country. Once Tier 1 networks established a Point of Presence (PoP) in Equinix's data centers, it was relatively easier to convince Tier 2 and foreign Telecoms, as well as local ISPs to evaluate a presence within the same locations. Content providers and enterprises became the next target, as Equinix was basically selling savings to its customers, starting the snowball effect which is a great characteristic of its business model: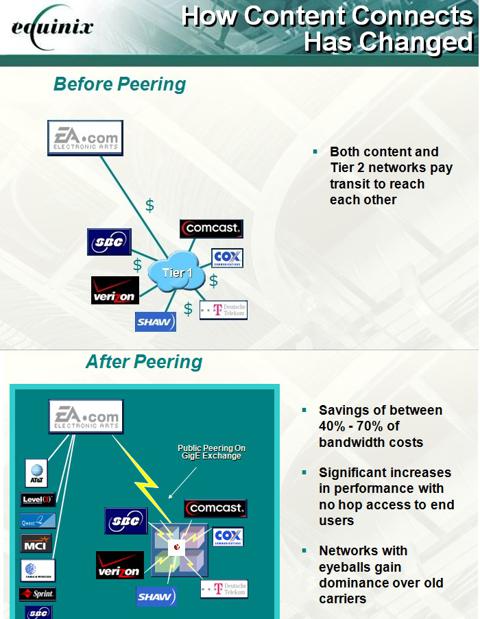 The dot-com bubble burst
Equinix's differentiator from other data center providers was the network neutral business model - however, during the dot-com bubble times, both Telecoms and independent data center operators like Exodus Communications started building a huge amount of data centers, based on the assumption: customers will come. A recipe for disaster.
As a result, in the following years most networks were forced to sell their data center assets for a few cents on a dollar and exited the sector, while several operators, including Exodus, went out of business. Data center companies learned a hard lesson: financial success depended mostly on a sound demand/offer balance. Rome was built in a day, in those days, and the data center glut burned so many investors that it took several years before Wall Street started reconsidering the sector.
Equinix 2.0 is born
In October 2002, Equinix announced a complex merger/financing proposal from ST Telemedia, which was completed by year's end.
As a result, the company acquired Pihana Pacific and i-STT, two network-neutral data center providers serving the Asia-Pacific region, and gained a $30 million investment from Singapore Technologies Telemedia. Equinix also restructured its debt, through the retirement of more than $116 million of its 13% Senior Notes then outstanding.
As part of the restructuring, the company also announced a one for 32 reverse stock split effective December 31, 2002, to regain compliance with Nasdaq rules.
Instead of taking the easy road to file for bankruptcy, and wipe out shareholders, management went for the most challenging battle:
Equinix Chief Marketing Officer Marjorie Backaus said the company considered filing for bankruptcy (she didn't say when), but decided instead to work with lenders to exchange their loans for stock in the company.
Few analysts, at the time, were on the company's side: among them, Andrew Schroepfer:
"The company stock is priced right now like there is going to be a bankruptcy," said Andrew Schroepfer, president of Tier 1 Research, a Minneapolis firm that tracks the data center market. But Schroepfer said he is optimistic that the company can work out deals with creditors to slash its debt and avoid bankruptcy.

"I am in the minority in believing in the company," he said.
Equinix's CEO, Peter Van Camp, and his team made one of the most outstanding turnarounds in the Telecom sector. A few years after surviving the tech bubble burst, the company started
to expand by purchasing the data centers left behind by the telecommunication companies that had abandoned the data center business, like in the case of Sprint's (NYSE:S) E|Solutions Internet Center in Santa Clara.
In the longer term, data centers became a perfect example of Hegelian dialectic, with scarcity of inventory following the previous data center glut, as shown in this slide taken from a Nanog presentation resuming some of the major Telecom trends in recent years: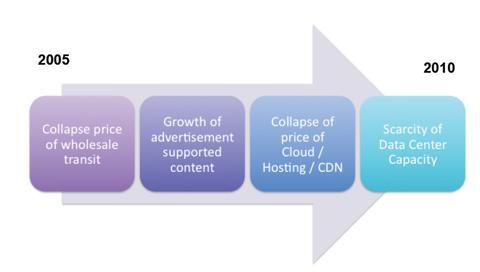 Global Expansion
Since 2007, Equinix has started an acquisition strategy targeted at strengthening its position as the world's leading data center and interconnection provider. Here is a quick look at some of the largest deals made in the last 5 years, with their cost (in $ million):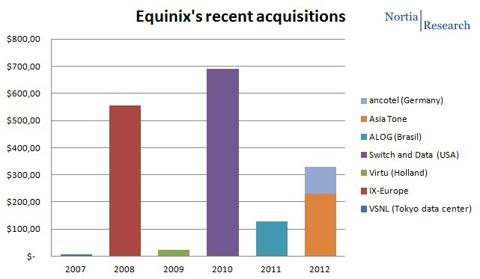 This chart doesn't include Equinix's 2012 partnership to provide data center infrastructure and colocation services in Indonesia as well as the recent alliance to deliver data center and interconnection services to customers in the Middle East.
An outstanding business model
Equinix's business model isn't solely based on offering a secure place to companies looking for outsourcing their data center needs. Since the very beginning, the company has offered a suite of additional services which are very interesting for the customers, as they increase performance and are instrumental in obtaining savings, but that are also very rewarding for the company and its shareholders. Here is how Bill Norton, previously abpeering evangelist for the company, describes Equinix's cross connect financial model:
To the colocation provider, cross-connects are a wonderful high-value and high-margin product.

Let's shine some light on the cost, price, value and profits associated with these cross connects.

The Cost to Run a Cross Connect

These cross-connects are estimated to cost about $40 to run. This amount includes the cost of the fiber, the cost of the labor to run the fiber, and even a small cost allocation for the indirect costs of a database in which to store the customer information. There are lots of assumptions here, of course, but let's start with this guesstimate.

The Monthly Price of a Cross Connect

The cost of the cross-connect is immaterial compared to the $300 per month that the U.S. colocation providers charge for cross-connects.
The steady increase in the number of cross connects every quarter is one of Equinix's most interesting non-financial metrics. As a roughly 99% margin rich service, it mostly falls directly to the bottom line and strongly contributes to Equinix's reported recurring revenue per cabinet equivalent, which has also been growing nicely in the last few years.
Up 9.7% since the rumor of a Nasdaq 100 inclusion spread out
Deutsche Bank's analyst Bo Huang started speculating about Equinix joining the Nasdaq 100 index on December 5th:
This year, we anticipate 8 pairs of Additions to and Deletions from the NASDAQ-100 index.

8 Additions: Kraft (KFT), Regeneron (NASDAQ:REGN), Liberty Media (LMCA), Regeneron Pharma (REGN), Analog Devices (NASDAQ:ADI), Catamaron Corp. (NASDAQ:CTRX), Equinix (EQIX), Liberty Global (NASDAQ:LBTYA), Discovery Communications.
The stock price is up 9.7% since the speculation hit the market, and Equinix is now flirting with $200, close to its 52 week high of $212.
Looking forward
Equinix's business model remains one of the most interesting (and potentially rewarding) in the Telecom sector. The company established itself as the 800 pound gorilla in its niche, and its assets are very difficult to replicate. Equinix's data centers have become the major peering points around the world, and host several ecosystems that keep attracting additional customers under the same roof.
As Piper Jaffray recently submitted:
We believe Equinix will be another top performing stock in '13. While the stock is up 86% over the past 12 months, we believe there are a number of positive fundamental reasons the business will continue to perform. The secular trend to outsourced IT is not changing, enhanced by the cyclical trend to asset-light, and supply/demand trends are favorable. Equinix's conversion to REIT process could act as a catalyst, and we believe the company is set up for continued positive estimate revisions. We are re-iterating our Overweight rating, and consider Equinix to be a top idea within our coverage universe.
Equinix's management recently fixed an ambitious target of reaching $3 billion in sales by 2015 (roughly a double compared to 2011 revenues), which we believe will be attainable. Sales growth and increasing profitability, combined with additional visibility given by the inclusion in the Nasdaq 100, should make the stock attractive for even more investors than before.
Disclosure: I am long EQIX. I wrote this article myself, and it expresses my own opinions. I am not receiving compensation for it (other than from Seeking Alpha). I have no business relationship with any company whose stock is mentioned in this article.