In the December 10th issue of Forbes Magazine, I wrote an article, The Great REIT Boom, in which I explained:
Now, 50 years after REITs' inception, the industry is buzzing again. A generation of boomers craves income, and more and more companies have become wise to tax and other advantages of the REIT structure. Everyone wants to get in on the REIT bonanza, as operating businesses from cell phone towers to timber companies, billboard firms and private prisons are converting to REITs.
Many non-REIT companies that are currently eligible for REIT status (at least with minimal tweaking of their business model) have, until now, chosen not to become REITs because they are required to operate under restrictions that companies don't necessarily like. Chief among them is that the companies and their management teams don't want to disgorge earnings to shareholders - in the form of dividends - that would mean they would have to approach the capital markets to finance any expansion.
In other words, many businesses would not want to be a REIT because their models require the maximum retention of earnings, something REITs can't do. What's happening in the current market is simply that the advantage of being a REIT - with stocks trading at healthy multiples because investors demand income - has, for several companies, finally outweighed the disadvantages of being a REIT.
Among one primary qualification for admittance to REIT-dom is the Congressional creation of the acronym REIT and specifically the first two words: REAL ESTATE. Accordingly, it seems that many of the new REITs being formed today are simply utilizing the age old sale/leaseback model (see article here) to monetize free-standing real estate properties. Accordingly, the demand for durable free-standing "net lease" income has many companies considering the strategy of becoming an INCOME COMPANY in a NET LEASE WRAPPER.
The Growing Triple-Net Lease Sector
What company would not want to be a REIT today as that mere association of the name REIT has proven to be correlated with high quality income? For "wanna be" REITs , the attraction to the pure real estate sector is the fact that REITs are trading at higher multiples, primarily due to their dividend repeatability - a primary function of the contractual longer term lease characteristics of the triple-net REITs.
Triple-net REITs are generally at the top of most investor wish lists - and for the same reason - many of the newest proposed REITs have considered entry to the durable triple-net income sub-sector. Among the new triple-net candidates include Lamar (NASDAQ:LAMR) - see article here, Penn Gaming (NASDAQ:PENN) - see article here, and Iron Mountain (NYSE:IRM) - see article here. The "bond-like" net lease alternative is attractive not just because of the relative simplicity of being the landlord of a single-tenant triple-net leased investment, but also because of the security offered by the repeatable income fundamentals of these properties.
As I wrote in a previous Seeking Alpha article:
Since triple-net properties are essentially 100% leased, occupancy is the essence of the value proposition as there is zero lease-up risk, and the most sought after properties are those with long-term leases in place to high-quality tenants.

As real estate investors continue to gravitate towards the "flight to quality" triple-net leased assets, the demand has never been stronger. Conversely, the supply of new high-quality product - generating considerable cash flows from operations - has become the prize catch.
The Best Sharp Shooters in REIT-dom
Investors today must consider that all triple-net REITs are not the same and that each one has a varying degree of risk - unique to the REIT's income characteristics and overall operating fundamentals. In addition, many of the health care and industrial REITs are structured as net lease investments and accordingly, investors should consider the best way to gain exposure utilizing a quantitative analysis of risk and return.
Accordingly, I have put together a list of 18 REITs that are all considered net lease operators:
W.P. Carey (NYSE:WPC), Realty Income (NYSE:O), National Retail Properties (NYSE:NNN), American Realty Capital Properties (ARCP), CapLease (NYSE:LSE), Entertainment Properties (NYSE:EPR), Medical Properties Trust (NYSE:MPW), Omega Healthcare Investors (NYSE:OHI), Monmouth REIT (NYSE:MNR), Government Properties Trust (NYSE:GOV), Lexington Realty Trust (NYSE:LXP), National Healthcare Investors (NYSE:NHI), Healthcare Realty Trust (NYSE:HR), LTC Properties (NYSE:LTC), Getty Realty Cop (NYSE:GTY), Agree Realty (NYSE:ADC), American Realty Capital Trust (NASDAQ:ARCT-OLD), and One Liberty Properties (NYSE:OLP).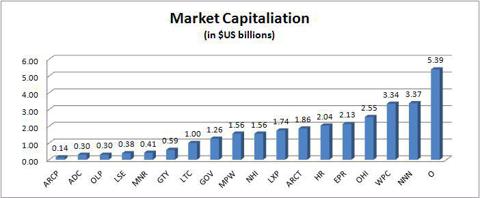 The purpose for this article is to find the best triple-net (broadly defined to include all net leases) REIT with what I consider to have the safest and most reliable risk-adjusted platform. Although I consider it impossible to eliminate all investment risk, I decided to find the best overall triple-net REIT by minimizing risk and filtering out disadvantageously positioned REITs from the outset. In doing so, I could also become more familiar with the characteristics that will make the overall value proposition of the triple net sector more favorable for new REIT conversions and possibly new peers to REIT-dom. As Ben Graham said,
The most durable education, is self-education.
Consistent Occupancy is the Number One Driver for Returns
The triple-net REITs and the health care REITs generally have the best overall occupancy rates, compared with other asset sectors. In addition, the dividend yields for these two sectors are higher than the other sectors (source for chart below is NAREIT). Accordingly, many view triple-net shares (including net lease health care) as tantamount to bond proxies as they are more unique in terms of their "bond-like" cash flows generated by their leases.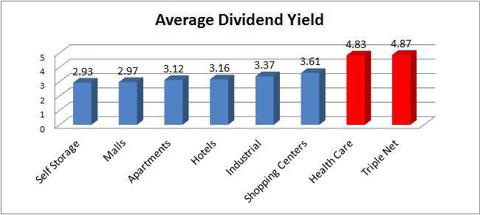 In general, the health care REIT occupancy rates are more closely aligned with the office sector rates; however, the strong demand in medical space (and low new supply) has enabled health care occupancies to become more closely aligned to the triple-net REIT sector. Clearly the strong demand in the stand-alone asset class is what makes the "bond-like" classification so attractive.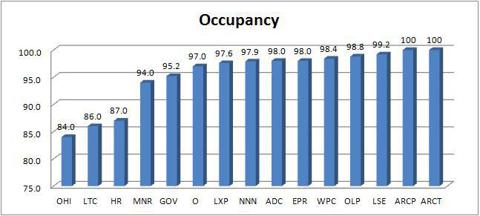 "The only investors who shouldn't diversify are those who are right 100% of the time." John Templeton
One of the best ways to diversify income is to invest in triple-net lease REITs. In doing so, an investor is certain to mitigate exposure to one income stream by effectively reducing income concentration by tenant, category, and geography. As the famed investor John Templeton said,
To avoid having all your eggs in the wrong basket at the wrong time, every investor should diversify. If you search worldwide, you will find more and better bargains than by studying only one nation. You will also gain diversification.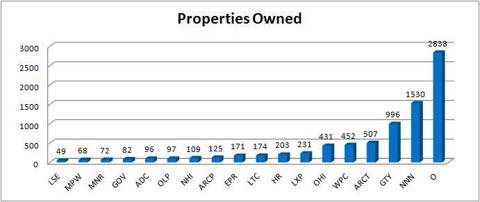 Without a doubt, Realty Income is the "one thousand pound gorilla" in the room and when the merger with the smaller ($1.754 billion) REIT, American Realty Capital Trust, closes (expected Q1-13), Realty Income will be the world's largest net-lease REIT and the 18th-largest publicly traded REIT. The combined company will have a $7.6 billion market capitalization and an enterprise value of around $11.4 billion, a size that makes it a candidate for inclusion in the S&P 500.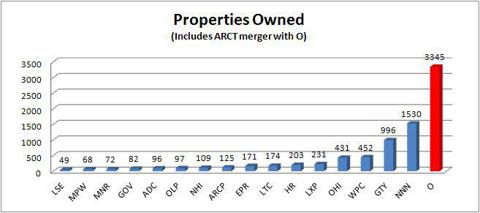 Clearly one quantified advantage for Realty Income is the fact that the company has such a tremendous comparative advantage in terms of diversification. Not only does Realty Income enjoy a substantially deep base of diverse tenants (2,838), but also a powerfully broad classification of 144 different tenants and 44 varied categories. For example, Medical Office Trust invests in just one core category, hospitals, and Getty invests in just one core category, gas stations. Omega Healthcare invests in just one category (skilled nursing) and the health care REIT has 47 different operators/tenants.
"Only when the tide goes out do you discover who's been swimming naked". Warren Buffett
As many REIT investors learned from the lessons of the Great Recession, the most successful REITs were able to maintain durable cash flows due to conservative balance sheet management practices. By maintaining low leverage (under 30% debt to market cap), some of the most attractive triple-net operators today include National Retail Properties, Realty Income, LTC Inc, and National Healthcare Investors.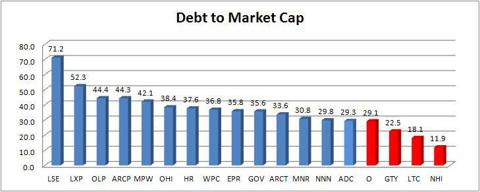 Upon further analysis, several of the most risk-averse net lease REITs have minimal secured mortgage debt. For example, National Retail Properties, LTC Inc., Medical Properties Trust, Realty Income, and National Healthcare Investors all have secured debt under 10% - a true measure of principal preservation (and sleeping well at night).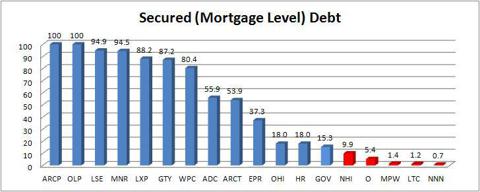 Distinguishing Dividend Policy
One way to separate triple-net REIT "haves" from REIT "have-nots" is to examine dividend policy. It is well designed in the context of the limitations on a REIT's ability to retain earnings and one key metric for REIT investors is to utilize s the use of payout ratio of Adjusted Funds From Operations (AFFO). As new equity is often expensive, the best managed REITs prefer to retain a substantial slice of their operating income for acquisitions and using retained capital is cheaper than raising debt or selling additional shares.
A modest payout ratio is also good insurance against unexpected events that might cause a temporary downturn in free cash flow. Although it would be nice if earnings climbed higher each year, even triple-net REITs are subject to surprises such as recessions, tenant defaults, or higher than expected operating costs. If a REIT pays out too much of its AFFO in dividends it may create concern about the possibility of a dividend cut, which could negatively affect the stock price and raise credibility issues regarding the management team.
REIT payout ratios obviously fluctuate over time and they tend to increase during times of weaker cash flow. Generally net lease REITs have higher payout ratios than other sector REITs (the long term average for REITs going back to 1994 is around 73%) as the average in this article (subtracting the lowest and the highest out) is 82%. I consider 85% a safe payout ratio (see those highlighted in red below) for the net lease REITs as the primary objective is income (in the form of dividends) rather than substantial capital gain.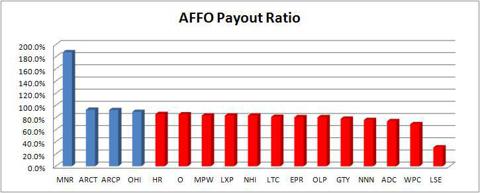 Bond-proxy REITs generally provide high-dividend yields- in the range of 5 to 7 percent - but they have less well defined growth prospects compared with other REITs. Remember, for REITs it is the dividend (not growth) that anchors the total return proposition and that is why the reliability of the dividend stream is the critical and essential component to valuing REITs. After removing the lowest and highest paying dividend REITs, the net lease group has an average dividend yield of 6%. Here is snapshot of the current dividend yields for the net lease group: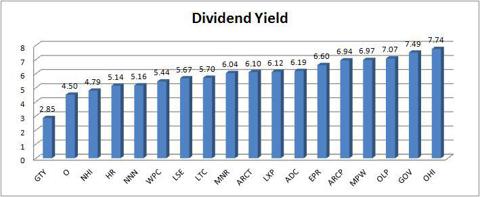 Net Lease REITs are income-disciplined (because they payout 90% of income in the form of dividends) and the spreads between the average net lease dividend yield (6%) and the ten year treasury rate (1.71%) stands at around 430 basis points, indicating that Net Lease REITs are still cheap when compared to other sources of income.
For the same reason that non-REIT companies are considering the advantages of becoming a REIT - stocks trading at healthy multiples because of investors demand for income - the Net Lease REITs are experiencing a surge in demand towards high quality income - a flight to quality. Accordingly, investors should recognize the sustainability of the income as part of the overall value proposition.
As I wrote in a previous Seeking Alpha article:
One of the most important income metrics is dividend sustainability and companies with a long history of dividend increases (and trading histories) generally show narrow dividend yields. After all, dividends are the most important ingredient for REIT investors (on average total return for REITs is comprised of 66 percent dividend and 34 percent capital appreciation) and owning REIT shares with repeatable dividends is one of the most rewarding characteristics of investing.
The essence of dividend repeatability is best explained (in The Intelligent Investor) by the legendary author and investor, Ben Graham:
One of the most persuasive tests of high-quality is an uninterrupted record of dividend payments going back over many years. We think that a record of continuous dividend payments for the last 20 years or more is an important plus factor in the company's quality rating.
So as Graham believed, companies with sustainable dividend records are considered one of the strongest and perhaps most vivid forms of differentiation. Accordingly, the power of the Net Lease repeatable model lies in the way the REITs turn sources of rental income into very durable and repeatable dividends.
Included in the group of Net Lease REITs, there are five REITs that have consistently maintained and increased dividends. As defined by Seeking Alpha's David Fish, these "dividend contenders" have paid and increased dividends for between 10 and 24 years.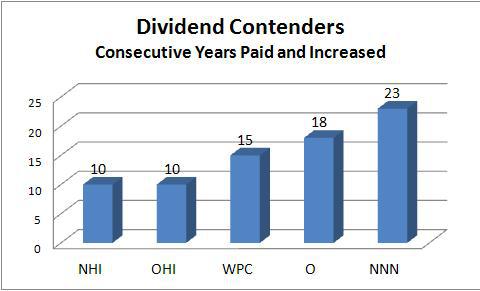 Finding an Adequate "Margin of Safety"
As Ben Graham defined it, the "margin of safety" constitutes a
Favorable difference between price on the one hand and indicated or appraised value on the other.
In a previous Seeking Alpha article I explained that:
Graham believed that when selecting sound securities, one needed some kind of buffer to protect against market fluctuations. That buffer is the "margin of safety" - the difference between the real or intrinsic value of the business underlying the security and the price assigned to that security at the moment.

Because REITs trade off expected Funds From Operations (FFO) rather than earnings per share (NYSEARCA:EPS), REIT earnings are expressed as FFO multiples, calculated simply as the current stock price divided by current FFO data. However, Adjusted Funds From Operations (AFFO) is a more precise measure of a REIT's earnings than FFO because it adjusts for GAAP accounting and for recurring capitalized expenditures.
Most consider P/AFFO ratios to be the best measure for valuing REITs and for discussing REIT recommendations. Although not to be considered a stand-alone valuation metric, the P/AFFO metric is a helpful way to compare relative valuations among REITs.
As referenced earlier, the shares of the consolidated net lease REIT shares have debt levels ranging from 71% debt to market cap to a low of 12% (for NHI). In general, the shares of the higher leveraged REITs trade at lower P/AFFO multiples to account for greater risk.
In addition, cap rates are generally highest for the net lease REITs that have the lowest P/AFFO multiples. This is extremely important to consider since the underlying credit that drives the rental income (aka cash flow) is not all the same. Simply said, investors should consider the quality of the income when making an assessment of the REIT's valuation multiple.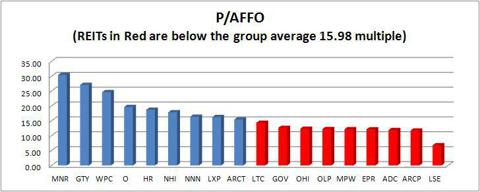 In reviewing the list of REITs (above), the average P/AFFO multiple is 15.98 (average of the list excluding the highest and lowest P/AFFO multiples). As noted above, many of the REITs with lower P/AFFO multiples have significant debt levels. For example, LSE has a debt to market cap of 71%, ADC has around 56% of secured debt, and ARCP has 100% secured debt. This does not mean that these REITs are bad investments; however, investors should recognize that there is risk that drives the valuation multiples and so you must consider you "cannot always tell a book by its cover".
In reviewing the other REITs with P/AFFO multiples below the portfolio average (15.98), there are other notable risks driving the lower valuations. For example, GOV (72 assets), MPW (68 assets), ADC (86 assets), and EPR (171 assets) have fewer tenants (comparatively) making them less diversified than the larger peer group. This is not to say that these REITs are bad investments. It is simply important to recognize that the income fundamentals are not as sound and the demand for high quality income is the driving force behind Mr. Market and the valuations today.
Now, in looking at the Net Lease REIT shares trading at more lofty P/AFFO multiples, it is important to recognize that other external factors - like historically low interest rates - are also a big part of today's high multiple conundrum (see my article on The Conundrum of Triple Net Lease Valuation here). Conversely, the demand for income is best illustrated with the proposed merger between Realty Income and American Realty Capital Trust.
As noted above (and as discussed in previous articles), Realty Income has one of the strongest balance sheets and best management teams in REIT-dom. With over 2,838 properties Realty Income also has one of the more valuable and most diverse net lease platforms within its peer group. When comparing the P/AFFO multiples of Realty Income to other REITs, it is essential to consider the overall value proposition that supports the bond proxy of the REIT alternative.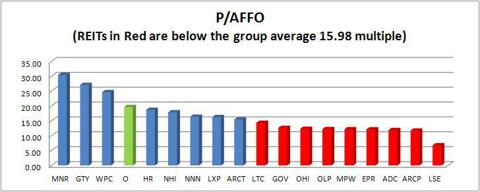 Another useful tool for investors is to look at the reciprocal of the price-to-AFFO multiple: 1 ÷ [Price/AFFO] = AFFO/Price. In the case of Realty Income, this equals about 5.1%. This is called the "AFFO yield." To evaluate the price of Realty Income, we can then compare the AFFO yield to the market's going "cap rate". The cap rate is a general market-based number that tells you how much the market is currently paying for real estate.
Let's assume that we determine the market's cap rate is about 6.2% (I used the average of the Net Lease group excluding the highest and lowest yielding REITs) and, as we know, Realty Income is proposing to merge the ARCT portfolio at a price of $2.95 billion - an implied cap rate of 5.9%. Given the calculated AFFO yield of 5.1% it appears reasonable that ARCT's price is reasonable for both ARCT investors and Realty Income investors. Given Realty Income's considerable low cost of capital and because of the company's utilization of its higher valued shares, Realty Income should benefit considerably from the accretive income - most of which is investment grade rated - when merged.
When comparing the AFFO yield of ARCT (6.5%) with the average portfolio group AFFO yield (6.2%), it seems that ARCT's shareholders are seemingly getting a very good deal. By selling (or merging) the value of ARCT's shares (cash flow) into Realty Income's highly sustainable revenue model, ARCT shareholders are trading into a premium brand that delivers a "margin of safety" like none other.
Also, when compared to the market's cap rate (as I determined as 6.2%), and, even more promising, the growth expected from the rising rents and accretive investments , Realty Income should translate into both higher dividends and future capital growth. In fact, I believe that part of the reason that Realty Income is trading moderately higher is because it will demand a higher multiple to impound the company's future growth expectations (O closed over $1 billion in acquisitions in 2011 and 2012, excluding the $2.9 billion ARCT deal).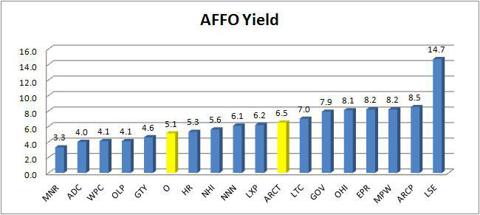 Picking a Sound Bond Proxy REIT
In REIT-dom I consider Realty Income to be the best "bond-proxy" candidate. As many of you know, I have written numerous articles on Realty Income as I consider the triple-net REIT to be one of the best balanced REITs ever. I have known about the "monthly dividend company" for over twenty years (I used to develop net lease properties); however, it has only been over the last few years that I have recommended the company to investors.
My theory of Realty Income as a "bond-proxy" alternative goes that bonds are meant to stabilize your portfolio and dampen the volatility inherent with the violent swings of the stock market. They are also meant to provide diversification benefits by zigging when stocks zag and vice versa. In this way, bonds can significantly reduce the risk of your portfolio without reducing returns too much. Realty Income seems to meet both of these requirements with higher returns and income than the average bond fund. How?
As mentioned above, Realty Income owns 2,838 individual net lease properties that consist of 144 different tenants and 44 categories. (that portfolio will likely grow to 3,345 properties with the merger of ARCT). As outlined above (in this article), Realty Income has consistent occupancy, low debt, low payout ratios, and most importantly, highly sustainable dividends.
Realty Income's primary advantage is that it invests in high quality assets utilizing the lowest cost of capital (weighted average of recent note offering is 2.7%). This value proposition offers two distinct advantages over plain old bonds, however: 1.) the potential for capital appreciation and 2.) rising dividend payments over time. (A bond will never raise its interest payment, but a solid dividend-payer can be expected to do so regularly). So theoretically at least, REIT investors can get the best of both worlds by using Realty Income as a bond- proxy REIT: the higher returns compared with other fixed-income equities as well capital growth.
I am not recommending Realty Income today at $40.36 a share. I am simply concluding that Realty Income is the best bond-proxy REIT and - all things considered - investors should measure Realty Income and its relative risk-adjusted dividend characteristics against other REITs - especially the proposed non-REITs that are entertaining a triple-net lease model.
More importantly, REIT investors should consider that even with this "bond proxy" benchmark perspective, neither safety of principal nor satisfactory returns are likely to be the ultimate outcome; instead, investors should arrive at his or her own conclusions based upon thorough analysis of the facts. That should be the mantra for every investor and one that is best explained by the legendary investor and author, Ben Graham:
An investment operation is one which, upon thorough analysis, promises safety of principal and satisfactory return. Operations not meeting these requirements are speculative.
Source: SNL Financial
Disclosure: I have no positions in any stocks mentioned, and no plans to initiate any positions within the next 72 hours. I wrote this article myself, and it expresses my own opinions. I am not receiving compensation for it (other than from Seeking Alpha). I have no business relationship with any company whose stock is mentioned in this article.