Last week, I discussed why you should stay married to your MLP. You can read that article on Seeking Alpha. The short version is this: selling subjects you to something called recapture, which is taxed at ordinary income rates. Under the worst case tax scenario in 2013, recapture can be taxed at rates as high as 43.4%. Something to be avoided whenever possible.
This week I want to discuss eight MLPs that will make good long term marriage partners. MLPs you can buy, keep, collect the distributions and watch them appreciate over time. Or in other words, perfect buy-and-hold investments.
Suitable Marriage Partners
Before we consider which MLPs to marry for the long term, we should discuss the criteria that make for a good long term marriage partner. In my view, there are five critical criteria to consider when investing in MLPs for the long term (in priority order):
The business story and the quality of management
Distribution growth
Distribution coverage
Yield
Liquidity
Let's briefly take a look at each in turn.
The Business Story
When investing in any company, you must convince yourself that you like both the business story and the management team. This is among the most subjective and difficult things you can do in investing. While there are no short cuts to this process, you certainly want to see the following attributes in the top management team.
Stability
Strong operational performance
Efficient use of capital
Fairness - treating the stockholders well
Historical steady long term successful growth of the business and the stock price are generally pretty good proxies for ensuring the business story and management team possess the above qualities. However with that said, you still need to roll your sleeves up, dig in to the details, and convince yourself you like the team and the business for the long haul.
Distribution Growth
In the MLP world, distribution growth means growth without sacrificing distribution coverage (more on that later). The following table shows the annual distribution growth of 20 of the largest MLPs over the last one, three and five years. The table is sorted by market capitalization.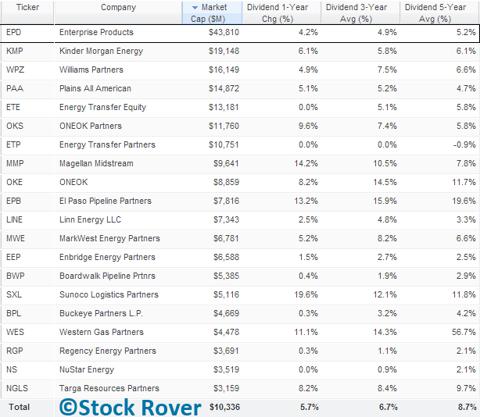 This table can give an idea of both distribution growth and what the trend of that growth is. For example, looking at EPD (first row), we can see that there is a slight deceleration in distribution growth, whereas with both MMP and SXL, distribution growth is higher than EPD on absolute terms and is also accelerating. Such trends often translate into better future MLP price performance.
Distribution Coverage
Distribution coverage refers to the ratio of cash available for distribution vs. the amount actually distributed. Note the cash available for distribution is defined as follows:
Net Income + Depreciation, Depletion, and Amortization + Other Non-Cash Items - Maintenance Capital Expenditure
If an MLP is distributing all of their available cash, the distribution ratio is 1.00 and there is little reserve for growth or unforeseen operational challenges going forward. If on the other hand, an MLP pays out 80 cents of each distributable dollar, then the ratio is 1.00 / 0.80 or 1.25. For suitable long term MLP marriage partners, the higher this ratio the better. I generally look for a coverage ratio of at least 1.2.
Yield
Yield is the percentage paid out annually in distributions relative to the current stock price and the reason most investors enter the MLP world. There is a Catch 22 here in that generally the higher the yield, the slower the growth. When we consider potential tax ramifications in 2013, we will see why I favor lower yielding, but faster yield-growing MLPs.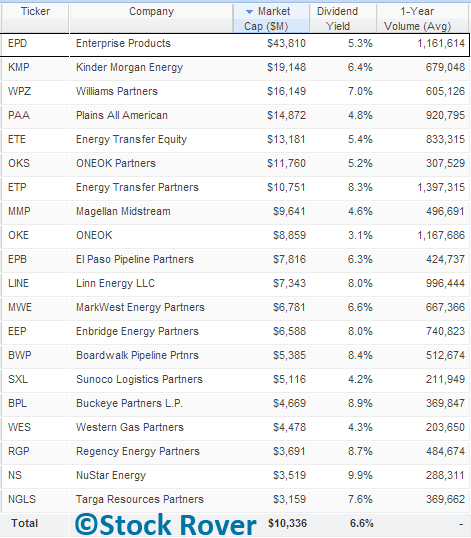 Liquidity
Because many investors buy and hold MLPs, and because the market caps of most MLPs are not huge, the trading volume can be pretty light on many of the MLPs. If you are investing significant funds or if you want to get out, it is very helpful to have the liquidity that supports your desires without taking a pricing bath because there is no one on the other end of the trade. The table above shows the average daily trading volume over the last year for each of the top 20 MLPs sorted by market cap.
Tax Considerations
I covered this extensively in my last article on MLPs (link at top). Long story short, it's best to avoid ordinary income and especially recapture. This translates to a preference for MLPs that will likely experience price appreciation (capital gains at sale) over yield (recapture at sale), which in turn means favoring MLPs that are likely to be on the high end of the distribution growth spectrum.
The Great Eight
So aside from excellent management and a good business story, we want distribution growth and distribution coverage, wrapped in a package of sufficient liquidity. Yield, while important, will take a backseat to growth and coverage. So given this, who are the MLPs that qualify? The following is a table of eight that I think you should consider, sorted by market cap. Note that Coverage and Distribution Growth are expected future values over the next several years, compiled from an average of analyst estimates.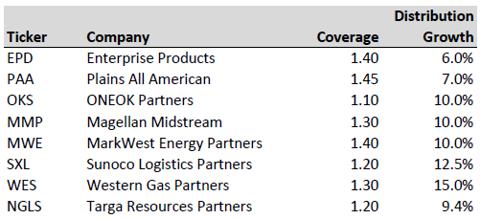 Why these eight? They meet all of the criteria required from a good long term marriage partner. In my view, all sport excellent management and all possess both strong distribution growth and excellent coverage. Finally, they all have good liquidity. They are not the highest yielding MLPs, but of course that is not what we are looking for.
So how have the "Great Eight" performed? Let's looks at a total return chart (distributions included) over the last 5 years.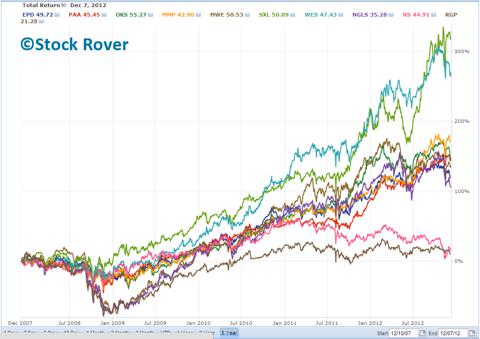 Included in this chart are the 2 MLPs from the original list of 20 that are the highest yielding MLPs, NuStar (NS) at a yield of 9.9% and Regency Energy Partners (RGP) with a yield of 8.7%. Notice their total return performance vs. the "Great Eight". Pretty stunning. Clearly, distribution growth and coverage trump yield in the MLP world. Or at least they have over the last five years.
Conclusion
The Great Eight (EPD), (PAA), (OKS), (MMP), (MWE), (SXL), (WES) and (NGLS) are an excellent starting point for building a long term buy-and-hold, growth-oriented MLP portfolio. However, as in all things financial, it is critical that you do your own original research before deciding to take the plunge on any of these names.
Disclosure: I am long EPD, PAA, OKS, MMP, MWE, SXL, WES, NGLS. I wrote this article myself, and it expresses my own opinions. I am not receiving compensation for it (other than from Seeking Alpha). I have no business relationship with any company whose stock is mentioned in this article.