Quality Distribution (NASDAQ:QLTY) is a logistical and transport company that operates in three segments: Intermodal, Energy and Chemical Logistics (See Chart). All three of these segments are benefiting from the continued expansion of domestic energy production. QLTY is cheap, underfollowed and has substantial upside. Let's look at the individual business segments and their growth opportunities.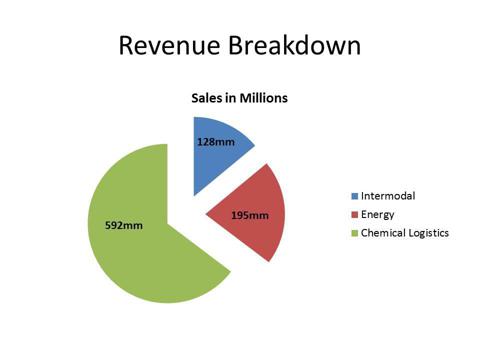 Intermodal:
Quality Distribution's Intermodal business generates approximately 14% of overall sales. QLTY is the largest provider of Intermodal tank container and depot services in North America. Low natural gas prices are providing North American chemical producers a substantial cost advantage over their global brethren. This is resulting in expanding exports which is driving demand in this segment. Chemical exports have grown at a 10% CAGR over the past decade. I would look for this trend to continue or accelerate as more natural gas production comes on line and chemical firms continue to migrate and open new plants in North American to take advantage of low energy costs. Management expects high single digit organic growth from this business. The company is currently growing adjusted EBITDA in this segment by approximately 16%.
Energy:
The company did not enter this fast growing segment providing oil & water hauling and other services until late 2010. This segment has already grown to represent over 20% of overall revenues and Quality Distribution is active and has affiliates near and serving the Marcellus, Bakken, Eagle Ford, Woodford and Utica shale regions with other opportunities on the horizon. Production of shale & gas is expected to grow 4% to 6% annually through 2020, so represents a great long term growth driver for this line of business. The company believes Energy has double digit organic growth potential. The firm is currently growing adjusted EBITDA in this segment by around 15%.
Chemical Logistics:
This business line represents QLTY's largest segment with approximately 65% of total revenues currently. The company is the market leader in this segment with a 16% market share. Its two closest competitors, Dana and Trimac, have 9% and 7% of the market. The rest of the market is fragmented among many providers and remains target rich for continuing bolt on acquisitions. Low domestic energy prices, especially natural gas is providing growth opportunities for Quality's customers. The company stated recently that the pricing environment remains favorable as some capacity shortage is evolving. Quality Distribution clients represent a diverse base with no industry making up 16% of the market (Paper & Packaging). Management expects its Chemical Logistics division to grow at mid-single digits organically going forward. The company is currently growing adjusted EBITDA in this segment by 11%.
Debt and Balance Sheet: Management has brought Debt/EBITDA leverage down from 6x in 2008 to the current 4 times for this ratio on its way to its goal of 2 - 2.5 leverage. Management recently approved a $15mm stock repurchase program. It also has $77mm in net loss carry forwards.
Valuation: The company had some negative impacts from superstorm Sandy which are carrying over to the current quarter. This is one of the reasons that analysts only expect 72 cents of EPS for FY2012 down from a consensus of 95 cents a share three months ago before the storm. These reduced expectations help explain the approximate 25% sell-off in the stock over the last month or so. Analysts expect the company to bounce back in FY2013 with earnings north of 90 cents a share. QLTY is now selling at just 7x forward earnings, a deep discount to its five year average (22.2). The company is tracking to just over 10% revenue growth in FY2012 and similar growth is expected for FY2013. The stock has an attractive five year projected PEG (1.06).
Insiders and other considerations: Several insiders bought over 40,000 shares in late November after the recent slide conferring confidence in the company's prospects. In addition, the recent drop in gas prices should be incrementally positive for company's margins. Although I do not expect this in the near term, an acquisition at some point on the horizon cannot be ruled out. Quality Distribution has less than a $600mm market capitalization including debt, is the market leader in its markets and sells at such a low price/earnings ratio that it would be immediately accretive to a larger logistics player (Ex, Ryder Systems) that wants to fill out its service capabilities even after paying a substantial premium for the acquisition.
Outlook: QLTY was selling at north of $14 a share earlier in the year. It is also going to be a long term beneficiary of expanding domestic energy production across its business segments. Putting a conservative 10-12 PE range on expected 2013 EPS of 90 cents gives me a price target range of $9 - $11 a share.
Disclosure: I am long QLTY. I wrote this article myself, and it expresses my own opinions. I am not receiving compensation for it (other than from Seeking Alpha). I have no business relationship with any company whose stock is mentioned in this article.