Before 2012 started, I created two hypothetical portfolios that were based off top names in their space. One of the portfolios was growth based, meaning the stocks in it were expected to be leaders in their sector in terms of growth. The other portfolio was a value based one. The value one was based on companies that have high dividends for their sector and have had a decent history of dividend growth. Names that were buying back stock were given even more consideration.
Now, I wasn't only using these portfolios to showcase top picks. I also was using these portfolios to show the difference between a group of growth stocks and a group of value stocks. This was meant to be as much of an educational exercise as it was a stock picking exercise. The proof of that is evident, because I equally weighted the seven stocks in each portfolio. Had this been a real attempt to beat the market and maximize performance, I would have weighted some names higher than others, which would have dramatically altered the performance of these portfolios.
Additionally, these were not trading portfolios. They were hold/track portfolios over an extended period of time. I did not change the portfolios throughout the year, again, to use as a learning exercise. Had these been actively managed portfolios, there would have been many changes throughout the year. I can tell you for a fact that my top value pick at the beginning of 2012 actually became one of my top short picks during the second half of 2012 for those that follow me regularly. Today, I want to look back at these names, not only to show what they've done in 2012, but also to provide some information about growth versus value. I'll also see how some of the growth versus value indices did throughout the year. We still have a couple of weeks left, so things could change, but again, it's not all about the numbers. I won't link to any stock-specific articles in this one, but you can find any of my past articles here.
Part 1 - Growth:
Again, these names were picked because they were expected to show a terrific amount of revenue and earnings growth in 2012, based on expectations in late December of 2011. I'll first show the table to show the current performance of these names, then discuss the names and the portfolio in general. The seven names in the growth portfolio were Apple (NASDAQ:AAPL), Baidu (NASDAQ:BIDU), Mastercard (NYSE:MA), Priceline (PCLN), Intuitive Surgical (NASDAQ:ISRG), Molycorp (MCP), and Boston Beer (NYSE:SAM).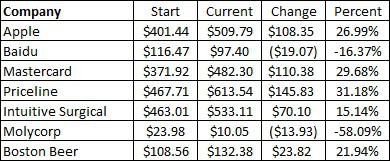 Everyone loved Apple going into 2012. Those that held it were rewarded tremendously. Apple reported two huge blowouts in fiscal Q1 and Q2 sending shares tremendously higher. The company also announced a dividend and stock buyback to return some of its huge cash pile to shareholders. Apple proves a point I made earlier about this being a buy and hold portfolio. Had this been a trading portfolio, I probably would have taken gains in Apple around $700, which would have represented about a 75% gain. Apple's late fall has dragged down the performance of this portfolio. The same can be said for both Priceline and Intuitive Surgical. Both of those names would have been good candidates to sell near their highs, $775 and $595 respectively, and then reacquired at lower levels.
This portfolio was based on expectations in late December. Companies that did better than expectations, like Apple, rose nicely. A good example of that is Boston Beer, which just raised its guidance for the year. Boston Beer rose sharply this past week on the good news, which now has the stock up almost 22% on the year. Before the news, the stock was up less than 6% on the news. That's how quickly things can change and impact a portfolio. Mastercard and Intuitive Surgical were solid performers throughout the year. The five names in this portfolio that are up this year averaged a 25% return, including dividends for those that pay them. It would have been a great year to own these names, and again, many of them are way off their highs. Performance could have been even better.
A good example of how this portfolio would have been different if it were a trading portfolio was Baidu. Baidu's 2012 growth forecast has risen since the start of the year, but questions about rising competition has taken down the stock in recent months. Baidu was still over $130 in August, and once all the negativity started, Baidu would have been removed from a trading portfolio. The position most likely would have been sold for a gain, since the start of year price was $116 and change.
Perhaps the best example of a stock that would have been dumped is Molycorp. The rare earth mineral producer and processor has missed expectations over time, sending growth estimates lower and lower. When the year started, analysts were expecting more than 75% growth in 2012 revenues. Analysts were also expecting earnings per share to more than double, and come in around $3.17. Those estimates had been cut from nearly $4.00 just a few months prior to the original article. Currently, analysts are expecting just 54.2% revenue growth. Analysts are currently forecasting just a two cent profit, with some actually expecting a loss for the year. Molycorp would have been axed from this portfolio many months ago. Don't forget, this stock is down 58% on the year, and the $10 it trades for is well above the sub $6 low. It could have been much worse.
Overall, an equally weighted portfolio of these names would have made 7.21% this year. That seems like a decent gain, but as I'll show later, is about half of the benchmark's gains. But again, had this been a trading portfolio, there would have been several changes throughout the year. If you ignore Molycorp for the year, the other six names were up over 18% collectively, and taking out Baidu gives the other five a near 25% gain. Don't forget, had these names been given actual weightings, performance would have been much greater. I did mention that Apple would have definitely been weighted higher, and Molycorp would have been lower.
Again, this was more of an educational exercise, so here are some key takeaways for investors when it comes to growth names:
Never be afraid to take a profit. Apple has lost nearly two-thirds of its gains so far, and names like Intuitive Surgical and Priceline are also well off their highs.
When growth forecasts come down, it might be time to bail. Molycorp and Baidu are good examples. While it's never fun to take a loss, those losses can expand tremendously, right Molycorp? At least you get a tax benefit.
Remember that analyst targets are based on the current information at hand. That means current estimates for revenues, earnings, etc. Entering 2012, the average analyst target for Molycorp was over $64. Given the reduced expectations, the current average target is just over $12.
Sometimes, analysts can be dead on. The average analyst target on Apple when I picked these names was $508.83. Apple is about $1 higher than that now. Priceline's average target was $625.48 for the original article. Just this past week, Priceline closed about 70 cents off that target.
Part 2 - Value:
There's a lot of similarities in the value portfolio to the growth portfolio, so I won't go into as much depth in terms of these names. The following table shows the performance of the group of seven: Dominion Resources (NYSE:D), Intel (NASDAQ:INTC), Microsoft (NASDAQ:MSFT), Procter and Gamble (NYSE:PG), Philip Morris (NYSE:PM), Verizon (NYSE:VZ), and Waste Management (NYSE:WM). All of these were considered leaders in their respective industries. Also, to be included, they needed an annual dividend yield of 3% or more (at original time of writing), and they also needed to have grown the dividend over time. Each of the seven names had a compound annual growth rate of 4.3% or more over the past five years, with Philip Morris' growth rate calculated since the spinoff. Here's their performance so far this year.

*Adjusted price excludes dividends paid.
When you are talking about any dividend name, the performance of the stock will be helped by a dividend. For these names, a fair share of their performance was from the dividend. Dominion would have been a loss without the dividend.
Now, an important lesson for dividend investors is stretching their yield. There are a couple of ways to do this. One good example I mentioned throughout the year was selling calls when it came to Microsoft. When Microsoft kept hitting its high points, in the low $30s, I suggested selling upside calls, which depending on the expiration, could net investors anywhere from a few cents to a buck or two. Think about this scenario. If Microsoft was trading at $31, and you could sell $33 call options, three months from expiration, for say 46 cents (hypothetically), you could have received an amount equivalent to two dividend payments. If you do that a couple of times successfully throughout the year, you could have greatly increased your return on the security. This strategy isn't for all investors, and probably should only be done by more experienced investors. But for those that know what they are doing, it's a good way to increase your income.
Microsoft and Intel are two good examples in this list that, like the growth portfolio, would have been sold at much higher levels. Intel was above $29 at one point this year, and now trades for about $20.50. Intel has taken down its growth forecast multiple times during the year, which has led me to actually recommend the name at times as a good short. Like some of the names in the growth portfolio, Intel would have been taken off this list had I been using it as a trading portfolio, not a buy and hold.
An opinion on a stock can definitely change over time. Intel was my top value pick at the beginning of the year, but over the last 6 months or so, I've given that designation to Philip Morris. Philip Morris hasn't always reported the greatest quarter, but investors love the dividend. Additionally, the company is buying back $1.5 billion worth of its own stock each quarter. That huge buyback has really helped the stock, not only in terms of reducing the share count, but making it an investor favorite. When a company buys that much stock back, investors like to invest in it.
In terms of the value side of things, here are some key takeaways:
Dividends boost return. It's simple, and it's easy.
When used effectively, stock buybacks can really help a name, even if the company's financial results are not tremendous.
For more experienced investors, you can use a variety of options strategies to boost your returns. I mentioned one above.
Value names provide more safety and are less volatile. Excluding a few rare examples, you don't see the same 30%, 40%, 50% moves like you did in the growth portfolio. Yes, returns can sometimes be less, but you don't see any of these names down 50% or more, do you?
Growth versus value overall:
In terms of the two lists I put together, growth beat value by a little. Of course, the year is not over yet. Now, I've put together a table showing how the various iShares Russell growth and value indices did. I used the iShares exchange traded funds instead of the actual indices for two reasons. First, you can't really invest in the index, you would do that via the ETF. Second, the ETFs pay dividends to replicate the true performance of the index, so this performance is dividend adjusted. The six ETFs I used are the following:
iShares Russell 1000 Growth (NYSEARCA:IWF)
iShares Russell 1000 Value (NYSEARCA:IWD)
iShares Russell 2000 Growth (NYSEARCA:IWO)
iShares Russell 2000 Value (NYSEARCA:IWN)
iShares Russell 3000 Growth (IWZ)
iShares Russell 3000 Value (IWW)
In terms of all three Russell categories, value has done better than growth this year. Again, it isn't as much about the performance as it is about the learning opportunity. There are two weeks left in the year, so we'll see whether growth can challenge value for the yearly win. If fiscal cliff issues are resolved and we see a huge rally, I think growth makes the comeback. If not, value takes the win for 2012.
Disclosure: I have no positions in any stocks mentioned, but may initiate a long position in AAPL over the next 72 hours. I wrote this article myself, and it expresses my own opinions. I am not receiving compensation for it (other than from Seeking Alpha). I have no business relationship with any company whose stock is mentioned in this article.
Additional disclosure: Investors are always reminded that before making any investment, you should do your own proper due diligence on any name directly or indirectly mentioned in this article. Investors should also consider seeking advice from a broker or financial adviser before making any investment decisions. Any material in this article should be considered general information, and not relied on as a formal investment recommendation.