Exelixis (NASDAQ: EXEL) is a biotech with a market capitalization of $896 million that recently received FDA approval on its flagship drug cabozantinib, which will be marketed under the name COMETRIQ for the treatment of Medullary Thyroid Cancer (MTC) next year. I last covered the biotech name here, and I've advised investors to purchase the stock upon any dips following the FDA decision.
Anyone who was following EXEL can note that we saw a "sell the news" reaction to the FDA decision. This counterintuitive phenomenon drops a biotech's stock price following an FDA approval due to the large number of shareholders who are eager to exit, and find the next biotech to buy up.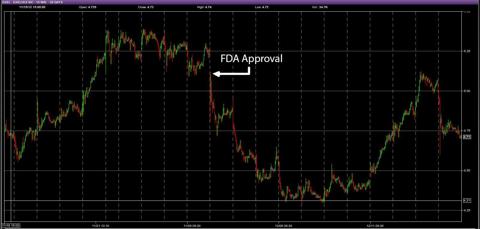 This creates an opportunity for long-side investors who have no shares of EXEL (or those looking to add more). After FDA approval, EXEL shares dropped until they hit a floor of ~$4.30/share. I thought this was unfair, since cabozantinib's new, confirmed prospects in MTC treatment do warrant a higher price for the stock.
Another MTC drug, Caprelsa, brought in only $7 million in Q3 revenue for its parent company AstraZeneca (NYSE: AZN). Although $7 million is very low, it was much better than the $2 million in sales from Q3 2011 and shows that the drug is expected to become much more profitable in coming quarters. Exelixis investors will surely be watching cabo's sales growth throughout 2013 to see if it matches Caprelsa's prospects (or exceeds them).
EXEL is actually down a little less than 1% since the start of the year (even after FDA approval), although investors should note that the stock was diluted heavily in August (basically to fund cabozantinib's giant clinical develoment program).
Most investors that are invested in Exelixis/cabozantinib are looking forward to data from the phase III trial known as COMET-1, which will pave the way for a sNDA submission for cabozantinib in the treatment of metastatic castration-resistant prostate cancer (MCRPC). Another MCRPC drug known as Zytiga, which is marketed by Johnson & Johnson (NYSE: JNJ), sold $265 million in Q3 2012.
If cabozantinib can even approach such high sales figures after FDA approval, I'd expect EXEL to be trading at least three or four times its current price. As the MCRPC drug market grows, the chances of this increase.
We have to wait until early 2014 to get our COMET-1 results, but in the meantime I think EXEL is very buyable on the dips. The company is still in a solid financial position because of the share dilution from earlier in the year, and cabozantinib is showing quite a bit of promise as a treatment for other forms of cancer too.
Disclosure: I have no positions in any stocks mentioned, and no plans to initiate any positions within the next 72 hours. I wrote this article myself, and it expresses my own opinions. I am not receiving compensation for it (other than from Seeking Alpha). I have no business relationship with any company whose stock is mentioned in this article.