Apple (NASDAQ:AAPL) is in one of its most significant tailspins ever, which has seen the stock drop into bear market territory. I have utilized option strategies since 2010 to capitalize on the volatility. For reference, please view this and other articles to understand the strategy and its potential returns. This strategy is used to simultaneously generate income and reduce your effective cost basis by selling out-of-the-money options to generate weekly income without sacrificing long-term returns. Even if you have no plans to engage in the options market, this is a one-stop primer for critical Apple developments.
Click to enlarge images.

Source: Yahoo Finance.
Apple just cannot get any real traction recently. It looked as if Apple finally was going to recover some of its losses in late November when the stock rebounded from $505 to nearly $590. Fast-forward to the middle of December, and Apple has given up all of its gains and is now trading below $510. At this point, Apple is not trading based on fundamentals and it is difficult to pinpoint a reason for Apple's precipitous decline. With a mere two weeks left until the fiscal cliff deadline, the prospects of a deal occurring are still remote and investors are fearful. Apple investors are essentially trading on whatever the latest headline is, as well as based on emotion. If there is any negative news at all, regardless of the fundamental impact, the stock has been declining by multiple percent.
This week was no different with respect to negative news, and there was a preponderance of reasons why Apple declined. As I like to do frequently, below I will present the top new reasons why Apple dropped nearly 3% last week and hopefully put your fears to rest. Note that I will try to focus only on new reasons as I believe topics such as the fiscal cliff, special dividend, and others have been addressed well in the past.
Apple's Failure to Launch in China
Many news outlets stated that the iPhone 5 launch in China was a flop, with the Wall Street Journal going as far as calling the launch frigid and a flop due to the reported lack of lines. In the past China has been the scene of riots, violence, and general unrest at Apple stores for the launch of new products. To prevent such negative publicity in the future, Apple took steps to improve the process. Essentially customers must complete a lottery/registration system prior to being allowed to purchase the iPhone in an attempt to prevent scalping and violence surrounding Apple stores. Now customers only need to go the Apple store to buy the phone if they have "won" the lottery and have a specified time slot to buy the phone. Quite simply, Apple's objective was to curtail lines outside of stores and its stock is being punished for succeeding.
Furthermore, there were lines at Apple's authorized reseller stores where the phone is subsidized for consumers. With iPhone 5 pre-orders surpassing those of the iPhone 4S at China Unicom by 50%, and I believe this story is receiving undue negative spin. China is one of Apple's most important markets, but making investment decisions based solely on the size of lines outside of stores is a bit rash.
On Monday morning, Apple announced that it sold over two million iPhones in China in the first three days after its launch, making it the fastest launch in the country ever. This is essentially in line with my expectations and is not a dramatic increase over the previous iPhone 4S launch, after adjusting for the additional carriers offering the iPhone 5. Pessimistic analysts (see below) were quick to change their tune this morning:
Shaw Wu (Sterne Agree): "This is a strong number and should help quell investor concerns."
Atlantic Equities (James Cordwell): "We still view it as positive that initial Chinese shipments were close to those in Apple's biggest geography."
Barclays (Ben Reitzes): "Recent pessimism around the iPhone 5 launch in China seems overdone."
Topeka (Brian White): "...Given the lackluster lines, there was growing concern around demand for this new iPhone. Clearly, this view turned out to be incorrect."
ISI (Brian Marshall): "We view this as a very strong launch."
Despite the generally positive sentiment, Apple continues to decline in early trading. The stock hit an early-morning high of $514, but was down approximately $3.00 as of 10 a.m. ET. Here is just the latest example of Apple being completely unable to gain any traction and the irrational selling continues.
Heavy iPhone Discounting at Retailers
Wal-Mart (NYSE:WMT) and Best Buy (NYSE:BBY) took the unusual steps of discounting the iPhone 5 and iPad significantly just ahead of the critical holiday season. Wal-Mart slashed the price of the base iPhone 5 from $190 to $127, while Best Buy is offering $50 gift cards for iPhone 4S and 5 purchases. Discounts for Apple products are not uncommon, but significant discounts are far rarer. Some are speculating that iPhone 5 sales are dragging, thus the need for discounting, but no real evidence supports that claim. I believe that this is more of a Wal-Mart story than an Apple story.
Wal-Mart has tried for the past few years to increase its footprint in the lucrative smartphone market with strategic sales and marketing. Wal-Mart is more than willing to sacrifice short-term profits in the hope that it can build brand loyalty and educate customers that the discount retailer can sell high-end smartphones. This is a unique strategy for Wal-Mart that could pay tremendous dividends if executed properly. Based on the consensus understanding of Apple's pricing deals, Apple earns the same revenue whether Wal-Mart sells the iPhone for $199 or $150 so if anything this sale will improve Apple's earnings. Sometimes it is best to not overanalyze every single pricing change for a company as it is very difficult to gleam the underlying reasoning.
Google Maps Is Superior to Apple Maps
Another significant chapter in the ongoing Apple Maps saga was written this past week when Google (NASDAQ:GOOG) released its revamped mapping software for iOS, and it has generally been met with positive reviews. Some pundits are using this speedy launch of Google Maps as proof that Apple has lost its edge as well as other sensational anti-Apple headlines. Now that Apple is the world's largest company and active in patent litigation, the bull's-eye is firmly on its back.
Was Apple's handling of the map situation perfect? Definitely no, but that is in the past. Google's preference to develop for its own Android platform essentially forced Apple's hand in the matter. Remember that Google had a substantial lead in the mapping department over Apple: It is not far to compare the two services directly against each other. Google did know that it was having its mapping software pulled from iOS ahead of the iPhone 5 launch, so they did have some lead-time in preparing their application. Furthermore, the previous iPhone offering did give Google a solid base to build from -- and it was not as if Google was building its application from scratch. At the end of the day, the iPhone now has numerous viable mapping applications and yet another reason why someone would not buy the iPhone 5 has been eliminated. One analyst stated, "It [Google Maps on iOS] has the potential to attract a meaningful number of new users to the iPhone who had previously shunned it." I find it difficult to believe that there is a meaningful number of subscribers who decided not to buy the iPhone 5 simply because Google Maps was missing, but new potential customers is always a positive.
Analyst Downgrades
Most analysts have been very late to the game on Apple and were very quick to upgrade the stock when it was approaching $700 per share. Price targets were often above $800 with a few above $1,000 per share. Analysts are very cunning when announcing price targets and buy/sale recommendations and will leave themselves some leeway. Rather than recommending a sale of Apple at these depressed price levels, analysts are lowering their price targets -- but they are still far above the current stock price. For example, Jeffries lowered the price target from $900 to $800, indicating almost $300 of upside from Apple's current stock price. Why would a rational investor sell on news that the stock is 60% undervalued?
One notable exception is Citi, which recently cut its price target to $575 and downgrading the recommendation to "neutral." These analysts are all citing slowing Chinese production of iPhone 5 as the catalyst for their price target reductions, but I question both the magnitude and timing of the announcements. Is it really prudent to sell Apple when/if it is reducing orders for the iPhone 5 following the ramp-up for its holiday quarter? If Apple was still at $700 I would consider this a more reasonable call, but I would sell Apple at this level at your own peril.
I continue to be bullish on Apple's prospects, and I challenge investors to find another company with Apple's combination of growth and attractive valuation. I still remain cautious about Apple ahead of the fiscal cliff, but I struggle to find reasons why Apple is not a value stock at $500 per share.
Below I present three possible scenarios and the potential returns for the Apple options. The first scenario represents a negative outlook for Apple while the final two scenarios are more reasonable. These scenarios are forecasts and there is no guarantee that they will come to fruition. Even if you are optimistic it is important to consider both positive and negative circumstances in order to stress your assumptions. As a general rule, selling calls with higher strike prices has greater potential return but additional risk of loss due to the lower (or lack of) downside protection.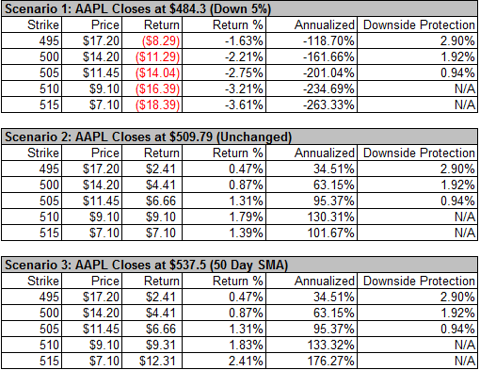 Additionally, if you would like even more information, I have prepared a sensitivity analysis for absolute return and percent returns, respectively. After studying the information above, these two charts make it easy to pick a strike price based on where you believe Apple will close at the end of the week. Estimate where you believe Apple will close and select the strike price with the highest return.

With this information, executing a buy-write on AAPL Dec. 23 (monthly) $500s is the optimal risk/return strategy as an opening Apple transaction. This is a more conservative covered call than I typically recommend as it is already in-the-money by almost $8.00. The option has a potential return of $4.41 (time value) and should provide adequate coverage against a moderate drop. A more aggressive approach would be to sell the slightly out-the-money $510s calls for $9.10.
An alternative approach is to sell out-of-the-money $495 puts and collect the premium without having to purchase the stock outright. The $495s are currently trading around $7.35 and appear to offer the best risk/reward profile for the week. Note that if the stock declines to the strike price, you are obligated to buy the stock (or closeout the position). You should always consider the risks (particularly with naked calls or puts) raised in this article in light of your personal circumstances (including financial and taxation issues) in consultation with your professional financial adviser.
Disclosure: I am long AAPL, GOOG, WMT. I wrote this article myself, and it expresses my own opinions. I am not receiving compensation for it (other than from Seeking Alpha). I have no business relationship with any company whose stock is mentioned in this article.
Disclaimer: Please refer to profile page for disclaimers.