MetLife (NYSE:MET) is one of the largest insurance companies in the world. The company's market cap is $34.7 billion.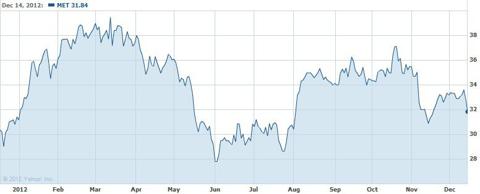 Metlife's stock is currently trading at a Price/Book of .54. The discount to book presents a great buying opportunity for a company that has grown revenue significantly over the years. From 2009 to 2011, revenue grew from $40 billion to $70 billion. Metlife raised its 2012 guidance, but was cautious about 2013. This is mainly due to interest rates remaining low. Even though the company has been cautious, it still expects to earn between $4.95 to $5.35 per share. This puts the P/E around 6.5, which is still fairly cheap. Metlife has also done a fantastic job with growth in Asia. Metlife grew operating income in Asia by 17% YOY. Metlife is trading at a nice discount to book with strong revenue growth.
Apache (NYSE:APA) is a major independent oil and gas producer. The company's market cap is over $30 billion.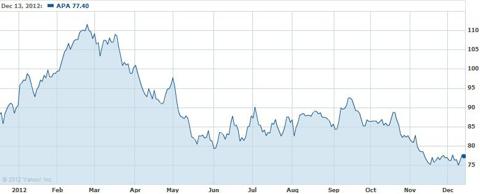 Apache's stock is trading at a Price/Book of .98. Apache has grown revenue from $8.6 billion to $16.8 billion between 2009 and 2011. Apache has seen record production as the company is increasing rig count and investing in infrastructure. Production in the Anandarko and Permian basins has increased by 30% year over year. Apache is also increasing its presence in the North Sea. The company received 11 licenses, which covers more than 613K gross acres. This region should help provide strong growth in earnings for the company going forward. Apache is on the right growth path and will be well positioned when oil prices rise.
PNC is one the largest banks in the country specializing in a wide array of financial services. The company has a market cap close to $30 billion.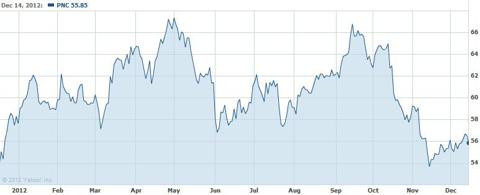 PNC's stock is trading at a Price/Book of .85. The company has been performing many accretive acquisitions and growth strategies that will increase the bottom line going forward. PNC has purchased Royal Bank of Canada's U.S. division for $3.6 billion. The acquisition is expected to add $198 million to the bottom line. This will also allow the company to grow its footprint in markets where it previously did not exist. FBR upgraded PNC to outperform with a $61 price target. Many banks such as JP Morgan and Barclays have price targets above $70 a share. PNC is trading at a decent discount and the company has been expanding its presence. Investors can also find comfort in the company's 2.9% dividend.
Bunge (NYSE:BG) manufactures and sells agriculture goods worldwide. The company has a market cap over $10 billion.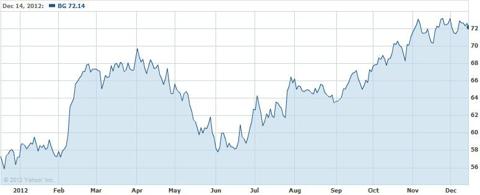 Bunge's stock is trading at a Price/Book of .97. The company has grown earnings from $41.9 billion to $58.7 billion between 2009 and 2011. Bunge has agreed to a strong supplier partnership with Yara, a nitrogen fertilizer producer. Bunge is selling its Brazilian fertilizer assets for $750 million to Yara. However, Bunge will still be providing fertilizer to farmers in the region as part of the agreement. Its a great way for Bunge to shed an asset, while still maintaining sales in the region. The company has been doing so well lately that management has increased its share repurchase program by $275 million. The company will now have $500 million in the repurchase program. I believe management believes that Bunge's shares are undervalued, which has caused it to continue to buy back shares. This is a good sign for the stock and the company going forward.
Leucadia (NYSE:LUK) is a diversified holding company similar to Berkshire Hathaway. Leucadia maintains interest in a variety of industries from beef processing to real estate. The company has a market cap of $5.7 billion.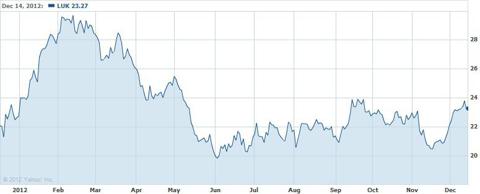 Leucadia's stock is trading at a Price/Book of .92. In the last three years, the company has grown revenue from $339 million to $495.9 million. Leucadia made an interesting move when it decided to acquire Jefferies. Its a great move by Leucadia considering that Jefferies has outperformed most investment banks. Leucadia has given Jefferies a larger balance sheet to work with. In addition to this, Jefferies will be able to handle government regulation easier due to the backing of a larger corporation. Leucadia has done a fantastic job with acquisitions before. The appointment of Richard Handler as the new CEO will mean Leucadia will be in good hands.
Disclosure: I have no positions in any stocks mentioned, and no plans to initiate any positions within the next 72 hours. I wrote this article myself, and it expresses my own opinions. I am not receiving compensation for it (other than from Seeking Alpha). I have no business relationship with any company whose stock is mentioned in this article.