Short Selling: Do Not Take It Lightly
It has been my experience in the markets that a consistently good short seller takes a rare combination of insight and guts. If you're long (and not on margin), you can always wait out a storm, but if you're short and you wake up to see that the stock has doubled overnight, the pain is much, much more severe. As such, when I begin to see an increase in conviction from short sellers on a security that I own or am thinking of owning, I immediately set out to identify the reason behind the increased interest and then see if my long thesis is strong enough to counter it.
Nvidia: A Large Increase In Short Interest
Nvidia (NASDAQ:NVDA) is one of my highest conviction long positions, so imagine my surprise when I checked the latest short interest data and saw the following:

On the most recent settlement date, the short interest had increased by an incredible 64%. Now, to keep this in perspective, the firm has about 630M shares out, so the percentage of the shares short is fairly small at ~3.6%. Nevertheless, the large percent change in short interest still cannot be ignored. So, what do the shorts "know" that the longs don't? If the shorts have a valid case and the catalyst they are expecting actually materializes, then the stock has some serious downside ahead. However, if they're wrong (or significant positive catalysts hit), then the shorts will need to cover, and longs make out like bandits.
Without further ado, let us try to read the minds of the shorts.
Short Argument #1: Nvidia Makes Things That Go Into PCs
This is the simplest, most obvious component of the short thesis for Nvidia right now. They make things that go into PCs. It seems that 2012 will be one of the worst years for the PC in a while with a real chance that we actually see a year-over-year decline in the industry. According to Intel (NASDAQ:INTC) CEO Paul Otellini at the most recent Sanford Bernstein conference, the weakness throughout 2H 2012 in the PC space is "mostly macro". The reason that this is credible is simply that at the Q3 earnings call, Mr. Otellini admitted that at that point in time, it was unclear whether tablets were the reason for the weakness and that we would be updated "in 90 days". The update came sooner than expected.
So, with the PC market "weak", Nvidia's quarterly results should have reflected this weakness, correct? Unfortunately for the short thesis, Nvidia actually posted a record Q3 in which both its "Tegra" business (mobile SoC) as well as its consumer GPU business grew double-digits year-over-year. Admittedly, much of the gain on the GPU side is probably due more to share-gains from Advanced Micro Devices (NASDAQ:AMD) rather than from explosive organic growth in the segment (although if you add up the graphics revenues from AMD's and Nvidia's most recent quarters. you will see the total addressable market has increased slightly).
But more importantly, almost all weakness in Nvidia's and AMD's graphics divisions can be attributed to macro. Tablets and smartphones can play games, but given that gamers have an insatiable need to get closer to photorealistic experiences with advanced physics, AI, and so on, the performance delta between mobile devices and gaming-capable PCs with Nvidia and AMD GPUs keeps the segment safe from the low end charge.
Another thing to note is that Nvidia won back Apple's (NASDAQ:AAPL) business for the iMac and select models of the MacBook Pro, which were previously lost to AMD. The Apple products use fairly high end GPUs, so it is unlikely that even a killer integrated GPU from Intel in its next generation product would lead to Nvidia's solutions being kicked out - it'd still be a performance decrease, and Apple users demand the best.
Finally, discrete GPUs for desktop gaming PCs and even some very high end discrete GPUs are almost exclusively sold in the retail channel. The majority of desktops don't come equipped with a discrete GPU, so most sales of GPUs are either to do-it-yourself-ers looking to build custom desktops from scratch or as upgrades to existing desktops. These numbers are not reflected in "PC sales".
The key take-aways in my rebuttal of this short argument are:
High end gaming (in which Nvidia and its competitor AMD play in) is completely safe from smartphone/tablet cannibalization
"PC Sales" do not necessarily correlate to "graphics card" sales
Nvidia is taking share from its only competitor in the space, even as its competitor slashes prices.
Short Argument #2: Nvidia's Mobile Segment Faces Heavy Competition
Nvidia's first bid to expand into areas beyond the PC is with its mobile SoC product known as the "Tegra". Nvidia designs a mobile system-on-chip based on ARM (NASDAQ:ARMH) designed processor cores coupled with Nvidia-designed GPU and "un-core" (basically all of the important stuff besides the CPU and GPU). Nvidia was actually one of the first to recognize the smartphone/tablet trend and jump into bed with ARM. Granted, this was due to a few factors:
Intel and AMD began integrating more and more of the chipset/system into the CPU, which killed Nvidia's "NForce" chipset business.
Intel would not license X86 and establish a CPU patent cross license with the firm
So "Tegra" was done mostly out of necessity, but ultimately it turned out to be a good move as chipsets for the PC is nowhere near the growth opportunity of mobile system-on-chip products.
The problem, though, is that this is a very crowded market, so margins here are not as good as those on GPUs. In addition to heavyweights like Qualcomm (NASDAQ:QCOM), Samsung, and Apple owning the majority of the smartphone and tablet chip markets, there is fierce competition inbound from Intel (which has huge advantages in power-efficient CPU design as well as the best transistors in the industry), Marvell (NASDAQ:MRVL), MediaTek, and many others who are enabled by the commodity nature of the ARM ecosystem.
In the short term, the short sellers are absolutely right. The "Tegra" division is a money-loser right now and the competition is fierce. However, Nvidia's unique position as the world's leading graphics processor designer (which implies technical competence in graphics, image processing, and system design) along with its purchase of Icera, a baseband/wireless radio company, should allow Nvidia to be one of the last companies standing as the mobile chip space continues its fierce consolidation (remember: Texas Instruments (NYSE:TXN), a company that formerly had the majority of the smartphone chip market, just bowed out of the race).
Another point that the short sellers like to bring up is Nvidia's fairly limited market share in the smartphone segment: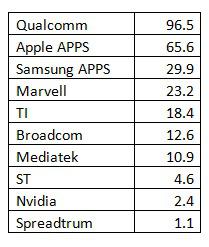 While to others this might spell doom and gloom, to me it spells opportunity for share gain. Any additional wins in the phone space is purely upside for the Tegra business. Nvidia's position in tablets is stronger, as it has notable design wins such as Google's (NASDAQ:GOOG) Nexus 7 tablet and Microsoft's (NASDAQ:MSFT) Surface RT, but there is still plenty of room to continue to take share as well as to ride the secular growth of the segment.
Short Argument #3: Xeon Phi Will Hurt Tesla Sales
While the "PC is dead" argument does not hold water for high end gaming GPUs, and while the mobile business generally represents upside, the very real threat is the Xeon Phi HPC co-processor announced by Intel. While AMD had been a "competitor" to Nvidia in the space (and the AMD longs will cite relatively meaningless figures such as theoretical compute capabilities to prove that AMD is still credible here, completely ignoring Nvidia's superior software ecosystem, developer support, and real-world computational power and efficiency), it has roughly 10% of the market, and I suspect with the recent release of the highest end Tesla "K20" chip, AMD will continue to lose share to Nvidia.
The real problem, of course, is Intel. While the current generation Tesla products are notably more power efficient than Intel's Xeon Phi products, Intel's first attempt is quite formidable from a performance-per-watt standpoint. In addition, Intel's solution has the following advantages:
Intel also sells the CPU and motherboard products for HPC/server solutions, so it can offer a "complete" package to system builders
Intel's software development tools are quite good, and with the Xeon Phi, developers can leverage existing tools and workflows. For all but the most performance sensitive clients, the development cost savings and time-to-market advantages of Intel's solutions cannot be ignored
Intel's Xeon Phi is a purpose-built HPC co-processor that need not share a common design with a graphics processor. While Nvidia can successfully leverage the same silicon in its HPC, workstation/professional graphics, and consumer graphics segments to generate better return on the R&D investments, this does mean increased manufacturing costs over Intel, which uses smaller/better transistors and does not have "non-compute" fat.
Nvidia is working to free itself from dependence on Intel's platform by developing and integrating its own custom 64-bit ARM core ("Project Denver") into the "Tesla" cards directly, giving Nvidia the ability to sell more of the entire platform to the customers (increasing the value proposition of its products) as well as significantly improving performance-per-watt. However, the bottom-line here is uncertainty, which probably fuels the short argument.
On the bright side, we note that the total addressable market for HPC accelerators is still growing at a huge rate (most supercomputers do not employ such accelerators yet), and we further note that the Tesla business is a high margin, but small part of Nvidia's professional solutions business and overall revenue, so while share loss is inevitable thanks to the Intel entry, total addressable market increases will likely lead to growth here (although at a more muted rate than if Intel had stayed out).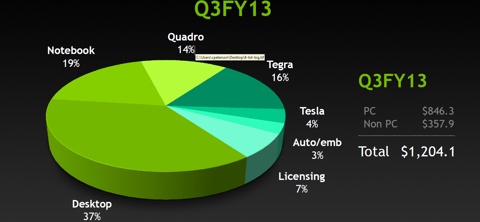 Short Argument #4: Intel's Integrated Graphics Will Kill GeForce
The next argument is that Intel's improving integrated graphics solutions will cut away a significant portion of Nvidia's place in the mobile space as its graphics capabilities improve. This argument does not hold water primarily for the reasons mentioned in the first rebuttal here: gamers thrive on performance and higher image quality. Intel's integrated graphics enable casual gamers to play more games and they allow gamers on a budget to play the games that the folks with discrete graphics are playing, but Intel's solutions are thermally constrained. Even with a "perfect" graphics architecture (admittedly, Intel's graphics are getting very good very quickly), these integrated solutions are still thermally limited. As Intel seeks to continue to improve the performance of its CPU cores and to integrate more functionality on board within decreasing thermal envelopes, discrete graphics will still be quite necessary for gaming applications. Games will become more advanced, so as Intel's graphics catch up with yesterday's discrete GPUs, discrete GPUs will be many steps ahead.
Further, a reason that Nvidia has been killing AMD in discrete graphics market share is that Nvidia's GPUs play very nicely with Intel's CPUs with a technology known as "Optimus". The idea is simple: when the laptop is not doing 3D graphics, power off the Nvidia GPU and let Intel's CPU + integrated GPU do all the work. When a game comes online and needs full graphics capabilities, then switch on the Nvidia card. AMD's competing technology, "Enduro" is still in beta and barely works. So Nvidia's work in developing technology to maximize battery life has paid off in spades.
Short Squeeze: Catalysts?
It is helpful, now, in light of the fundamental analysis provided above, to examine potential catalysts for a short squeeze. The catalysts that I can see over the next few months are:
CES 2013 - The next generation "Tegra 4" should be announced here, potentially with design wins in next generation tablets, smartphones, and so on.
Earnings - in February, Nvidia should report earnings and give forward guidance. Should "Tegra" really take off during 2013 as low-cost Android tablets continue to gain traction, then we could see some very real upside here. In addition, if the workstation market picks back up, the professional solutions group may provide juice for an upside surprise after being a drag on earnings for the last few quarters
Mobile World Congress (late February)- Similar to CES but likely to have more details, roadmaps, and fanfare. We may see the next generation "Grey" apps processor + Icera baseband integrated into a single chip that could be demonstrated by then (the goal is to tape out the design in the current quarter, so samples may be available by then). If earnings are good, then a good showing here would only further fuel momentum in the stock
Further, Nvidia's buyback program is now fully-armed with the firm's $3.43B in cash (good for ~1/2 of the float at these prices) and no debt as well as a ~2.5% dividend provide additional ammunition against short sellers
Conclusion
Near these lows with market-leading technology in consumer and professional GPUs as well as HPC accelerators, coupled with a huge growth opportunity with "Tegra", I believe that the short sellers have it wrong. Lots of cash, no debt, and excellent management make the long side much more attractive than the short side.
Disclosure: I am long NVDA, INTC, QCOM, MSFT, MSFT. I wrote this article myself, and it expresses my own opinions. I am not receiving compensation for it (other than from Seeking Alpha). I have no business relationship with any company whose stock is mentioned in this article.
Additional disclosure: I am short ARMH.