A few months ago, a manufacturing and distribution pact between Hewlett-Packard (NYSE:HPQ) and Stratasys (NASDAQ:SSYS) was terminated. HP is expanding its own 3D business, while Stratasys is looking to grow internationally. There is no true correlation between 3D-printing and ink jet/laser printing offered previously by Lexmark (NYSE:LXK) and HP. 3D-printing is a manufacturing process that will change the way suppliers meet customer demand. HP and Lexmark's printing business is about outputting text and images to paper or photo. The advent of social networking and mobile devices appears to be taking a toll on the consumption of print.
HP has numerous problems in its other lines of businesses, but the printing unit is not helping. Shares in the last 3-months are down, while 3D Systems (NYSE:DDD) shares are up:

3D Systems forecasts the 3D printer industry to grow at a CAGR (Compounded Annual Growth Rate) of 17% between 2013 and 2019. By offering acceleration to design-to-manufacture timelines, the company will experience growing demand for its products.
3D Systems has all the ingredients that make the company a healthy one. It offers solutions to the healthcare industry, it is growing its presence in the consumer space, and it is expanding Quickparts services globally. The company has a broad range of 3D printing products that price from $1,300 to $950,000 to address personal and production customers, respectively.
Revenue Growth
3D Systems reported healthy growth in the last nine months. Revenue growth was especially strong in healthcare (up 82%) and in printers and other products (up 91%). This was helped by 11 new products being commercialized in that time.
Recurring revenue represented 66% of total revenue in the 9-month period: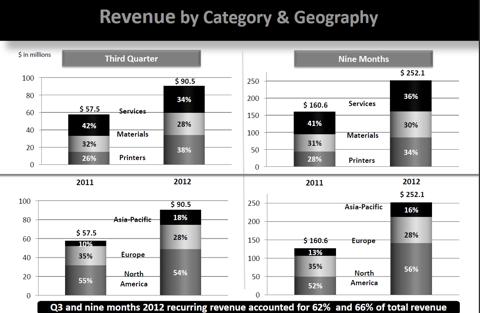 (Source: 3D Systems)
Valuation
3D Systems is not inexpensive: the company trades at a price to book ratio of 6.3 times. Its P/E is 72.5x, and its forward P/E is 34 (figures obtained from Kapitall.com). Short-sellers are betting shares will fall: the short float is 25.71%.
Financials
Looking at the balance sheet of 3D Systems, cash increased to $179.13 million in fiscal 2011, up from $37.36 million from the previous year. The company generated $209.97 million from financing activities in fiscal 2011. Retained earnings declined steadily in the last four fiscal years. Inventory increased to $41.3 million, up 63.3% from December 2011. The company ended September 2012 with $183.9 million in cash.
Earnings in the last four fiscal years are as follows:
| | | | | |
| --- | --- | --- | --- | --- |
| | 12/31/2008 | 12/31/2009 | 12/31/2010 | 12/31/2011 |
| Basic EPS | -0.14 | 0.03 | 0.43 | 0.71 |
| Diluted EPS | -0.14 | 0.03 | 0.41 | 0.7 |
| Diluted EPS Before Non-Recurring Items | -0.17 | 0.03 | 0.39 | 0.76 |
(Data Source: Kapitall.com)
The company earned $0.32 per diluted share (non-GAAP) in the quarter ended September 2012, and $0.85 per diluted share in the 9 month period.
Conclusion
3D Systems is not for the faint of heart. Investors bid shares up significantly in anticipation of double-digit growth in the years ahead. 3D Systems improved its growth margins in its most recent quarter by 7.2% compared to the previous year.
The company received a "buy" rating from BB&T in early 2012 with a target price of $60. At its recent price of around $46, shares continue to be expensive. There is no doubt that 3D Systems will grow even as economic growth remains flat. Investors should add the company to their watch list, and consider opening a position at lower prices.
Disclosure: I have no positions in any stocks mentioned, and no plans to initiate any positions within the next 72 hours. I wrote this article myself, and it expresses my own opinions. I am not receiving compensation for it (other than from Seeking Alpha). I have no business relationship with any company whose stock is mentioned in this article.