It has been a brutal couple of months for Apple (NASDAQ:AAPL) and its shareholders. The stock is down just less than 200 points from its peak in September. I think this pullback provides a good opportunity to average into Apple shares at this price as there is only two weeks to go to sell before higher capital gains taxes kick in for 2013. I think this has been a major contributor during this substantial sell-off.
In addition, the shares successfully tested their intraday lows of $505 - $506 a share on Friday; the intraday low was established on November 16th. This proved to be a temporary bottom and stock shares rallied over 10% before selling off again. I think there is a decent probability a similar pattern emerges over the weeks ahead. It also seems the most valuable stock by market capitalization has become a fiscal cliff proxy. Any deal should have major positive impacts on the stock.
I have already written I believe Apple is close to bottoming at this level before, so in this article I would like to cover some of its key suppliers. These stocks have been hammered as much or more than Apple in the last few months (See Chart). They are also well positioned to bounce in the months ahead as sentiment on Apple improves as the tech juggernaut completely addresses some of the supply chain issues that have the left the giant from Cupertino unable to meet all the demand for the iPhone 5. These supplier stocks are cheap, they supply other clients outside Apple and they should see sunnier days in 2013.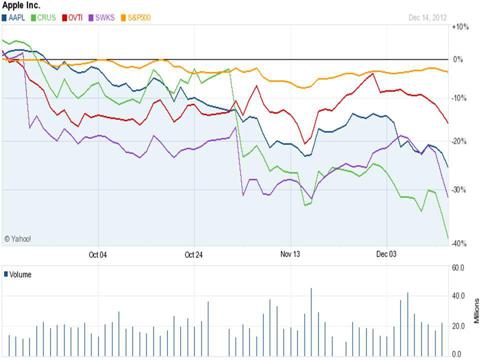 Cirrus Logic (NASDAQ:CRUS) is a fabless semiconductor company that develops signal processing integrated circuits for audio and energy markets. It supplies the audio chips for the iPhone. Out of the suppliers profiled, Cirrus is the most tied to Apple's fortunes as it gets over 60% of total revenues from its friend in Cupertino currently.
Four reasons CRUS is cheap at $25.50 a share:
The median price target by the eight analysts that cover the stock is $53.50 a share, more than double the current stock price.

The stock is selling at just 6.5x forward earnings, a substantial discount to its five year average (19.6). CRUS is priced at a minuscule five year projected PEG (.42).

The company has a solid balance sheet with approximately $140mm in net cash on the books.

Cirrus has beat earnings estimates the last three quarters and consensus earnings estimates for both FY2012 and FY2013 have move up substantially in the last three months, even as the stock has cratered.
OmniVision Technologies (NASDAQ:OVTI) designs and manufacturers semiconductor image-sensor devices worldwide. The company primarily offers CameraChip image sensors.
Four reasons OVTI is a bargain at under $14 a share:
The eleven analysts that cover the stock have a median price target of $21 a share on OVTI, 50% higher than current stock levels.

The company has a solid balance sheet with almost $100mm in net cash on the books. The stock also is priced at just 96% of book value.

The stock is cheap at under 8x forward earnings, a discount to its five year average (15.1).

Consensus earnings estimates for both FY2012 and FY2013 have gone up significantly in the last month and OVTI has a five year projected PEG of under 1 (.75).
Skyworks Solutions (NASDAQ:SWKS) is a semiconductor maker that manufacturers Radio Frequency chips that allow these new mobile devices to communicate with base stations to receive and transmit data.
Four reasons SWKS is undervalued at less than $20 a share:
Skyworks' chips are finding their way into an increasing amount of Apple products. It also supplies Qualcomm (NASDAQ:QCOM) and Samsung (OTC:SSNLF). This makes Skyworks a winner as long as the smartphone market continues to expand. Any loss in Apple's market share, will be taken by another maker it supplies in the space.

Analysts currently believe SWKS has significant upside ahead of it. The 16 analysts that currently cover the stock have a $31.50 median price target on the shares.

Revenue growth should be in the low teens for both FY2012 and FY2013 and the stock has an attractive five year projected PEG of under 1 (.60).

The company has met or beat earnings estimates each of the last twelve quarters. The stock is cheap at just over 8x forward earnings, a discount to its five year average (13.0).
Disclosure: I am long AAPL, SWKS. I wrote this article myself, and it expresses my own opinions. I am not receiving compensation for it (other than from Seeking Alpha). I have no business relationship with any company whose stock is mentioned in this article.