Over its life span, any bank - or for that matter, any business - is likely to encounter at least one proverbial "fork in the road," or "crossroad," at which its operators must choose between two very different journeys. How a bank approaches each crossroad, and the path it chooses upon reaching it, entails major implications not only for its business, but for its current and future shareholders.
The Crossroads Banks Most Commonly Encounter
According to Merriam-Webster, a crossroad is "a crucial point where a decision must be made." Any number of good, bad, and ugly material events can put a bank at a crossroad, including:
Profitably outgrowing the bank's capital, as in the case of Eagle Bancorp (NASDAQ:EGBN)
Era- and location-specific challenges, such as the looming predicament of the U.S. government TARP program requiring repayment or refinancing at a higher rate by January 2014, which is driving an unprecedented number of banks to a crossroad, "as we speak"
Incurring operating losses so great they deplete capital to levels bank regulators will not accept, or leave little room for growth as in the case of Camco Financial (OTCPK:CAFI) and Yadkin Valley Financial (YAVY), as well as countless banks before them, including behemoths like Bank of America (NYSE:BAC) and Citigroup (NYSE:C)
Once at a crossroad, banks generally discover the decision they must make presents itself as one of four paths:
Sell the bank
Engage new managers
Raise capital, or
Do nothing
As a bank stock investor, I'm afraid I have seen far too many bank managers choose a path that offers near-term advantage for themselves, while impaling the bank's owners at the fork.
Recent Examples of Banks at the Crossroad
Take Mackinac Financial of Manistique, MI (NASDAQ:MFNC), for example. In August, MFNC stood at the crossroad: With TARP outstanding and not enough capital to repay it before costs of maintaining it skyrocket, CEO and Chairman Paul Tobias chose to raise capital at a price well below book value and dilute shareholders by over 23%. Prior to the raise, book value per share stood at $14.43. After a quarter of what Management characterized as "strong results," book value is now $11.14. Had Tobias and Company chosen to sell, it's arguable that shareholders would have received at least $12 per share. Instead, MFNC shares now languish in the low $7's. Quite good for the Tobias family, for the time being. For MFNC's long-suffering shareholders: Not so much.
MFNC 10-Year Stock Chart
Courtesy of Nasdaq.com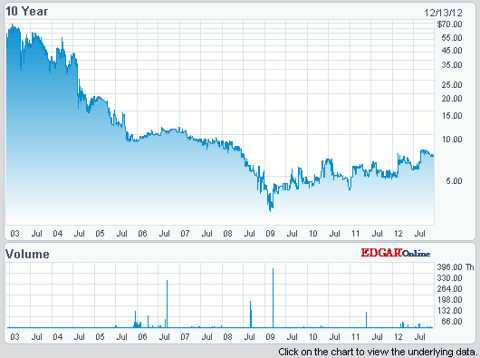 Fortunately, not all bank managers prove so self-serving and unscrupulous at the crossroad. For instance, Heartland Bancshares of Franklin, IN (OTC:HRTB) faced a similar dilemma, earlier this year: How to repay TARP with a thin capital base? However, unlike his peers at Mackinac, HRTB's CEO Steve Bechman did not give in to the temptations of a dilutive capital raise, and opted instead to reward shareholders by selling to Horizon Bank (NASDAQ:HBNC). As a result, Heartland's stock more than tripled in price. I have no doubt that if Bechman ever wants to run another bank he'd have no trouble securing funding. Bankers who do well by shareholders tend to have long careers. Tobias might not be so lucky, down the road.
This is not to say that raising capital in a manner that dilutes shareholders is necessarily the wrong path to take. Nor, thankfully, is Heartland alone in realizing that the ethical choice is not without its own rewards, even for bank managers.
For instance, in the depths of the Great Recession of March 2010, First California Financial of Westlake Village, CA augmented its thinning capital base by selling additional shares via an underwriting by Keefe, Bruyette and Woods at $2.50 per share. But they did so only in an environment where there were no prospective buyers. Fortuitously, by May 2012, FCAL came to their next crossroad courtesy of an unsolicited takeover offer from PacWest Bancorp of Los Angeles, CA (NASDAQ:PACW), and turned it into an opportunity to treat their investors, new and old, to a tripling of their money. The original bid was $7.25 per share. Last month, FCAL agreed to an $8.00 deal with PACW. It's clear to me that even amidst rebuffs to PacWest's original overtures, FCAL President CG Kum did his shareholders "right." The world needs more bankers like Kum, whose career prospects are very bright if he chooses to run another bank.
FCAL 10-Year Stock Chart
Courtesy of Nasdaq.com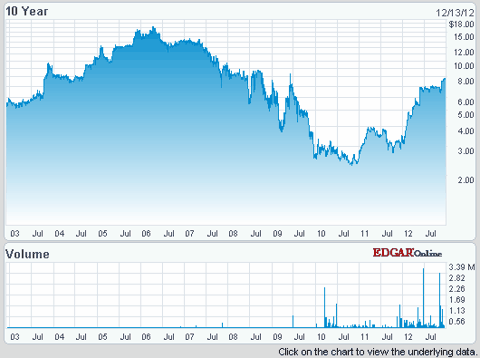 Of course, not every case of a Bank at the crossroad is as ethically charged or clear as these. For example, in deciding how to handle the upcoming retirement of its CEO Aubrey Patterson in April, managers of BancorpSouth of Tupelo, MS faced the choice of selling the bank or recruiting a new CEO to run it. Given the heavy incentives to sell written into their employment contracts, I expected management to sell, and would have been happy as a shareholder with that path. But I am equally as happy with their choice to hire top performing banker Dan Rollins of Prosperity Bancshares (NYSE:PB) to continue growing the bank. If Rollins can boost returns at BXS to anything close to what they are at Prosperity, BXS shareholders will be amply rewarded.
PB 10-Year Stock Chart
Courtesy of Nasaq.com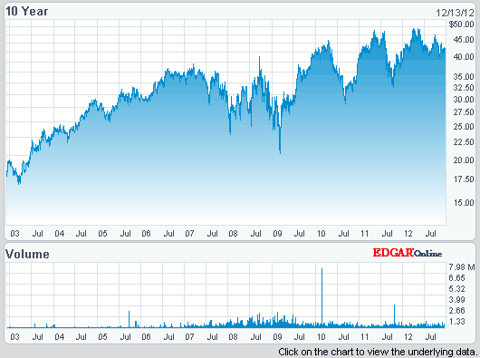 Similarly, for well-performing banks at the crossroad only because they need more capital to grow, like Eagle Bancorp, it may very well make equally good sense to raise capital as to sell, especially in today's environment, where there seems to be adequate and willing capital. In late October, EGBN raised $45 million at $17.05 and $18.25 per share, well above tangible book value of $11.97 to support growth. A scant six weeks later, the stock trades 12% higher at $19+. Given their excellent track record, I'm sure Eagle will put this new capital to good use for the shareholders.
EGBN 10-Year Stock Chart
Courtesy of Nasdaq.com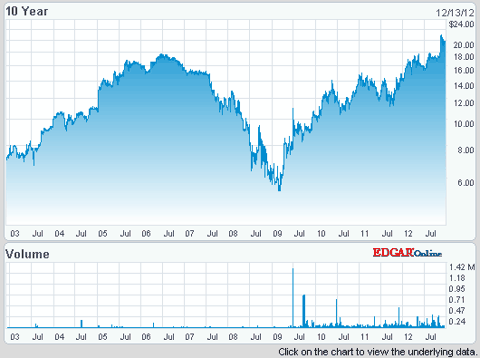 Banks Approaching a Crossroad Soon
As you can see from the aforementioned examples, the case of a bank at a crossroad is almost invariably a pivotal moment for shareholders, a time to pay special attention and to ask pointed questions. And there's no shortage of other banks either currently facing, or soon approaching, their next crossroad!
For example, a number of banks led by founders approaching retirement age will be approaching the same crossroad as BXS in the next few years, including Southern National Bancorp of Virginia and Ameriana Bancorp. Will they be able to attract the caliber of talent needed to continue charting their own course, or would they do better by their shareholders to pursue a sale?
The significant TARP obligations of other banks - like Synovus Financial of Columbus, GA (NYSE:SNV) and Blackhawk Bancorp of Beloit, WI (OTCQX:BHWB) - will put them at a crossroad the minute the interest rate for financing TARP goes from 5% to 9% in January 2014. In SNV's case, that's an extra $39 million a year in costs just to hang onto its $968 million in TARP. And, technically, BHWB is out of TARP because the U.S. Government auctioned off BHWB's TARP to an investor group. However, the preferred is still outstanding and must be repaid before 2014 or the dividend will increase from 5% to 9% as in the terms of the original TARP. Presented with the choice to sell out to another bank at a significant premium to today's price, or to effect a dilutive capital raise, will SNV and BHWB abandon their shareholders at the Fork, like MFNC, or take inspiration from the successes HRTB and FCAL are enjoying for having done the right thing?
Disclosure: I am long HBNC, PACW, CWBC, SONA, ASBI, BXS, OTCPK:CAFI, BAC, C, OTCQX:BHWB. I wrote this article myself, and it expresses my own opinions. I am not receiving compensation for it. I have no business relationship with any company whose stock is mentioned in this article.