The Utica shale of eastern Ohio has generated explosive interest over past two years, with the number or drilling rigs doubling over the last year, according to the Energy Information Administration. The play is particularly attractive because it features very high NGL and oil content. According to the Ohio Dept of Natural resources, the formation may hold as much as 5.5 billion barrels of oil.
One company that's well positioned to benefit from interest in the Utica shale is EV Energy Partners (NASDAQ:EVEP-OLD), an upstream Master Limited Partnership with a $2.5 Billion market cap. EVEP currently holds a vast working interest in the Utica shale, which it plans to sell because the speculative nature of the play makes it inappropriate for a distribution-focused MLP. As we'll see, the market has priced EVEP's Utica acreage far below its likely sale price. A sale that even comes close to previous prices gives EVEP enormous upside potential.
In the company's last conference call on Nov. 9, Executive Chairman John Walker confirmed that EVEP has received multiple offers for its Utica acreage and expects to close a deal before year-end 2012. The deal may involve either cash or a swap for other assets that are more suited for an MLP. So we expect to see a major move in EVEP's valuation over the next week or two.
What Does EVEP Own and what is it Selling?
EVEP's Utica ownership falls into three categories:
20,000 net working interest acres in a Joint Venture with Chesapeake
130,000 net working interest acres (non-JV)
2% (average) Overriding Royalty Interest (ORRI) on 800,000 acres.
The map below shows the geography of the acreage.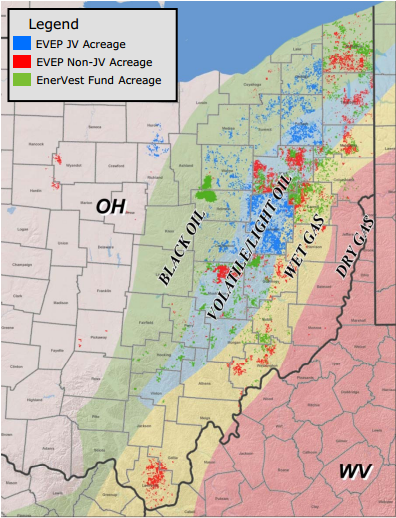 According to Walker, EVEP plans to sell 100,000 of the operated acres this year. It will sell the non-operated acres in the first half of next year. It will most likely retain the ORRI.
So What's that Utica Acreage Worth?
The most recent purchase of Utica acreage was by the French oil producer, Total. The deal, which closed in January 2012, priced the acreage at $15,000 an acre. But running the numbers reveals the market is now pricing EVEPs acreage at a fraction of that price.
By comparing EVEP with its upstream peers, we can deduce the value the market is currently placing on EVEP's Utica assets. The table below lists the upstream MLPs that have maintained or increased their distributions roughly as long as EVEP has. Price to Distributable Cash Flow (NYSE:DCF) and EV/EBITDA are two common methods of valuing MLPs.
| Company | Yield | Price/DCF | EV/EBITDA |
| --- | --- | --- | --- |
| Legacy (NASDAQ:LGCY) | 9.99% | 10.24 | 7.83 |
| Linn Energy (LINE) | 8.07% | 11.06 | 10.04 |
| Pioneer Southwest (PSE) | 9.46% | 10.57 | 8.54 |
| Vanguard Natural Res. (NYSE:VNR) | 9.21% | 7.66 | 8.68 |
| EV Energy Partners | 5.39% | 17.57 | 12.30 |
| Non-EVEP Average | 9.18% | 9.88 | 8.77 |
By all three measures, EVEP clearly trades at a significant premium to its peers. But is the premium big enough? We don't think it's even close. Working backwards, we can use the average yield, Price/DCF, and EV/EBITDA to determine the value of EVEP's non-Utica base assets -- where it would be priced without the Utica premium. The difference between the current price and the base assets value gives us the imputed premium value of the Utica assets.
| Criteria | Implied Base Assets Value/Share | Implied Utica Value/Share |
| --- | --- | --- |
| Yield | $33.54 | $23.57 |
| EV/EBITDA | $40.74 | $16.37 |
| Price/DCF | $32.12 | $24.99 |
If we take the highest of these numbers--$24.99--and multiply it by the 42 million shares outstanding, that only implies a value of $1 Billion for EVEP's entire Utica holdings. Or put another way, even if you value the ORRI at 0, that's only $7,000 an acre.
NGL prices have declined since the Total transaction occurred. However, EVEP has indicated in quarterly conference calls that it has made significant headway in de-risking its holdings over the last year. So it's a stretch to think the value of the acreage has dropped by half over that time.
Let's suppose the acreage sells for a price somewhere in between, say $10,000 an acre. That would add $450 Million to EVEP's current valuation -- more than $10 per share. But the ORRI is worth more than 0. In fact, it's quite valuable because it ultimately means that EVEP will enjoy income without any associated costs. As a very conservative estimate, we'll suppose the ORRI is worth twice a twice a normal working interest. EVEP's ORRI would be the equivalent of 16,000 acres working interest, or another $160 Million. That works out to another ~$4 per share.
Putting it all together, a conservative upside for EVEP's Utica assets at this point is $14 share. The first indication of this will be the pricing of the 100,000 acres that are expected to close before year end. If they sell for anything close to $10,000 an acre ($1 Billion total), it confirms the ~$14 upside for EVEP's stock valuation. If the acreage prices similar to the Total acreage, the upside would be closer to $27 per share.
Other Reasons to like EVEP
I first met EVEP executive chairman, John Walker, four years ago. I was so impressed with him and the rest of EVEP's management that I identified EVEP as a "Top Pick" in this 2008 article. Investors who bought EVEP when the article was published have enjoyed total returns over 600%. I've met with EVEP management every year since then and I can verify they haven't changed; they remain the smartest guys in the room. That's evident from their disciplined acquisitions which have been at lower average multiples than those of their peers. The acquisition of the Utica acreage itself for pennies on the current dollar valuation was a characteristic stroke of brilliance. I discussed it with Walker at the time, and it was clear that he and his team were seeing a value that no one else was at the time.
In short, when you buy EVEP, you're not just getting a bargain on wildly undervalued Utica acreage, you're buying into a management team that has an amazing track record of recognizing value that others have overlooked.
Disclosure: I am long EVEP-OLD. I wrote this article myself, and it expresses my own opinions. I am not receiving compensation for it (other than from Seeking Alpha). I have no business relationship with any company whose stock is mentioned in this article.
Additional disclosure: I am not a registered investment adviser and I do not give investment advice. Nothing in this article should be construed as investment advice. Investors are encouraged to do their own research and seek the advice of an investment professional before investing.