Cigna (NYSE:CI) has seen its share taking off from its July - August low, breaking into higher ground with a strong upward trend. It is approaching its 2007 pre-split high in the late fall. In the mean time, other healthcare heavy weights faltered near where they had been in the last mid-summer doldrums. Especially, those that have larger exposure to the public sectors such as Medicare and Medicaid or SSB have lost ground, only continuing to see their shares depressed in the years to come.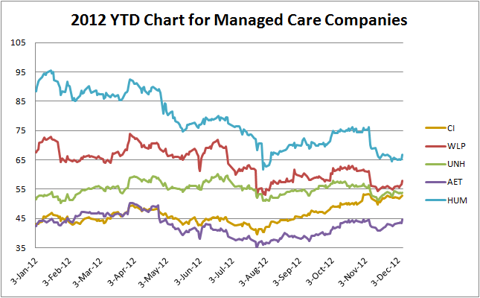 By looking at some major health insurance players' financial health through some common metrics, it's not difficult for us to discern the winner and reach the conclusion that Cigna deserve its recent respect from the Street. First, our research indicates that CI will continue to grow its revenue in current quarter and next year. The prospect of its continued growth will dwarf its next best alternative player. Second, its free cash flow per share is way above peers in the same group.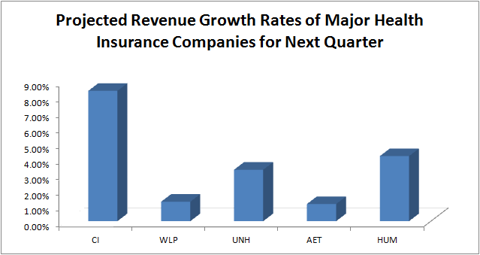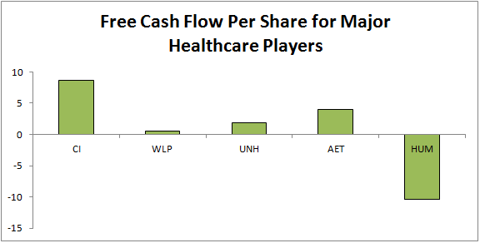 What sets Cigna apart from the rest of the group? Let's first examine what is happening to the landscape of the healthcare industry. As a foregone conclusion, the Patient Protection and Affordable Care Act and the Health Care and Education Reconciliation Act of 2010 will be gradually phasing in. The commercial part of the business (retail and employer sponsored insurance) will see more fierce competition since the goal is to encourage competition in order to lower the overall cost. The public sector, especially Medicaid, has already begun its expansion of membership, which is witnessed by an increase in Medicaid membership and revenue in United Health Group (NYSE:UNH) and WellPoint (WLP) in recent quarters. The bad news is that there will be a surge in cost associated with the increase in the Medicaid population. The constraints of service providers will continue to send more Medicaid patients to emergency rooms across the nation. The industry is also facing rampant short-term inpatient readmission and influx of new patients who become eligible for Medicaid. The PMPM, or per member per month cost, which is a widely used industry metric, will deteriorate at least in the short run. The impact on benefit cost ratio ((NYSE:BCR)) is negative for healthcare behemoths in the public sector.
Cigna, on the other hand, is a diversified global health services company. Its revenue is derived from the following five segments:
▪ Health Care
▪ Disability and Life
▪ International
▪ Run-off reinsurance
▪ Other operations
In the most recent quarter, the revenue from its international business and D & L has reached 24% of total revenue, meaning that a quarter of revenue does not come from domestic healthcare sector. More prominently, the international sector has experienced sequential growth. I believe the momentum will continue. The currency risk is also mitigated by the vulnerable greenback and the management's active currency hedging initiatives. The income statement for these two sectors pans out even better with 28% of total net income generated in the third quarter of 2012. The execution has been more successful in the international and D&L compared to the rest of business operations.
This year Cigna has made an audacious and strategic move to form a joint venture with Turkish Finansbank and acquire 51% of the total issued and outstanding shares of Finans Emeklilik ve Hayat A.S. Turkey has a young population and burgeoning middle class. This will create additional revenue for the company and accumulate experience of operations in emerging markets.
Furthermore, Cigna's supplemental health, life and accident insurance products are offered in many other countries and regions including China, Taiwan, South Korea and the European Union. Our forecast suggests that there will be growing needs in both local markets and multinational enterprise and organizations. Thus steady revenue growth in the segment is expected.
Finally, a further dissection of Cigna's revenue source revealed another important fact that even in its core business, management has been diversifying away from traditional health insurance business regardless of the commercial or public side. The revenue from pharmacy mail order and investment has almost consisted of 10% of total revenue in the most recent quarter. The public sector including Medicare, Medicare Part D, and Medicaid only takes less than 25% of the total pie with less than 1% in Medicaid.
In conclusion, Cigna represents one of the best plays in the managed care industry. It has well diversified products and services so that any impact from domestic policy changes may be neutralized or minimized. It will continue to grow its business in different segments. Any pullback along with the managed care group may represent another opportunity to add long positions.
Disclosure: I have no positions in any stocks mentioned, and no plans to initiate any positions within the next 72 hours. I wrote this article myself, and it expresses my own opinions. I am not receiving compensation for it (other than from Seeking Alpha). I have no business relationship with any company whose stock is mentioned in this article.