There was a time when the Apple (NASDAQ:AAPL) iPhone was viewed as the coolest tech product on the market. During the early years of the iPhone, it would have been inconceivable to see the product discounted and even crazier to see the item on a discounted end-cap at Wal Mart (NYSE:WMT). In large part, this exclusivity that Apple has created around its product offers is what has enabled itself to charge more and demand a higher price in the marketplace amongst its customers.
Today, the situation is vastly different. On Friday, Wal Mart announced it would be selling the iPhone 5 for only $127 (usually $199), the iPhone 4S for $47 (usually $99), and the iPad for $399 (usually $499). In previous years, the discounts seen at retailers like Wal Mart on Apple products were minimal, but the situation is different this year as consumers are receiving substantive discounts. Though these discounts only last through the holiday season, they hold major implications for both companies and more specifically both "brands." What is most surprising and perhaps telling is the fact that Apple would go along with such a promotional strategy that has the potential to diminish its most valuable asset - the enigma its products hold in the eyes of consumers.
What it Means for Wal Mart:
For the worlds largest retailer, the ability to discount the iPhone to its current promotional levels is a substantive advantage that stands to bring new customers through its doors. In the wake of the brick and mortar battle with Amazon (NASDAQ:AMZN), Wal Mart and other retailers must provide reasons for customers to step foot in their stores instead of shopping from home. Wal Mart is only offering this discount to customers in its stores and with good reason. This is a brilliant strategy to 1. Increase traffic through its stores, which result in incremental spending by customers, 2. Change its perception in the eyes of consumers by selling hotter items like the iPhone at a major discount, and 3. Exposing those who previously would not shop at Wal Mart to its store and discount strategy. This marks a step in the necessary direction for Wal Mart to shield off customers from online merchants like Amazon. For investors, this can only be seen as a positive for the retail giant. Though these iPhones will not be sold at a substantive profit and may even be sold at a slight loss, the positive externalities on its business are substantial and should not be taken lightly. This strategic advantage that Apple has given Wal Mart in cooperating with this pricing strategy stands to strengthen Wal Mart within the eyes of customers and drive incremental sales within its stores. The inclusion of Apple products into Wal Mart's merchandising strategy is a major shift for these aforementioned reasons.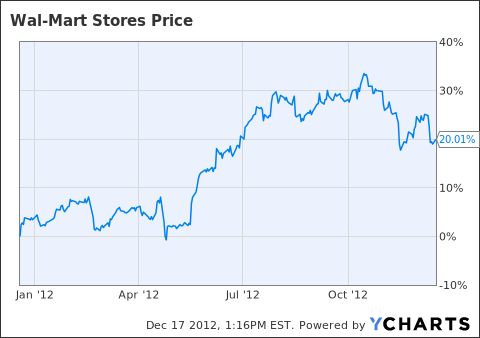 What it Means for Apple:
The situation as to why Apple would agree to such a promotion of its product within Wal Mart is more difficult to analyze. Apple's stock has declined significantly over the past several weeks in response to a multitude of factors from rising competition to a perception that the stock is overbought. For Apple, one of its most strategic advantages over its competitors is the perception the product holds in the eyes of consumers. There is just something about its products that is not only cool, but also premium and associated with high quality. The entry into the promotional aisles of Wal Mart stand to change this perception to some extent. If customers begin to see the iPhone or iPad in the same light as its cheaper competitors, Apple may begin to slowly lose its most valuable asset - its image.
Whether this is a desperate move on behalf of Apple to continue on its unit projections of the iPhone is unknown, but this strategy is bound to have tangible effects on the company's image in the long run. Wal Mart is in many ways the antithesis of Apple in its perception amongst consumers. This reality should scare Apple in the sense that by selling the product at such a discount within the largest discount retailer, the company is risking its true differentiator. For investors, this marks a long-term and fundamental point of caution when looking at Apple's ability to continue to innovate and hold onto its precious enigma.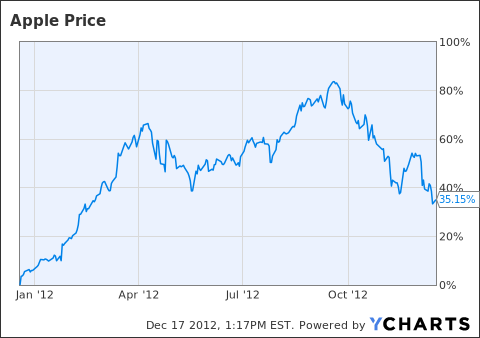 Conclusion:
This promotional strategy holds very different implications for Wal Mart and Apple. For Wal Mart, this is an opportunity to build incremental sales and obtain new customers, while showing its strength against the rising rival of Amazon. For Apple, this marks a point of caution as the company is putting in danger the terrific perception its products hold in the eyes of customers. Though this singular promotion will most likely not have a substantive effect on Wal Mart's sales of Apple's perception, the continued use of this type of promotion has real and tangible implications for Apple specifically. Investors should take note and proceed with caution when viewing Apple's long term position in the market.
(All financial metrics referenced above are obtained from Yahoo Finance, CNBC Analytics, S&P Capital IQ and Thomas Reuters.)
Disclosure: I have no positions in any stocks mentioned, and no plans to initiate any positions within the next 72 hours. I wrote this article myself, and it expresses my own opinions. I am not receiving compensation for it (other than from Seeking Alpha). I have no business relationship with any company whose stock is mentioned in this article.