This is a stock where Goldman Sachs' conviction buy rating was backed up by Bill Gates' continuous acquisitions. Republic Services, Inc. (NYSE:RSG), a Delaware corporation, is the second largest provider of non-hazardous solid waste collection, transfer, recycling and disposal services in the United States, as measured by revenue. RSG manages operations through four geographic regions - Eastern, Midwestern, Southern and Western. The Company operates 343 collection companies, 194 transfer stations, and 191 active solid waste landfills as well as recycling facilities and several landfill gas-to-energy projects. While declining volume continued to be a concern, RSG maintains a narrow economic moat through vertical integration. Its operation efficiency and scale advantages are hard to duplicate for local competitors.
Recent Highlights and Development
On Nov. 1, 2012, RSG announced that for fiscal 2012, it expected adjusted diluted EPS in the range of $1.85-$1.87, which was lower than analysts' estimate of $1.90. RSG also announced that its Board of Directors declared a regular quarterly dividend of $0.235 per share for stockholders of record on January 2, 2013, and the dividend will be paid on January 16, 2013.
Digging into RSG's 10-Q report, it is a good sign to see RSG's management was working on cost reduction. As reported,
"In October 2012, we restructured our field and corporate operations to create a more efficient and competitive company. These changes include consolidating our field regions from four to three and our areas from 28 to 20, relocating office space, and reducing administrative staffing levels. We expect to record expenses of approximately $30 million with respect to this restructuring, approximately one-half of which will be incurred in the fourth quarter of 2012. We expect this restructuring will reduce our selling, general and administrative expenses by approximately $23 million annually."
Analysts' Calls and Estimates
On Dec. 7, RSG had its "neutral" rating reaffirmed by analysts at Wedbush with a $27.00 target price. On Dec. 5, Goldman Sachs upgraded RSG from a buy rating to a conviction buy rating with a $37.00 target price, which was up from their previous price target of $30.00. On the same date, Zacks reiterated an underperform rating on RSG with a $24.00 price target. On Nov. 2, analysts at First Analysis reiterated an equal-weight rating on RSG with a $33.00 price target.
Analysts are estimating an average of $0.43 EPS for the current quarter and $0.40 for the next quarter. The full year 2012 EPS is estimated at $1.84 and $1.91 for the next year. Analysts are also expecting $8.10B revenue for the current year and $8.23B revenue for next year with 1.60% increase year-over-year, as seen from the table below.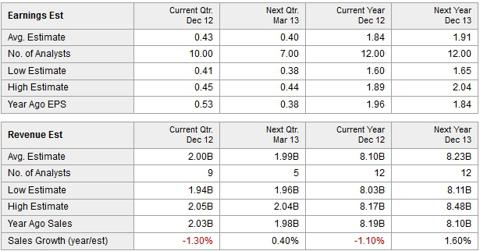 Source: Yahoo! Finance
For the growth estimate, RSG had 3.44% growth in the past 5 years (per annum) and analysts are expecting 6.30% growth for the next 5 years (per annum). Since the $5 billion merger between Allied Waste and Republic Services in 2008, the 3 year average revenue growth was 38.73 (2009), 36.66 (2010), and 30.52 (2011).
Insider Activities
According to the latest form 4 statements, Cascade Investment LLC's acquisitions were listed below. Bill Gates' Cascade Investment LLC continued to buy RSG shares and those shares represent more than 24% of RSG's outstanding stock, which is worth about $2.45 billion.
| | | | |
| --- | --- | --- | --- |
| Date | Amount of Shares | Price | Amount Owned |
| 11/13/2012 | 8,140,552 | $26.8 | 86,184,195 |
| 11/14/2012 | 1,173,375 | $26.6216 | 87,357,570 |
| 11/15/2012 | 974,506 | $26.5497 | 88,332,076 |
| 11/16/2012 | 731,169 | $26.9235 | 89,063,245 |
| 11/19/2012 | 571,515 | $27.3577 | 89,634,760 |
Key Stats, Valuation
By using the data obtained from Morningstar, RSG's key stats will be compared to its competitors in the waste management industry, including Waste Management Inc. (NYSE:WM) and Waste Connections, Inc. (NYSE:WCN). For the 3 year average, RSG has a higher revenue and EPS growth of 30.5 and 61.6, as compared to the industry averages of -22.3 and 12.1. RSG also has achieved higher operating margin of 17.2%, ttm, and net margin of 7.8%, ttm, comparing to the averages of 12.7% and 5.3%, respectively. Despite slightly lower ROE of 8.3, ttm, RSG has a lower debt-to-equity of 0.9, comparing to the averages of 8.8, ttm, and 1.8. RSG has an operating cash flow of 1.54B with levered free cash flow of 451.40M. According to the 10-Q report, as of September 30, 2012, RSG had $74.0 million of cash and cash equivalents and $132.9 million of restricted cash deposits and restricted marketable securities.
RSG has a current P/E of 16.9, which is below the industry average of 28.3 and RSG's 5 year average of 30.1. The P/B of 1.4 is also below the industry average of 1.8 and RSG's 5 year averages of 1.9. P/S of 1.3 and P/Cash Flow of 7.0 are also below the industry average of 1.4 and 8.1, as well as RSG's 5 year averages of 1.5 and 7.2. RSG is under-valued compared to the industry average and its 5 year average. RSG currently has a market cap of $10.62B and has an enterprise value of $17.65B as of Dec. 17, 2012.
Technical Analysis
RSG closed at $29.13 on Dec. 14 with volume of 1.26M, which was 54.51% less than the 30 day average volume of 2.77M. RSG had been trading in the range of $25.15-$31.32 in the past 52 weeks. RSG has a beta of 0.82. The MACD (12, 26, 9) had been showing a bullish sign since Nov. 20. However, the MACD difference continued to converge since Dec. 5. The momentum indicator, RSI (14), is indicating a strong buying momentum at 69.09 and approaching the over-bought territory of above 70. RSG is currently trading above its 50-day MA of 27.93 and 200-day MA of $27.73. As seen from the chart below, the next resistance is $29.24, the R1 pivot point, followed by $30.01, the R2 pivot point. RSG is very bullish in the near term, technically.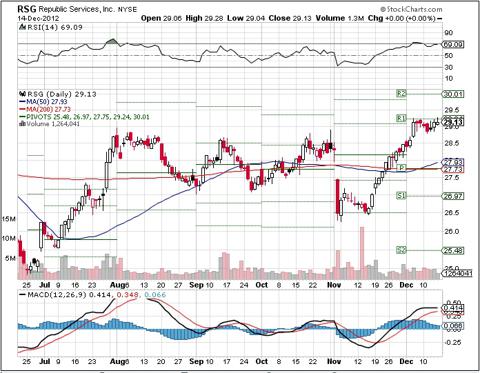 Source: StockCharts.com
Options Play
RSG is under-valued. RSG's buy is supported by its strong operation efficiency and consistent cash flow, along with its increasing cost reduction. RSG is also very bullish in the short-term, technically. For bullish investors, a credit put spread will be reviewed which will allow investors to acquire RSG stock at a lower price as the worst case scenario while gaining some upside potential.
Short 1x July 20, 2013 put at the strike price of $30.00 for the credit of $2.15
Buy 1x July 20, 2013 put at the strike price of $25.00 for the cost of $0.40
The maximum profit is $1.75, and the maximum risk/margin requirement is $3.25 ($5 loss - $1.75 credit received). If RSG closes above $30 on July 20, 2013, 53.85% return on margin will be gained. If RSG falls below $30 upon option expiration, RSG stock will be acquired at $28.25, which is 3.02% lower than the current price of $29.13. The projected annual dividend yield will be 3.26% based on the acquisition cost of $28.25 with projected dividend of $0.23 per quarter.
Note: All the prices are quoted from the closing of December 14, 2012, and all calculations are before fees and expenses. Investors and traders are recommended to do their own due diligence and research before making any trading/investing decisions.
Disclosure: I have no positions in any stocks mentioned, but may initiate a long position in RSG over the next 72 hours. I wrote this article myself, and it expresses my own opinions. I am not receiving compensation for it (other than from Seeking Alpha). I have no business relationship with any company whose stock is mentioned in this article.