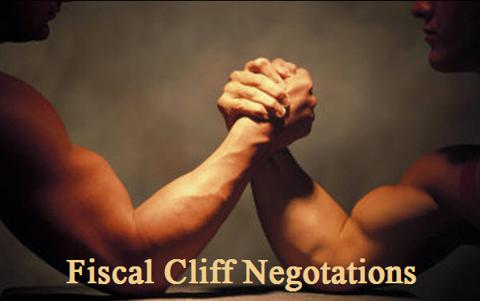 Bullish investors have a hair-trigger regarding any deal relating to the fiscal cliff. They presume a deal will be had around terms including higher taxes on "the rich" (loosely defined by $250K-$1M in income), and a concession to include entitlement spending reductions, probably focused on social security. If agreed to, this should provide a "relief rally" that may last through the holidays. Given this deal really only fixes deficit and debt conditions around the edges, perhaps in early 2013, the rally will be undone. In other words, after year-end bonuses are paid to portfolio managers, reality may bite after a brief honeymoon.
Lingering under cliff news, economic data remains poor. Monday, the Empire State Mfg Survey laid an egg (-8.1 vs. 0 expected, and prior -5.5) as manufacturing ex-autos remains weak. A quick look at a combination of economic data below makes a weak economic picture more believable.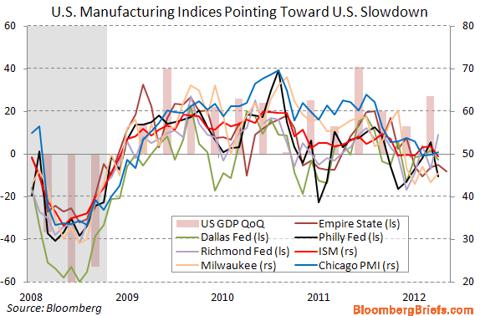 Beyond all of this is what the Fed wants you to do -- buy stocks. After all, they're providing nearly $100 billion a month in QE activity. This money will find its way into markets, and will force you to buy stocks even if you don't want to. Why? Because the alternatives are negative yields in bonds and sideline cash.
The same holds true with other central banks in Europe and Asia, as it's raining fiat currencies.
Not to be outdone, Japan's election provided a large win for the LDP led by the conservative Shinzo Abe, where "economic recovery and overcoming deflation" are top priorities. This means more stimulus and a much weaker yen, as John Mauldin explains well enough in this video and article. Yet there's one thing Abe or anyone can't do anything about, and that's poor demographics with an aging population and massive debt. Perhaps the investment strategy will evolve to a short yen/long EWJ position. We've already gone through one round of profitable trading short yen (NYSEARCA:YCS). But now the yen is much oversold, and short positions are at record levels. A sharp short squeeze could occur at any moment.
What could go wrong with this scenario? Markets and bond vigilantes could balk at buying more debt even as central banks print money to support deficits thru QE. The disaster scenario for all developed countries would be if interest rates rose, given massive debt levels.
Stocks rallied sharply once the WH agreed to consider some changes to social security and/or other entitlement changes, giving investors the idea a deal is close. Even if a handshake deal is made, Boehner and Obama must sell the deal to their respective bases. Financials (NYSEARCA:XLF) led the charge higher, along with real estate sectors (NYSEARCA:IYR) (BATS:ITB) (NYSEARCA:RWX), as they're perceived as beneficiaries of the Fed liquidity deluge.
Bonds (NYSEARCA:TLT) saw selling as stocks rose and Treasury auctions were weakly received. Meanwhile, as stocks were gaining strength, gold (NYSEARCA:GLD) was unresponsive in a "risk on" environment. The dollar (NYSEARCA:UUP) was flat, and commodities (NYSEARCA:DBC) overall were flat.
Volume was modest, and only picked up after a more conciliatory WH response on the cliff. Breadth per the WSJ was quite positive.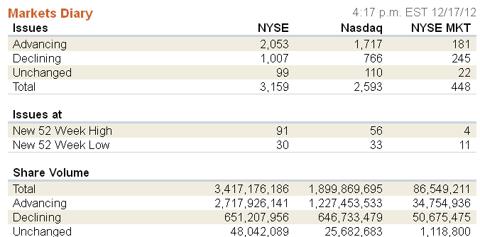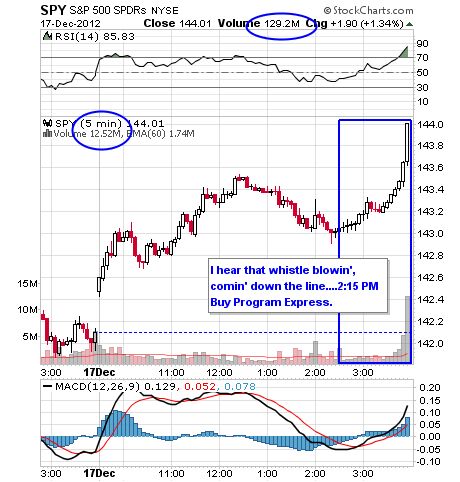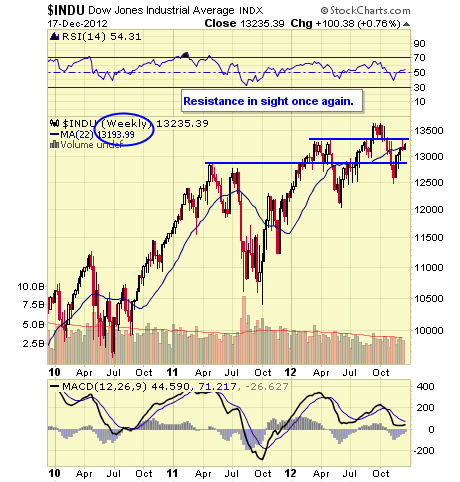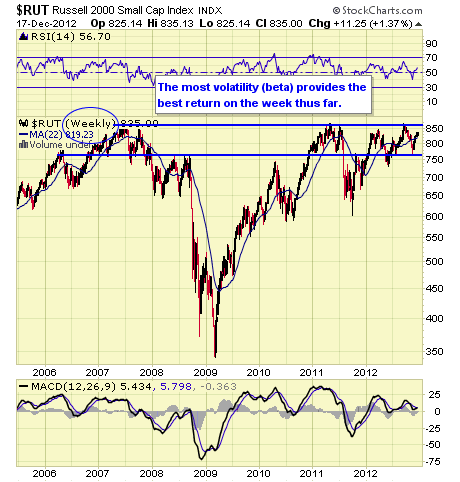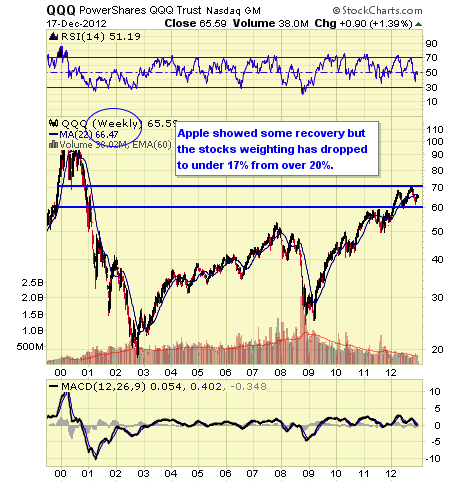 Continue to U.S. Sector, Stocks & Bond ETFs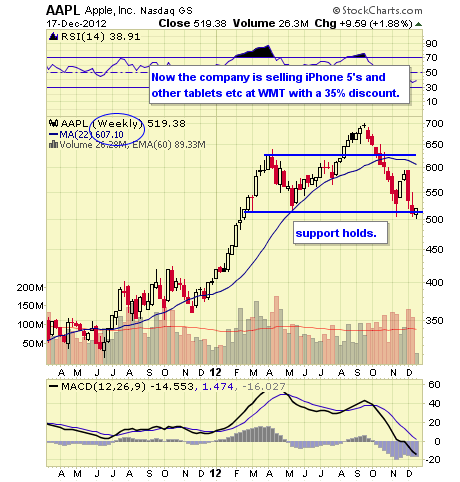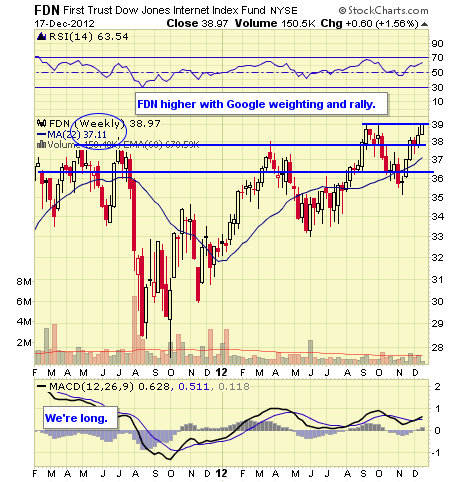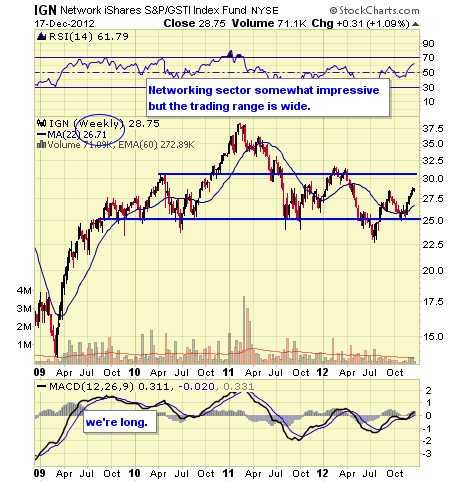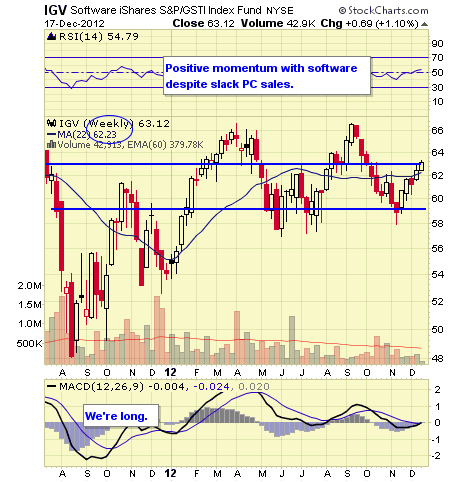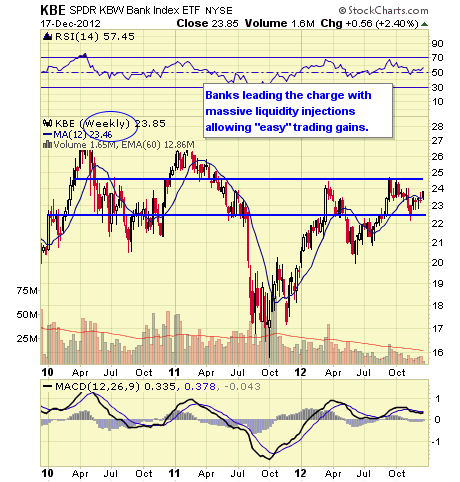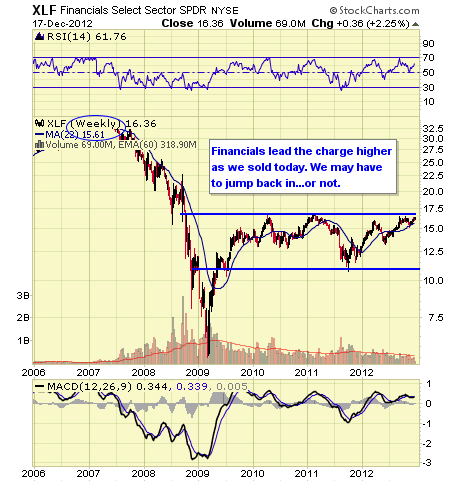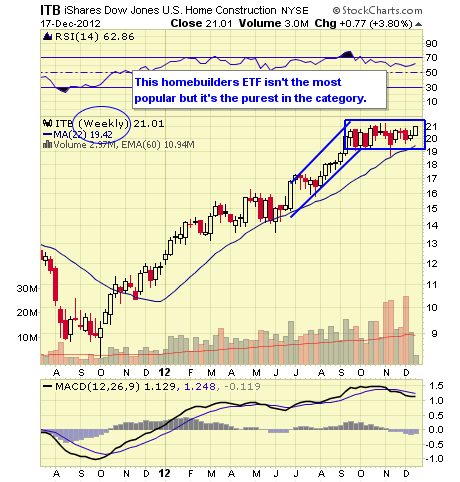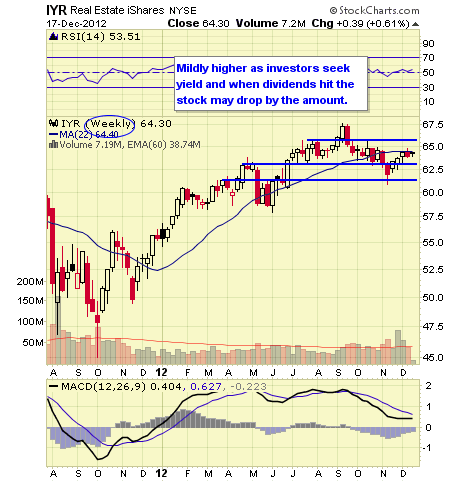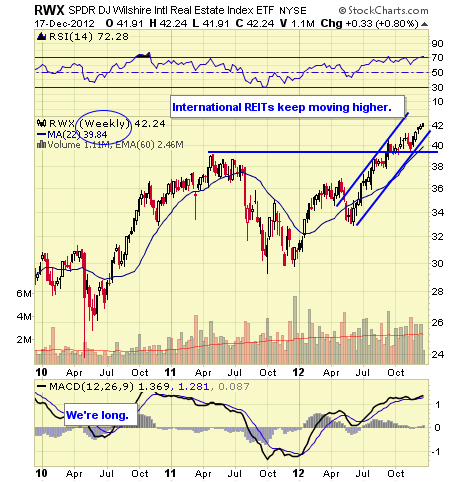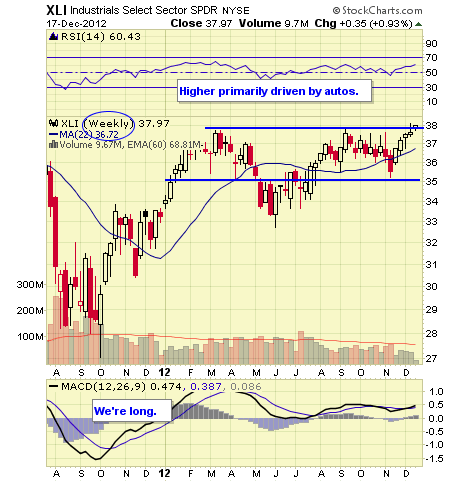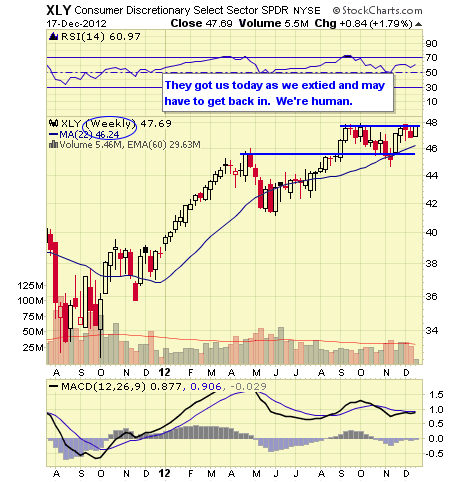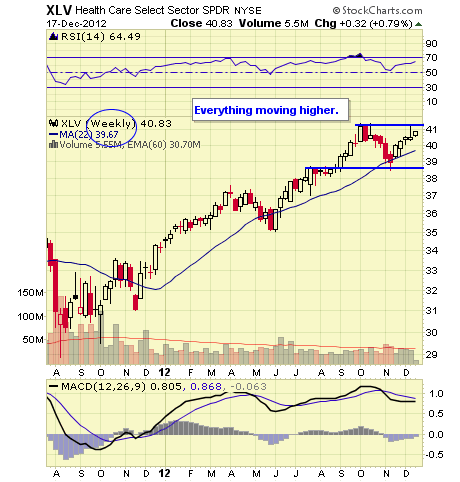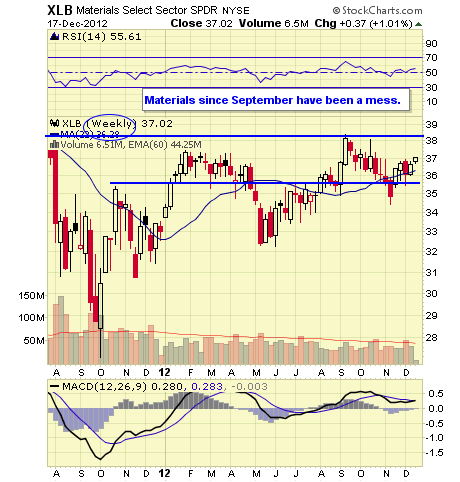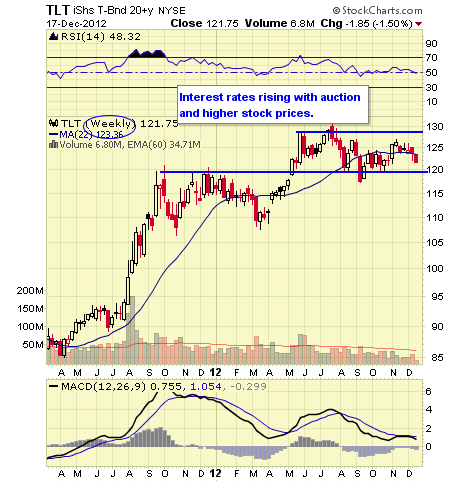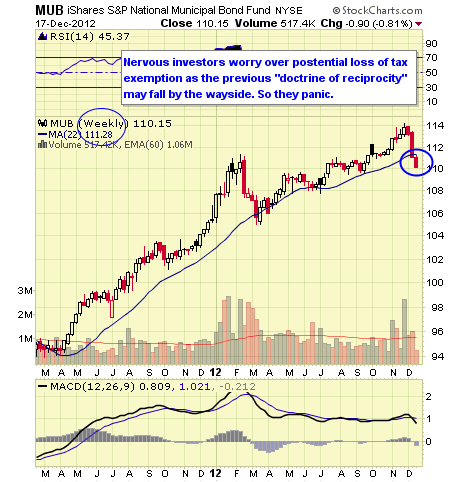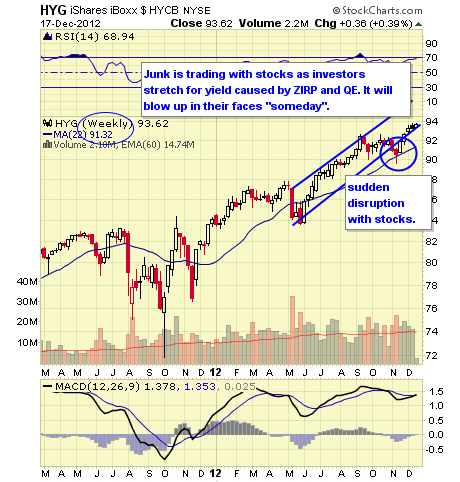 Continue to Currency & Commodity Market ETFs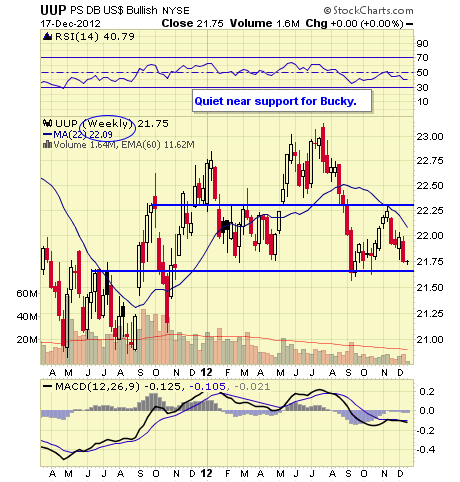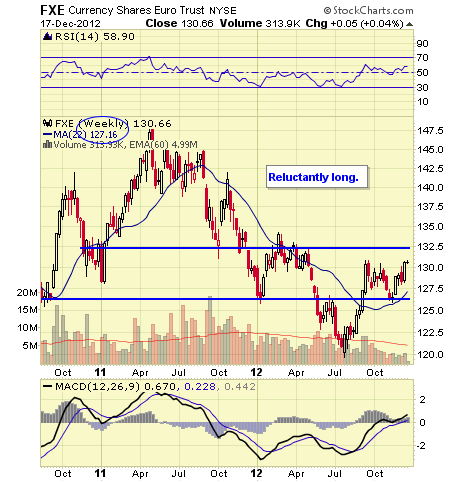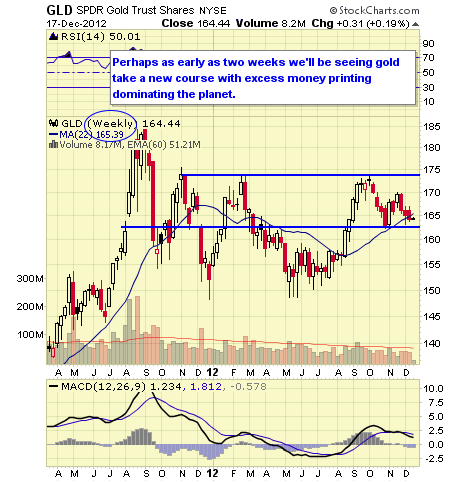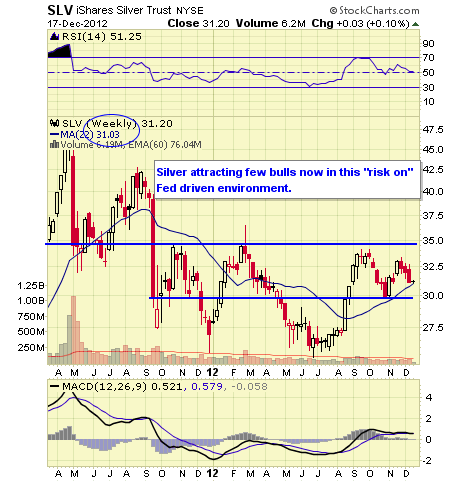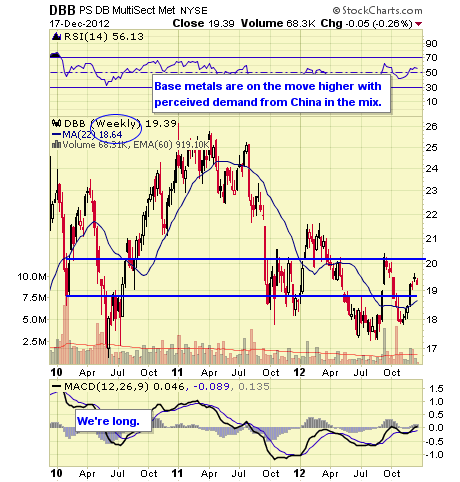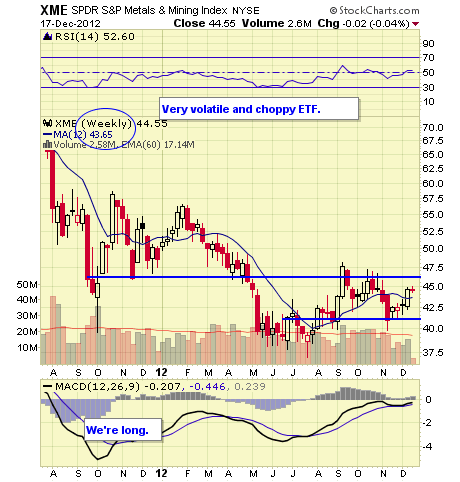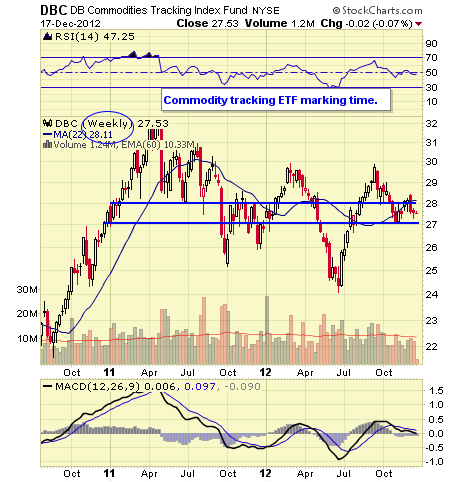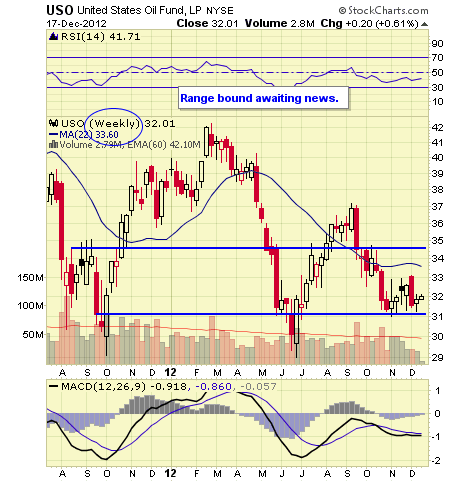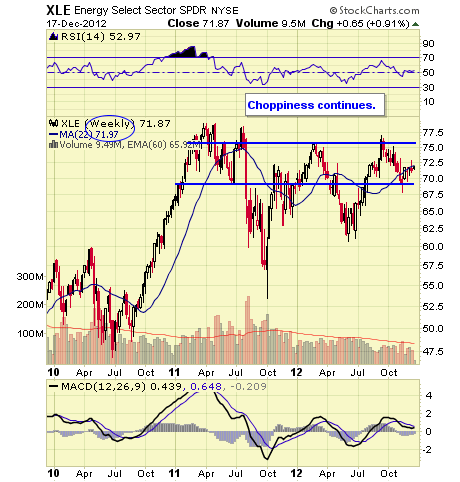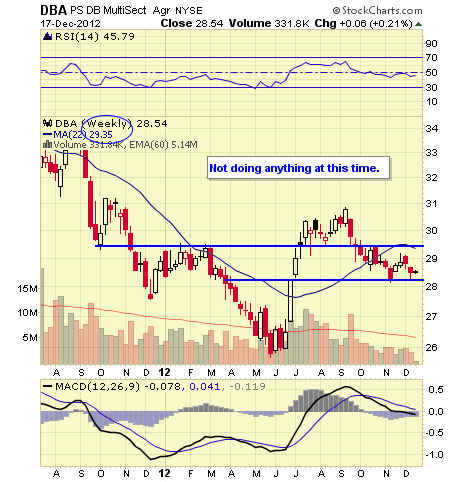 Continue to Overseas Sectors & ETFs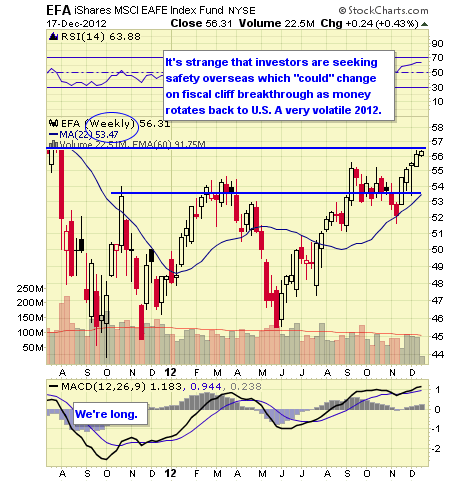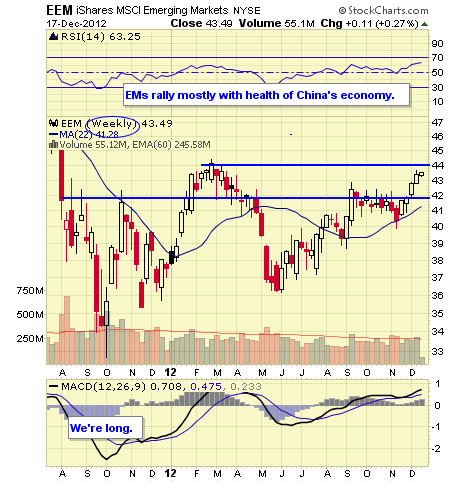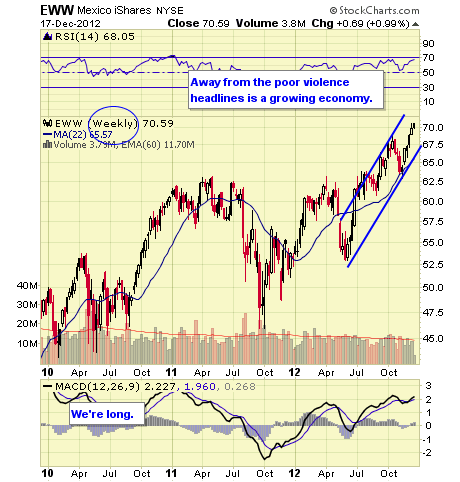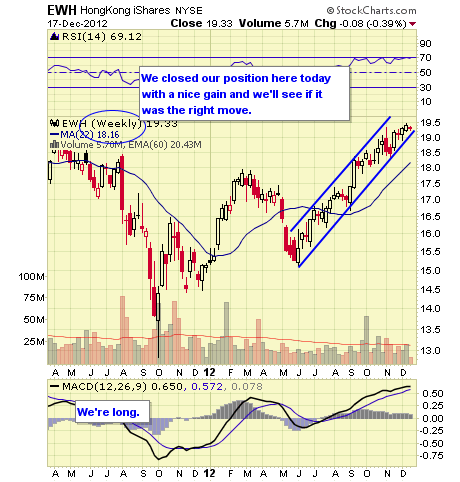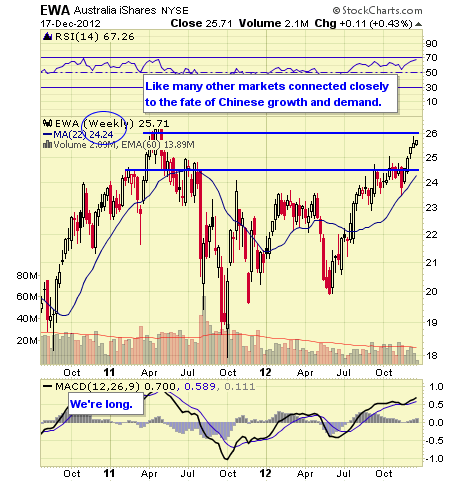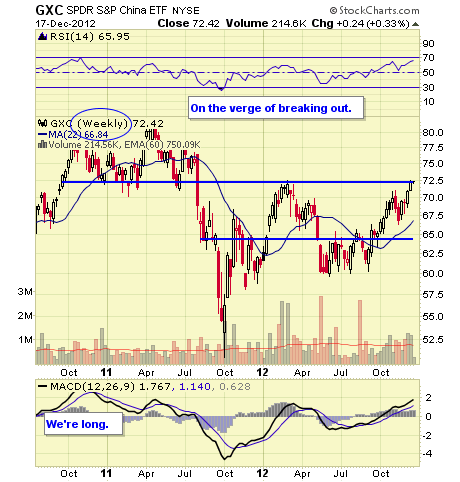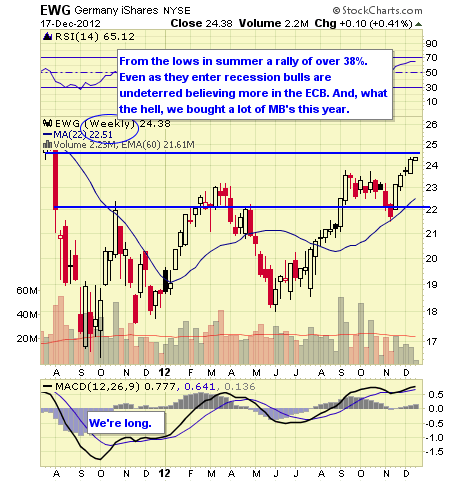 The NYMO is a market breadth indicator that is based on the difference between the number of advancing and declining issues on the NYSE. When readings are +60/-60, markets are extended short term.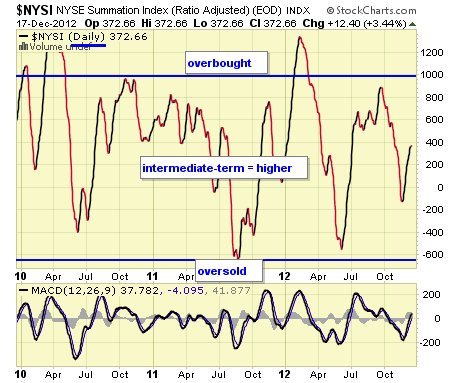 The McClellan Summation Index is a long-term version of the McClellan Oscillator. It is a market breadth indicator, and interpretation is similar to that of the McClellan Oscillator, except that it is more suited to major trends. I believe readings of +1000/-1000 reveal markets as much extended.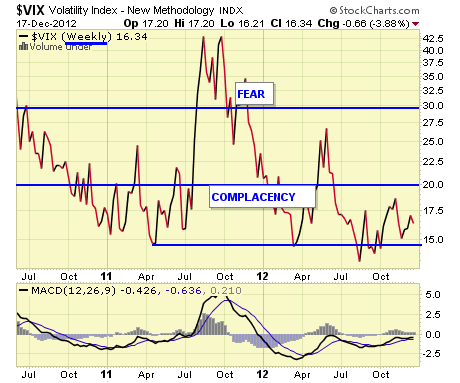 The VIX is a widely used measure of market risk, and is often referred to as the "investor fear gauge." Our own interpretation is highlighted in the chart above. The VIX measures the level of put option activity over a 30-day period. Greater buying of put options (protection) causes the index to rise.
Concluding Remarks
Economic data is subverted to the fiscal cliff. Smoldering under the surface is nearly $100 billion a month in Fed liquidity raining down on markets through money center banks. This avalanche of cash must go somewhere, and Bernanke's intent is that it goes to stocks. It's what they watch and gauge to determine policy effectiveness. A deal on the cliff and it may be off to the races, no matter how negatively one might feel about these policies.
Disclaimer: The ETF Digest maintains an active ETF trading portfolio and a wide selection of ETFs away from portfolios in an independent listing. Current "trading" positions in active portfolios, if any, are embedded within charts: Lazy & Hedged Lazy Portfolios maintain the follow positions: VT, MGV, BND, BSV, VGT, VWO, VNO, IAU, DJCI, DJP, VMBS, VIG, ILF, EWA, IEV, EWC, EWJ, EWG, & EWU.
The charts and comments are only the author's view of market activity and aren't recommendations to buy or sell any security. Market sectors and related ETFs are selected based on his opinion as to their importance in providing the viewer a comprehensive summary of market conditions for the featured period. Chart annotations aren't predictive of any future market action rather, they only demonstrate the author's opinion as to a range of possibilities going forward.
Disclosure: I have no positions in any stocks mentioned, and no plans to initiate any positions within the next 72 hours. I wrote this article myself, and it expresses my own opinions. I am not receiving compensation for it. I have no business relationship with any company whose stock is mentioned in this article.