It's finally here. The December expiration cycle ends on Friday, and the upcoming week should be a wild one.
The push higher today was impressive. I have to admit, I didn't think the bulls had it in them to push the S&P's to 1428 (/ES). The move pushed several of the highly-liquid ETFs I follow back into a short-term overbought state. Couple the overbought readings with several bumping up against strong overhead resistance, and the pot odds start to lean more towards the bears. Look at the euro-related ETFs, South Korea and the Emerging Markets, for starters.
Admittedly, I would love to see a move lower over the next few days so that I can either adjust or exit a few bear call spreads in my portfolio. The recent rally, led mostly by financials, is testing my short strikes in SPY and FAS. So I certainly wouldn't mind a short-term reprieve tomorrow.
I am very close to entering a few January and February positions. Stay tuned. And again, thank you for the overwhelming response. I look forward to sharing a prosperous 2013 with all of you.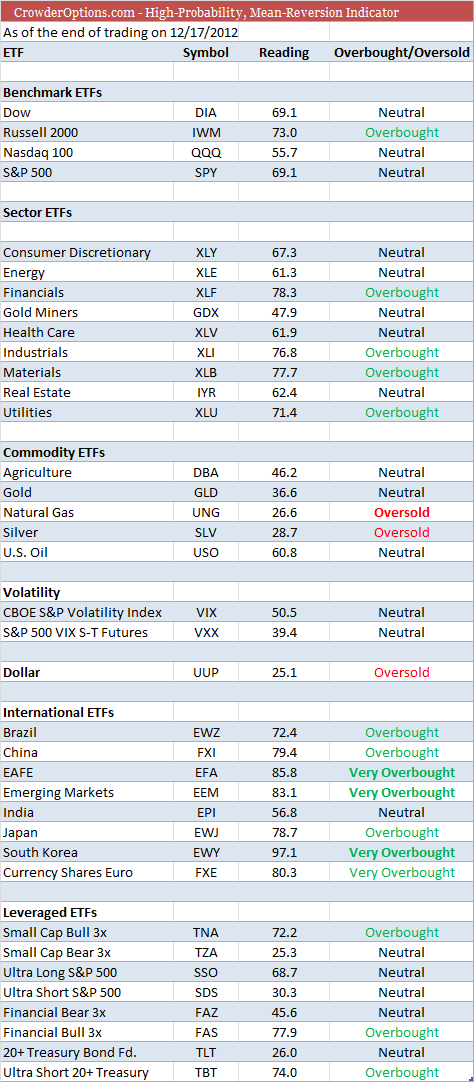 Disclosure: I am short SPY, IWM. I wrote this article myself, and it expresses my own opinions. I am not receiving compensation for it. I have no business relationship with any company whose stock is mentioned in this article.