The bulls may have gotten last week off to a great start, but they couldn't finish the job. In fact, the early bullish effort crumbled so badly that Friday's mild dip from the market (despite some encouraging economic data) let the S&P 500 Index (SPX) (NYSEARCA:SPY) slump all the way back into the red for the week.
Now what? The small loss on its own isn't a death knell, but given what else the market and other key indicators did last week, the option trading bulls have a reason to be concerned.
We'll explain why below. First, we've got more than a small handful of market-moving economic data to digest.
Economic Calendar
It was a busy week last week in terms of economic data, and some of the items on the agenda were heavy-hitting. We don't have time or room to look at all the data, so we'll stick with the highlights …which didn't really start until Thursday.
As it turns out, retail spending last month was just ok, basically rolling in as expected. Overall, retail spending was up 0.3% (versus expectations), while retail spending on everything besides cars was flat, as expected.
Also on Thursday we saw a fairly good-sized plunge in the number of new and ongoing unemployment claims. Bear in mind the effects of hurricane Sandy could be pushing this number around. Broadly speaking it could make employment easier to find, as the clean-up and rebuilding effort will take months' worth of manpower. On the other hand, the storm also caused a work-stoppage for others. Take it all with a grain of salt.
The latest inflation snapshot was posted in two pieces over the span of two days. According to Thursday's number, producer prices were down 0.8% in November (versus expectations for a -0.5% dip), while core producer prices (ex food and energy) grew 0.1%, as forecasted. On Friday we learned that consumer inflation - "the" inflation rate - fell 0.3% in November, compared to expectations of a 0.2% decline. Like producer prices though, removing food and energy from the equation meant a 0.1% increase in prices last month, as expected. As of the last look, the annualized consumer price inflation rate is 1.76%.
Friday's last data was indeed a Grand Finale of numbers - industrial production and capacity utilization. The former was up 1.1%, and the latter reached a level of 78.4%. Both were better than expectations of 0.3% and 78.0%, respectively, and both topped the prior month's reading of -0.7% and 77.7%. [Bear in mind that industrial production measures the rate of change, while the capacity utilization rate look at what proportion of the nation's total production capacity is being used. So, the two numbers should feel radically different, even if they're both barometers of the same thing.]
As we've said before, whichever direction production and capacity utilization are pointed in - in the long term - so too is the market. Last month's growth was a good effort at a reversal of downtrends from both, but it doesn't stop the bleeding just yet.
S&P 500, with Capacity Utilization and Industrial Productivity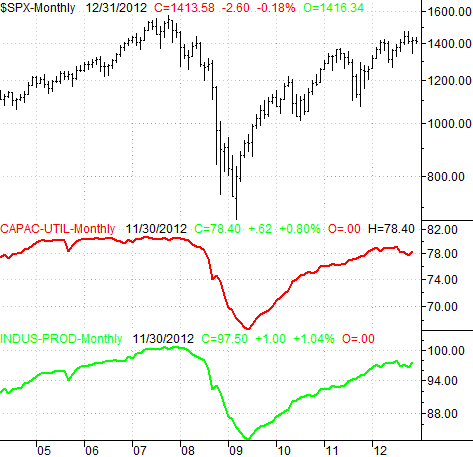 Economic Calendar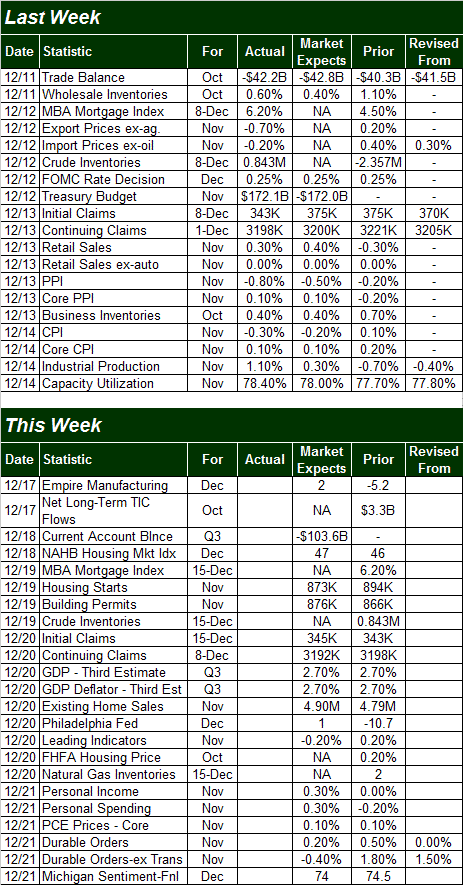 The coming week is going to be just as busy, especially when it comes to construction and real estate sales.
The real estate fireworks start on Wednesday, with housing starts and building permits. Though the real estate rebounds been criticized for a while, both numbers have been climbing that wall of worry since June of 2011. If it wasn't the real deal, it should have been stifled by now. The pros are looking for an annualized figure of 873K housing starts, and 876K issued permits. That's basically on par with the prior month's levels, though still impressive given that the industry is heading into a slower time of year. On Thursday we'll hear about November's existing home sales. The number should have moved up from October's 4.79 million (annualized) to 4.9 million. That's a number that's made slow and steady progress as well, defying the critics.
Housing Starts and Permits, through October 2012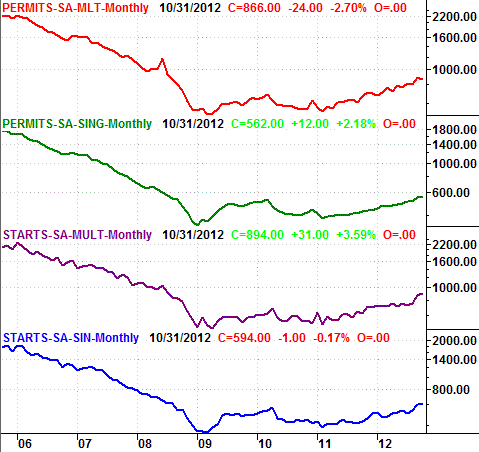 Also in the lineup for Thursday is Q3′s final (well, near-final, actually) GDP reading; economists still expect 2.7%, as suggested the last time the numbers were crunched in November.
Friday we'll hear about personal income and personal spending. Both should be up 0.3% for November, following October's modest slide from each.
We'll also get last month's durable orders numbers on Friday. Overall - counting autos and airplanes - orders should be up 0.2%. Excluding transportation, however, durable orders are expected to have fallen 0.4% for November. Don't read too much into it, though, as October's 1.8% pop is a tough act to follow.
Stock Market
As was said above, the S&P 500 got off to a great start last week, but finished the week back-pedaling. It was what happened on that transitional day (Wednesday), however, that waves red flags.
It's been a while since we've talked about a Japanese Candlestick Trading Doji bar, primarily because we haven't seen one in a while… at least not one worth talking about. That may have changed on Wednesday though, when we got a great example of one that followed through in the suggested direction.
What's a Doji? It's a bar where the open and close at basically at the same level, indicating indecision, and often, a transition. In this case, Wednesday's open near the low, followed by a move to a new multi-week high, and then a move back to near the low for the day implies the bulls ran out of gas in the middle of Wednesday's trading session and then passed the baton back to the bears that same day. To cement the transition-ness of that day's Doji, the S&P 500 continued to inch lower on Thursday, and then again on Friday. Worse, Friday's modest move lower pulled the SPX under its key 50-day moving average line, telling us the intermediate-term trend turned bearish again just a few days after it had turned bullish.
Concerning? Sure. It should be anyway, but, it's not a reason to assume the end of the world or the beginning of a new bear market is here. In fact, the CBOE Volatility Index (VIX) (NYSEARCA:VXX) has hinted that the market may have already hit a near-term bottom, even if the S&P 500 hasn't dropped that same hint. Specifically, the VIX has bumped into its upper Bollinger band thanks to Friday's modest upward move. It's conceivable that the VIX will blast right through that band line this week, but for now we'll assume that the Bollinger band line is doing what it seems to be doing… halting that VIX's advance. The tough part about accepting that possibility is that the S&P 500 isn't anywhere near a mirroring support line of its own.
Bottom line? We're stuck in the middle.
A look at a weekly chart doesn't change anything. Indeed, it only underscores the potential downside reversal in that the weekly bar is also a Doji.
Something else worth noting about the weekly chart (though we've mentioned it a couple of times of late) is how the VIX has been not only low AND mild, but getting even more mild. Sooner or later, this period of low volatility is going to kick-start a phase of high volatility. Will that be good, or bad, for the broad stock market (NYSEARCA:DIA) (NASDAQ:QQQ) (NYSEARCA:IWM)? There's no way of knowing, though a rising VIX is generally bad for stocks. We'll see. In the meantime, just be alert for the point in time when the VIX pushes above the 18.0 area as the signal of that increasing volatility for option trading.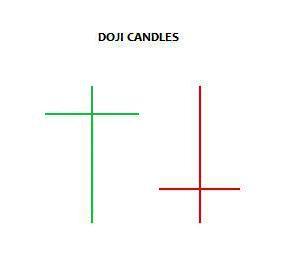 Disclosure: I have no positions in any stocks mentioned, and no plans to initiate any positions within the next 72 hours. I wrote this article myself, and it expresses my own opinions. I am not receiving compensation for it. I have no business relationship with any company whose stock is mentioned in this article.
Additional disclosure: BigTrends Rapid Options Income subscribers have an open SPY options position.