It has been relatively quiet in the market vis-à-vis Dynavax (NASDAQ:DVAX) since an FDA Advisory Committee convened on November 15, 2012 to review the company's hepatitis B vaccine Heplisav. As I reported, the panel voted 13-to-1 Heplisav was effective, but by a vote of 8-to-5 (with one abstention), voted the data were insufficient to demonstrate safety (which is different from saying the vaccine was not safe, an important distinction!). The final decision on approval, of course, rests with the agency, which will render its decision on or before the announced PDUFA date of February 24, 2012 (a Sunday; whether the decision will be announced the previous Friday or the following Monday can't be known).
Meanwhile, the company, pushing ahead with its clinical program, recently began a new Phase 1 trial, NCT01745354: Immunostimulatory CpG SD-101 + RT in Recurrent/Progressive Lymphoma After Allogeneic Hematopoietic Cell Transplantation (NASDAQ:HCT). Intended for the conditions of lymphoma, non-Hodgkin and Hodgkin disease, the interventions are Dynavax's SD-101 coupled with local radiation. SD-101, a second-generation toll-like receptor (TLR), is a TLR9 agonist.
The purpose of the trial, which is sponsored by the Stanford University School of Medicine, is to determine how safe it is to use a direct intratumoral injection of SD-101 with local radiation in patients with relapsed or refractory lymphoma after allogeneic hematopoietic cell transplant. The primary outcome measure is the determination of the maximum tolerated dose based on dose-limiting toxicity (defined as any new grade 3-4 toxicity after the first SD-101 administration). There are three secondary outcome measures, including a measure of tumor response by PET-CT scan imaging.
The Phase 1 study only will enroll 12 patients, with an estimated primary completion date of November 2014.
Technical Analysis
The Daily chart, courtesy StockChart.com, shows the stock recovering from the impact of the advisory committee vote. After dipping into Oversold territory, the Relative Strength is beginning to rise while the MACD has turned positive. Clearly, traders are cautious ahead of the February PDUFA date for Heplisav.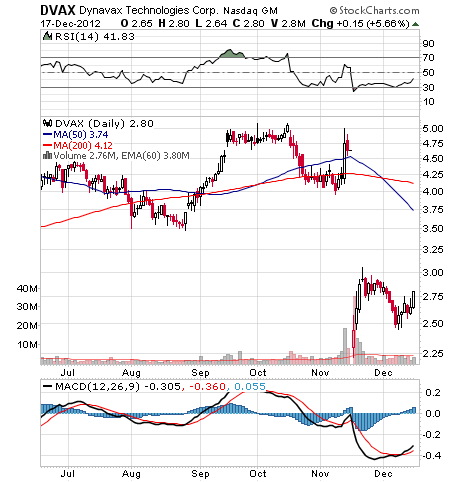 The Weekly data tell much the same story. The stock has found support just above the 200-day moving average and appears to be building a base there. As well, the Relative Strength is climbing off an Oversold condition, though the MACD still has not turned positive.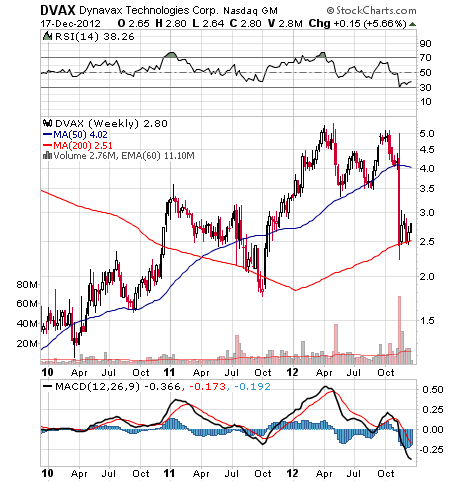 Disclosure: I am long DVAX. I wrote this article myself, and it expresses my own opinions. I am not receiving compensation for it (other than from Seeking Alpha). I have no business relationship with any company whose stock is mentioned in this article.
Additional disclosure: I am long DVAX. I am not a registered investment advisor and do not provide specific investment advice. The information contained herein is for informational purposes only. Nothing in this article should be taken as a solicitation to purchase or sell securities. Before buying or selling any stock you should do your own research and reach your own conclusion. It is up to investors to make the correct decision after necessary research. Investing includes risks, including loss of principal.